Yusuf "Alex" Harris
verified
LV.30
Dream Chaser
Tidbits to Help You Clutch Close Rounds
When playing Valorant there is a wealth of information to take in, and some things get left behind. In the hype of the moment, it is necessary to zone some things out and similarly tunnel-vision on other things. As you've seen, Valorant devs aren't very big on giving specifics when it comes to many things, especially numbers. Sometimes, you'll only find out about the existence and extent of these numbers in patch notes. These tiny little tidbits can sometimes make a big difference when playing games. So I'll list some of the more obscure things I've dug up while walking around the block.     Wallbang Shenanigans:
There are three different types of materials (Wooden, Stone/Brick, and Metal) and bullets do different damage based on which one you shoot through and what penetration type your weapon is. High-penetration weapons (Guardian, Odin, and Ares) can shoot through all the materials.   They similarly do different damage based on the thickness of the wall, the distance traveled after the bullet goes through, and the level of penetration the weapon gives. That's to say, there is no single percentage of damage reduction I can give for this, but basically the thinner the wall you're shooting through, the more damage you'll do. Corners seem to let the most damage through at about a 20 to 23 percent damage reduction on a stone corner, which most corners are.     Miscellaneous Information:
When you are running, you'll see a circle around your Agent on the minimap that determines how far the sound goes. When rushing to a site, be sure that the circle isn't overlapping the site. As the circle touches the edge of the site, be sure to walk.   Planting the spike in the post-round still gives you credits. Competitive games that end in a draw can only increase your rank and will never decrease it, so don't be in a hurry to disagree to a draw. Kill Orbs (Ultimate Points) can be obtained by killing someone, dying, absorbing an orb, or planting the spike.     Agent Abilities Timers to Look Out For:  
1. Jett's Smoke lasts for 7 seconds.
2. Omen's Smoke lasts for 15 seconds
3. Brimstone's smoke lasts for 14 seconds. Inside of Brimstone's Ultimate, allies can survive for 3.5 seconds while enemies will die in 1.5 seconds.
4. Viper's maximum smoke and wall duration is 15 seconds.
5. Enemies and allies standing on Viper's Snake Bite Molotov take double damage from all sources.
6. Sage's Wall lasts for 30 seconds and its health decays as time goes on. Melee weapons deal double damage to destructible objects like doors and walls.  
7. Cypher's Cybercage can be picked up during the buy phase. So if you accidentally fling it somewhere, or you're dissatisfied with the positioning of the Cybercage, you can rectify it within the duration of the buying phase.  
8. All forms of healing regeneration (Reyna, Phoenix, Sage) are halted when you are shot for about 3 seconds. Only the healing itself is halted, the regeneration ticker does not stop, so this means diminished healing overall (This mostly applies to Sage and Reyna).
9. Raze and Phoenix's ultimate last for exactly 10 seconds from the time you hear the voice cue. If ever you have the need to wait these out, you'll know exactly how long you have to wait.   10. Molotov Madness and Accurate Arrows (Powered by @VeryBerryMan)
Sometimes you're aware that you can't live on to protect the spike from predators, so you make a last-ditch effort to win. You want to shoot your Molotov or Shock Darts in the air, but you don't know when you should do it. Here are the timers for each ability that can clutch the game for you after you're gone: 1. Brimstone's Incendiary (Molly) takes 8.35 seconds to come back down if you shoot it directly up.   2. Viper's Snake Bite (Molotov) takes 5.7 seconds to come back down if you shoot it directly up.   3. Phoenix's Hot Hands (Molotov) takes 3.25 seconds to come back down if you shoot it directly up.   4. Sova's Shock Dart (Arrow) takes 8.7 seconds with no bounce, 15 seconds with 1 bounce, and 18 seconds with two bounces if you shoot it directly up.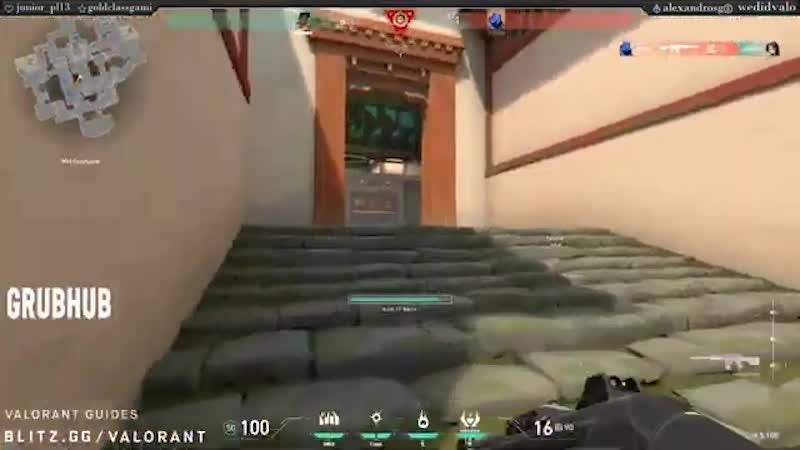 Scattered, this information may seem completely random and useless, but big brain plays begin with taking these small details into account. Calculating the timing of smokes, taking advantage of reduced ally damage, and waiting out Ultimates will all help you in the right situations. I hope this helps you clutch rounds you otherwise would have had no hope of winning.