drTaperdown
verified
LV.13
Big Chungus
Guide to Playing Mozzie on Coastline
Guides
You know, you've got three pests. And while speeding around the map with the attackers' little RC cars is truly enjoyable, I guarantee you'll have some fun using them instead to snatch a Lamborghini.
Coastline, the Spanish map released during Operation Velvet Shell, is widely considered to be one of the most balanced maps, but is perhaps arguably attacker favored. The map is fundamentally a large rectangle composed of two floors and two staircases. The middle is cut out, leaving a very open courtyard. This area offers attackers plenty of angles to cut off defenders, while safely positioned on the roof, so be careful when rotating, and try to use hatches to avoid over-exposing yourself. Surviving the round as a defender requires calculated movement to avoid being pinched and picked off by teams that attack with deadly efficiency.   Mozzie, the Australian defender, is super fun to play and can be very helpful for his team. He is a two armor two speed operator with a flexible playstyle, fit for roamers and anchors alike, making him great for solo queuing. He excels in disrupting enemy intelligence, and if you play your cards right, he brings amazing information to you and your teammates. In addition to having top tier utility, Mozzie performs amazingly in firefights, not to mention his Commando 9 has the BEST reload animation in the game.   Mozzie's pest launcher fires out spider-like robots that latch onto nearby drones, hacking them, granting Mozzie controls instead. He comes equipped with three pests which can block off narrow choke points that attackers commonly drone, effectively locking down entire areas of the map, especially when paired with Mute. He can also hunt drones as soon as the prep phase begins, heading straight to doorways near drone spawn locations and sniping some of those RC cars to use right off the bat. You can position captured drones near site and leave them, or hide in a safe location and hop on cams to cruise them around and hunt attackers.     MOZZIE'S LOADOUT
    Mozzie has the choice between the Commando 9 and the P10 Roni. The Commando is more reliable, with a better damage drop-off curve and a higher magazine capacity. But the P10 Roni shreds in CQB with a higher fire rate and virtually no recoil. It is arguably a matter of preference, and the attachments you equip on either gun boil down to preference as well. I currently prefer the Commando with a holo sight, vertical grip, and flash hider.   Mozzie brings the SDP 9mm, a well-rounded pistol with a decently high ammo-count. It is best equipped with the muzzle break, but the silencer can be useful in some situations, such as shooting out drones or claymores while flanking. For his secondary gadget, he nearly always brings a nitro cell because it is significantly more powerful than the alternative barbed wire. The C4 also synergizes with his Pests, because vision from hacked drones can be used to set up kills. Additionally, the nitro can be used to blow open rotations when getting pinched. There may be some situations though where your team decides they need barbed wire, so you do have that option available, and I will showcase good locations to place it for those who prefer it. It is also worth noting that barbed wire can hide your pests, but shoot your pest first and place the wire after.     DEFENDER BOMBSITES
  BOMB SITE 1 – Hookah Lounge (2F) and Billiards Room (2F)   Most of the community prefers Hookah and Billiards, despite exposure to two balconies, two windows, and the roof. Navigating rotations requires a good bit of map knowledge to avoid getting caught between cross-fire. Attackers will likely push from the Hookah and Aquarium balconies, as well as up Cool Vibes stairs or through VIP hallway or Luggage hallway. With Mozzie, you can anchor behind Billiards Bar and give callouts. Otherwise, establish a hold below site and use intel to secure nitro kills on attackers once they enter.   Given the emphasis on pushing Cool Vibes you can opt for investing two pests in each of the nearby drone holes, one of them coming from the roof on ping.
  A pest on Hookah Balcony doorway is likely to snatch a drone away from attackers, or at least delay their efforts to drone out site.
  With VIP hallway providing quite the flank opportunity, this utility can serve to reduce the liklihood of being snuck up on. If someone opts to play in VIP itself, deny drones from passing through Hall of Fame by firing a pest here.
  Aquarium is a very influential room on the outcome of the round. You can support players in here with a pest on the doorway my crosshair is pointing at and you can block the roof drone hole above Aqua Bar with another pest.
  A great way to play Mozzie here is to roam below and bring a nitro cell to kill attackers that push into site.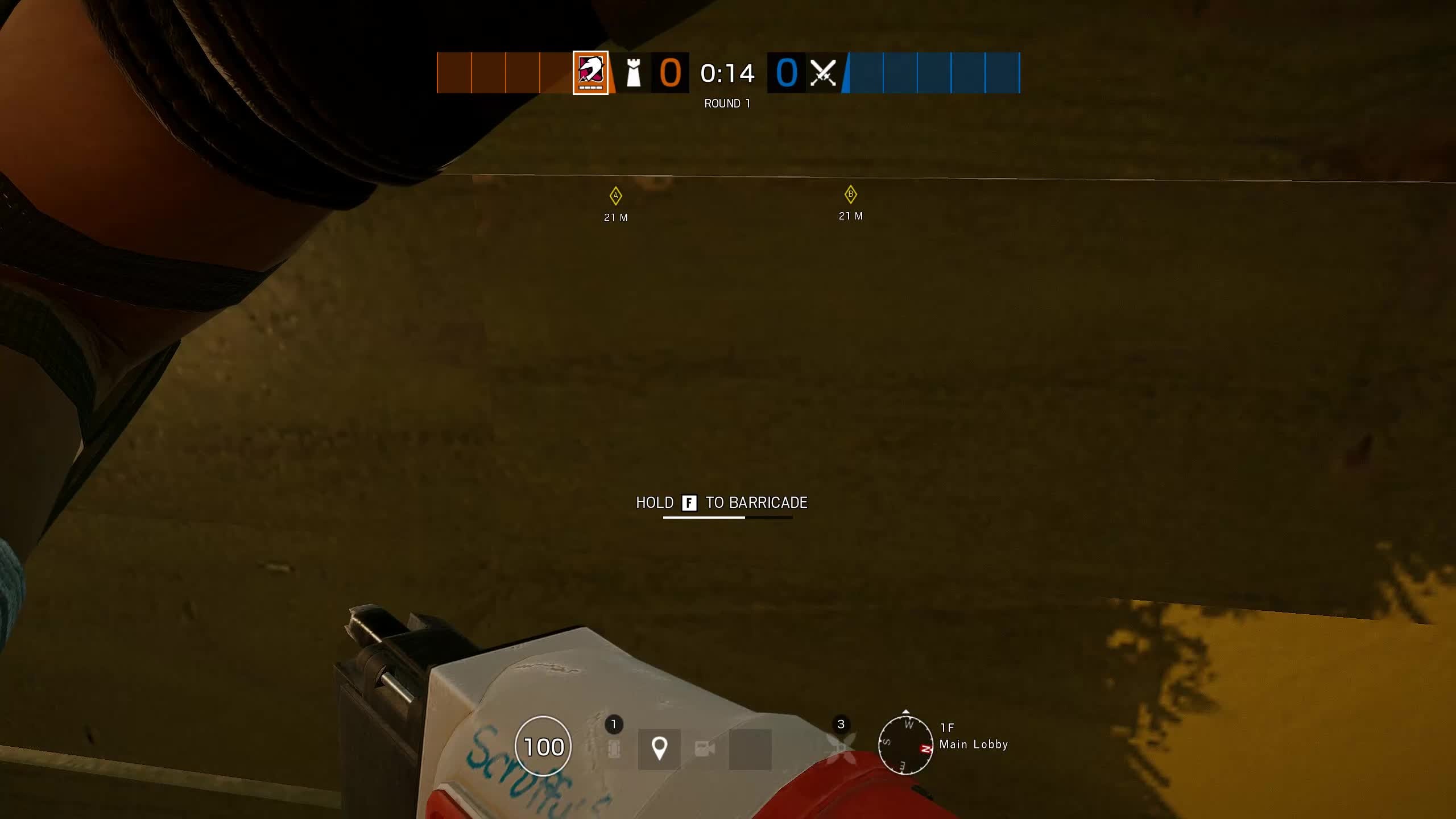 BOMB SITE 2 – Penthouse (2F) and Theater (2F)   While this site was previously a community favorite, as the meta has evolved it has become clear that the site is actually quite tough to hold. The large window in Penthouse makes the whole room unplayable when someone rappels upside down. This leaves defenders with Theater, VIP Room, and the "L-shaped" hallway surrounding site. In general, reinforce all theater walls leading to the hallway and the walls on the West side of Penthouse. With Mozzie, again your best bet is to play below site, especially if you nab an early drone and hide it in Penthouse. If you prefer to stay on site, your best bet is anchoring in Theater where you are relatively safe to remain on cams.   Sling a pest out just to the right of this doorway so it is covered from Penthouse window by the dresser.
  Spreading into the hallway surrounding site is essential. Make it more viable with a pest lodged on Luggage doorway. If you go prone on ping you can line up a pixel angle on attackers pushing through said doorway.
  Since VIP is so critical to delaying full Penthouse control, the wall should be reinforced if someone plays in here. In this case jam up the drone hole with a pest.
A great way to support them is playing in Kitchen below with a C4!   You can also play in Service Entrance below and chuck a nitro on ping at attackers that swing into Penthouse window. If you roam in this way jam up Service Entrance door, Bathroom door, and Bathroom drone hole with all three pests.
  If instead you wish to roam on the West side of the map, play at the top of Cool Vibes and place a pest on the staircase and Hookah Balcony doorway.
    BOMB SITE 3 – Kitchen (1F) and Service Entrance (1F)   This is my personal favorite. It does, however, require a coordinated team. Otherwise attackers may successfully pull off a rush plant in Service doorway and proceed to hold angles from outside. Other than that, watch for attackers cutting off rotations from Kitchen window, breaching the floor above, and flanking through Lobby or the Bars. With Mozzie you can play in Kitchen Pantry, or the Service Cubby. Both are good for someone surrounded by intel who wants to give callouts. If instead you aim to roam, you can post up in Sunrise Bar where you can watch the flank. You also have the option of roaming above site, using your pests to delay attackers that seek to establish vertical control.   A pest hidden in this drone hole can capture drones attempting to score easy info. If possible, immediately hop on cams and pilot it to safety. When combo'd with one on the adjacent window, Kitchen becomes much harder to drone.
  These two reinforcements make playing in Pantry on ping viable. The other bit of the wall should not be reinforced however, as West Kitchen is nearly unplayable anyways. Instead, ask that someone opens lines of sight so attackers that hop in Kitchen window can be shot from the surrounding hallway and Courtyard.
  Sling a pest by Service door. This single reinforcement on Bathroom, with lines of sight on either side, creates more angles for contesting attackers entering here. Reinforce the panel next to Kitchen door and request a teammate to make two rotates: one behind B bomb and one by Service desk leading to Bathroom.
  A pest on Bathroom door and the drone hole on ping make Bathroom more comfortable to play in. Just don't get your feet shot through the drone hole! You can also hop up on the sinks to hold an off-angle on attackers pushing in from Lobby.
  Someone should play in Sunrise Bar to monitor the flank. If needed you can always rotate up to harass attackers soft breaching kitchen from VIP, or even run out VIP balcony to C4 attackers stacked outside Kitchen Service doorway!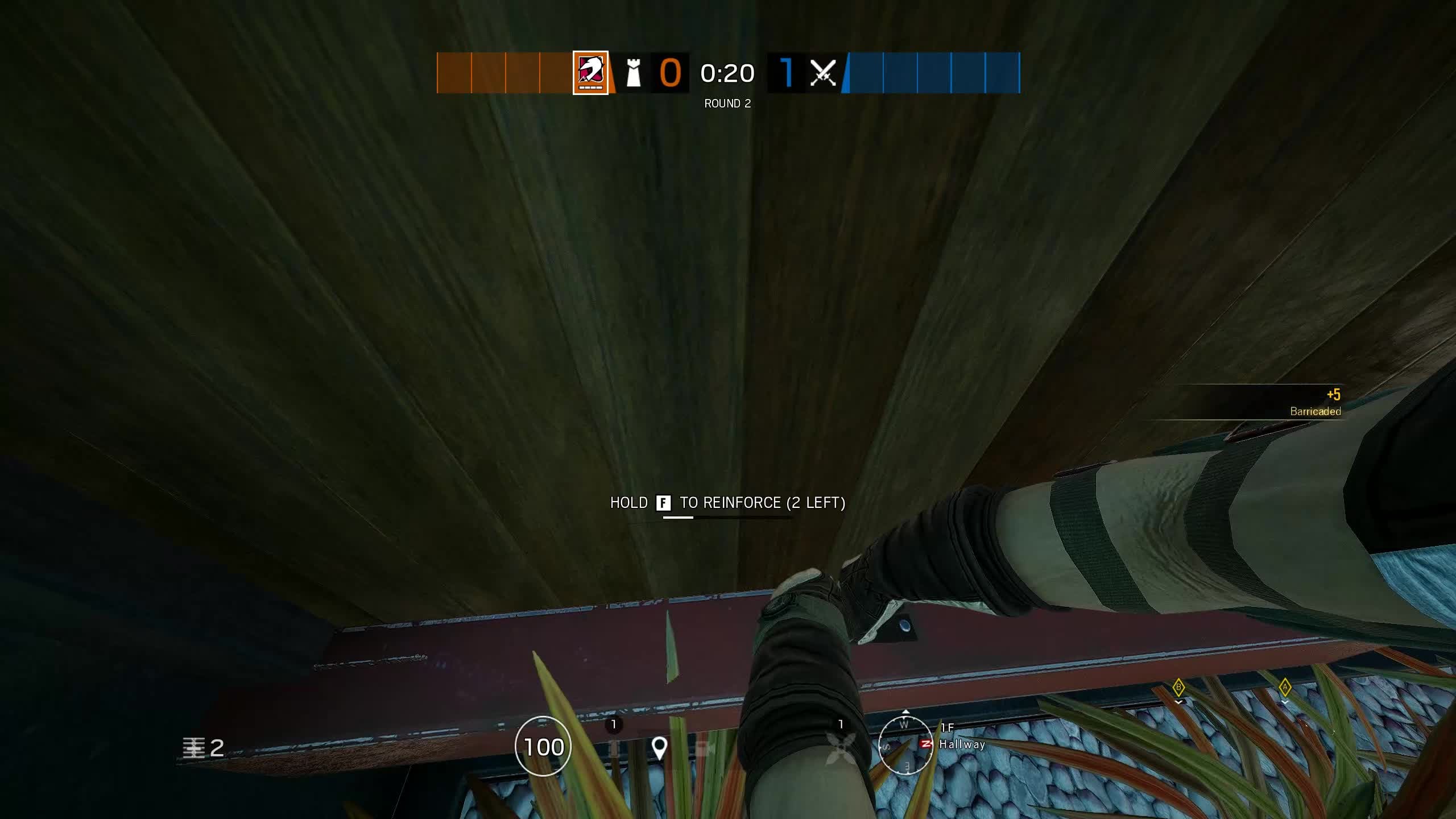 BOMB SITE 4 – Blue Bar (1F) and Sunrise Bar (1F)   Though this site is a bit less popular, it is actually quite strong, so long as your team practices it regularly. It is similar to Penthouse and Theater, but objectively better. Blue Bar, similar to Penthouse is quite difficult to play in, and virtually unplayable. But Sunrise is larger and safer to hold than Theater. Office, like VIP, can be played to delay and control the flank, but has more cover than VIP does. Unlike Theater and Penthouse, you also have the option of playing above until inevitably falling back. This can be challenging so your team may choose to spread out on first floor instead, flanking attackers upstairs via Lobby Stairs . Avoid contesting windows facing Ruins as attackers have plenty of places to hide there.   Help out the Sunrise anchor(s) with a pest on Towel door and Sunrise window. One anchor should play in this corner with a shield since the ceiling above is indestructible. Another could play behind bar to support them.
  Another solid anchor position is on this couch. It requires reinforcements on these panels, the ones on ping, and the hatch. A barricade on Kitchen door is useful for alerting teammates to attackers trying to slice site in half from Kitchen.
  Don't let your Office player get flanked from Lobby. Barbed wire, or a barricade on Security door provide useful sound cues and a pest in Red Carpet hallway is a great protective measure.
  When roaming upstairs, take your reinforcements with you and use some barricades to make your job a bit easier. Billiards Bar, and the top of Cool Vibes stairs are both great positions to start off the round.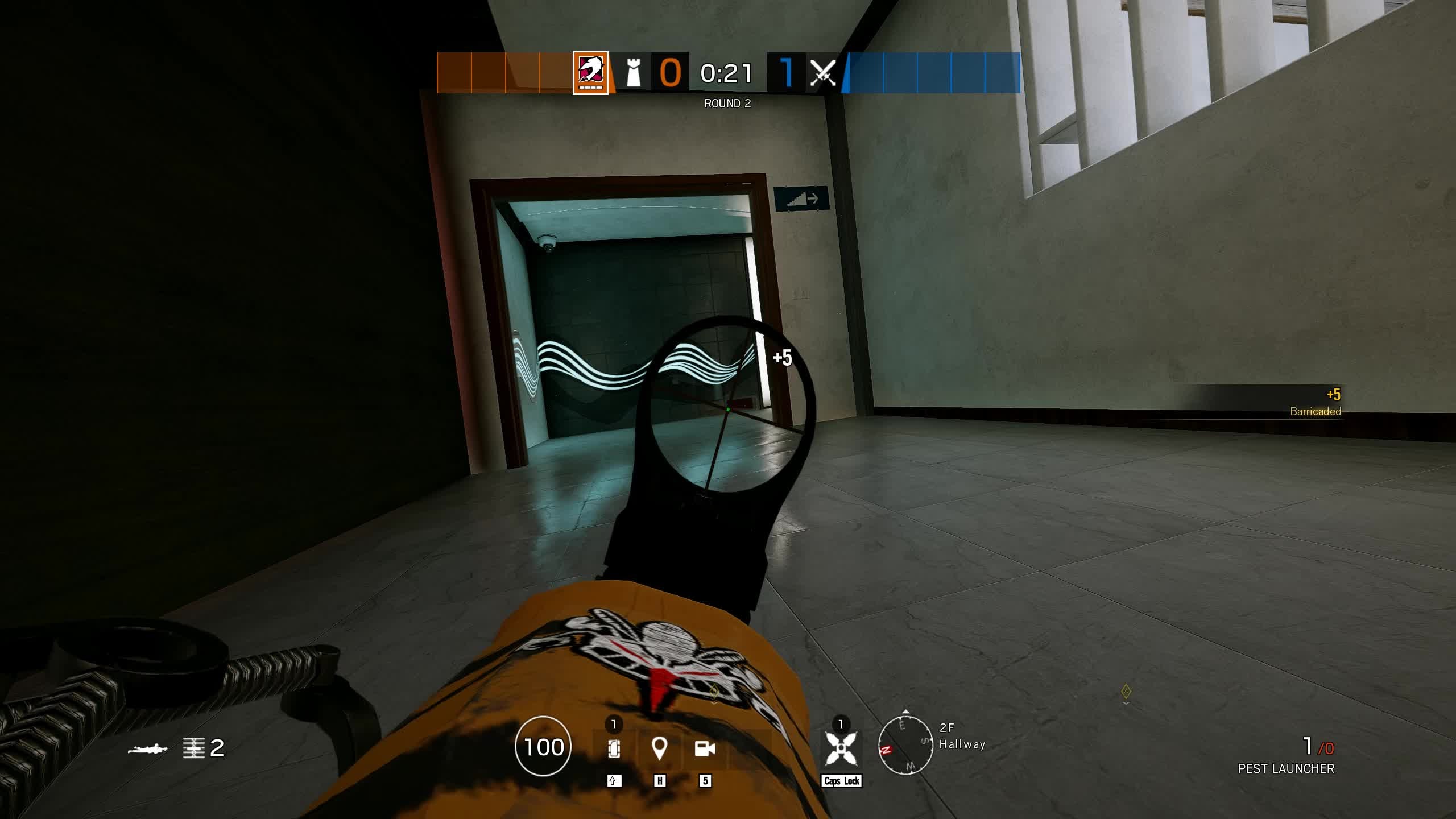 Coastline's a dope map ya'll. If you feel intimidated by all of the exposure to the roof, perhaps you'll take comfort in knowing attackers don't hold angles from up there as much as they should. Apparently watching the flank is boring or something. Although I personally enjoy it myself as I usually nab a couple free kills and plenty of intel to eventually make plays off of.