drTaperdown
LV.9
Bamboozled
Guide to Playing Mozzie on Border
Guides
Make sure to empty your pockets before passing through the metal detectors folks. Mozzie is packing plenty of gizmos and gadgets, and more than enough firepower.
Border was released during Operation Dust Line. It is home to the annoying loud speaker broadcasting the message to not board the helicopter. For the sake of everyone's sanity, when you spawn in on attack silence it with some gunfire! A bit on the smaller side, featuring only two floors and two staircases, the map favors plenty of close quarter combat. Border also sees attackers playing from outside for a large portion of the round, either holding flanks or pressuring site windows, thus run outs are quite common. The majority of the walls and floors in this map are destructible, so vertical play is essential. This makes Mozzie ideal since attackers almost always clear top floor before attacking the sites on first floor. So steal some drones up there to sneak some pings that net your team nitro kills.   Mozzie, the Australian defender, is super fun to play and can be very helpful for his team. He is a two armor two speed operator with a flexible playstyle, fit for roamers and anchors alike, making him great for solo queuing. He excels in disrupting enemy intelligence, and if you play your cards right, he brings amazing information to you and your teammates. In addition to having top tier utility, Mozzie performs amazingly in firefights, not to mention his Commando 9 has the BEST reload animation in the game.   Mozzie's pest launcher fires out spider-like robots that latch onto nearby drones, hacking them, granting Mozzie controls instead. He comes equipped with three pests which can block off narrow choke points that attackers commonly drone, effectively locking down entire areas of the map, especially when paired with Mute. He can also hunt drones as soon as the prep phase begins, heading straight to doorways near drone spawn locations and sniping some of those RC cars to use right off the bat. You can position captured drones near site and leave them, or hide in a safe location and hop on cams to cruise them around and hunt attackers.     MOZZIE'S LOADOUT
Mozzie has the choice between the Commando 9 and the P10 Roni. The Commando is more reliable, with a better damage drop-off curve and a higher magazine capacity. But the P10 Roni shreds in CQB with a higher fire rate and virtually no recoil. It is arguably a matter of preference, and the attachments you equip on either gun boil down to preference as well. I currently prefer the Commando with a holo sight, vertical grip, and flash hider.   Mozzie brings the SDP 9mm, a well-rounded pistol with a decently high ammo-count. It is best equipped with the muzzle break, but the silencer can be useful in some situations, such as shooting out drones or claymores while flanking. For his secondary gadget, he nearly always brings a nitro cell because it is significantly more powerful than the alternative barbed wire. The C4 also synergizes with his Pests, because vision from hacked drones can be used to set up kills. Additionally, the nitro can be used to blow open rotations when getting pinched. There may be some situations though where your team decides they need barbed wire, so you do have that option available, and I will showcase good locations to place it for those who prefer it. It is also worth noting that barbed wire can hide your pests, but shoot your pest first and place the wire after.     DEFENDER BOMBSITES
  BOMB SITE 1 – Customs Inspections [1F] and Supply Room [1F]   This site is commonly the third pick, but can be a good early pick to catch opponents off-guard if your team has a rehearsed strat. Attackers will breach Detention wall and may breach the East Customs wall from Passport Check, so be sure these are all reinforced. In total this uses 6 reinforcements. How you reinforce the rest of site depends on your team's preference and playstyle. Hatches can be played open if you have significant upstairs roam presence or reinforced if you have good intel upstairs and a few anchors with nitro cells.   In the higher levels attackers may try to sneak a drone up on these vents, a powerful position, using some simple parkour from Passport Check. A pest can deny them the option.
  Customs is awfully close to the front door. Hiding a pest in both of these sets of barbed wire can deny them from quickly droning out site this way.
  This pesky little drone hole in Supply should be plugged up so drones don't sneak their way in.
  You can use this reinforcement and line of sight to safely contest Detention.
  If you're like me and get too bored waiting on site, head into Armory to hide out while waiting to capture drones that inform your bold flanking play.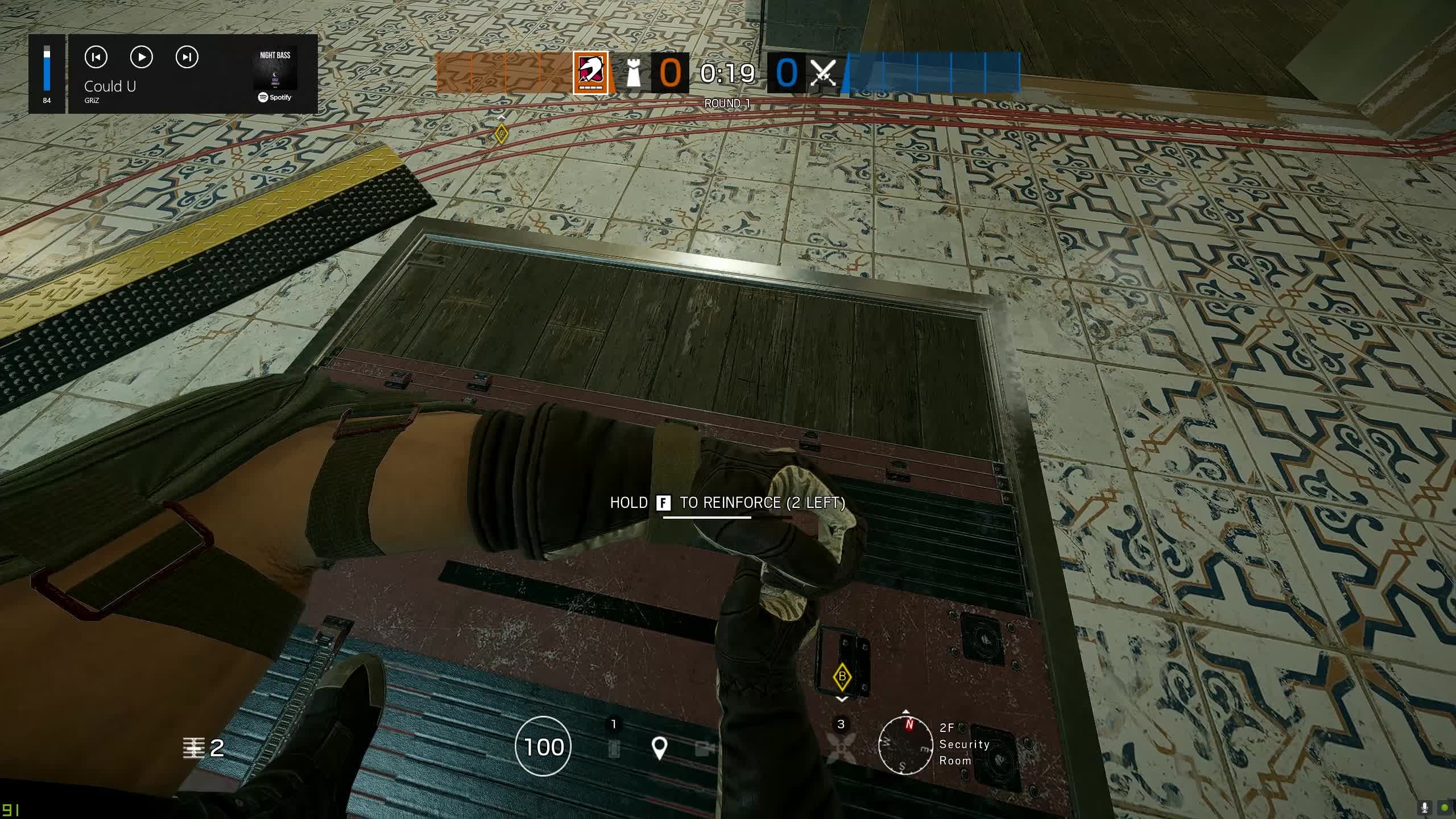 BOMB SITE 2 – Ventilation Room [1F] and Workshop [1F]   The most popular second choice, Vents and Workshop are a spacious site, including Server Room, though Vents itself is dangerous to play in. The site requires holding Armory Lockers until being forced off, so you can roam up there, reinforcing armory wall and delaying the push with your pests. East Workshop wall should be reinforced, but a coordinated team may leave it soft and even create a rotate hole to bathroom, instead saving their reinforcements for elsewhere.   This pest is the primo two-for-one special and locks down the window and drone hole both!
  Deny Ventilation intel entirely with this strategically placed pest added to the one above. When placed on this tile it can't be shot by attackers on Vent window.
  This hallway needs barbed wire or perhaps some traps, if your teammates refuse, you could step up and provide the utility the team needs. A pest on this doorway is great if Server hatch is reinforced.
  This wall is essential and covering up the drone hole helps too. The bathroom wall can be set up however your team prefers. Barricade Blue Hall doorway so attackers don't get easy angles from Waiting Room.
  You can also extend laterally into Customs and contest attackers outside from Supply window. Just make sure they can't drone too deeply with a pest placed efficiently on this doorway.
  Looking to head upstairs and be the roamer Mozzie was meant to be? This simple setup is quite effective at keeping you and your teammate safe.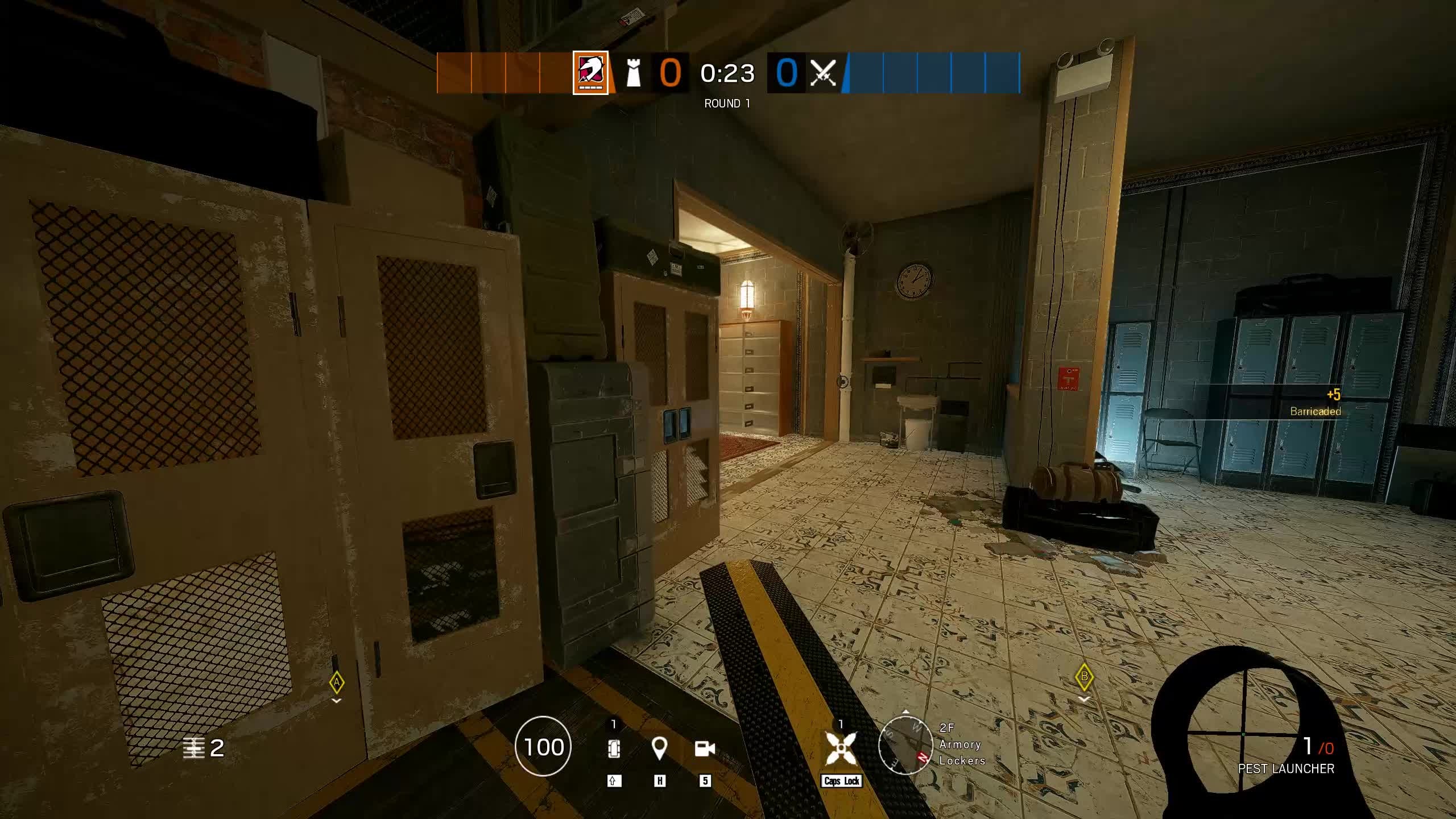 BOMB SITE 3 – Bathroom [1F] and Tellers [1F]   This site is almost unplayable but could potentially be defended well enough with a solid Office hold. To do so, a few teammates need to invest plenty of utility upstairs. If you don't have a coordinated team, you probably don't even have the option to pick this site! But if you are less comfortable with this site in general, extend laterally instead into Customs by reinforcing Detention, or Workshop using reinforcements along with a teammate on Server wall.   A pest inside the couch armrest and one on this wall keeps attackers from getting drones into site really.
  This wall is super important IF anyone chooses to anchor in Tellers itself. You can also combo a pest on this drone hole with the two above to help keep drones out of site.
  Plug up this drone hole with a pest and reinforce these four walls if nobody is playing in Construction.
If you and a duo partner want to hold Construction and gain way more control over first floor, check out my Alibi or Maestro guides for playing on Border:   https://moot.us/lounges/10/boards/1560/posts/3794972/guide-to-playing-alibi-on-border
https://moot.us/lounges/10/boards/1560/posts/3498946/guide-to-playing-maestro-on-border
The Maestro guide also showcases various impact tricking setups!   The jist of the setup involves reinforcing these four walls. With Mozzie in the mix, throw a pest on the doorway too.
  This Barbed wire and these barricades will give your teammates useful sound cues for attackers trying to flank.
  Holding Offices is more complicated and requires someone with a shotgun (RIP Super shorty), but these two walls are the most important and a pest on ping can help as well.
Again, my Alibi and Maestro guides showcase some ways your teammates can help play up here. The Alibi one is particularly useful and includes a video!     BOMB SITE 4 – Armory Lockers [2F] and Archives [2F]   Finally, we arrive at the preferred bomb site! Attackers almost always push this site by taking control of Security and West balcony, then breaching Lockers wall. Sometimes, they will push Archives door and window, and may or may not take control of Offices before breaching Archives. You can sit on cams in small office in Armory, or in Archives. Otherwise head below to make some C4 plays.   This is the main wall. If a Bandit or Kaid is tricking it, support their efforts with a pest on the doorway. You can reinforce this single panel to make Small Office more playable.
  If you have a duo partner they can roam in CCTV, perhaps with Vigil, to waste plenty of time. Help them waste even more by denying droning from all three barricades with pests.
  Assist the CCTV roamer by playing below in Customs and killing attackers that enter above with nitro cells. You can also set up Supply window for a run out and chuck a C4 at attackers on the balcony above when they try to breach Main wall.
  Beware of attackers rushing up this staircase. You can reinforce the panels at the end to help the CCTV roamer. But even if you don't have one, the reinforcement keeps attackers from shooting into Armory from Break Room.
  Roaming in Construction is also a great play. It's always good to switch up where you roam in case you end up defending a site multiple times. From here you can land nitro kills on attackers that make their way into site.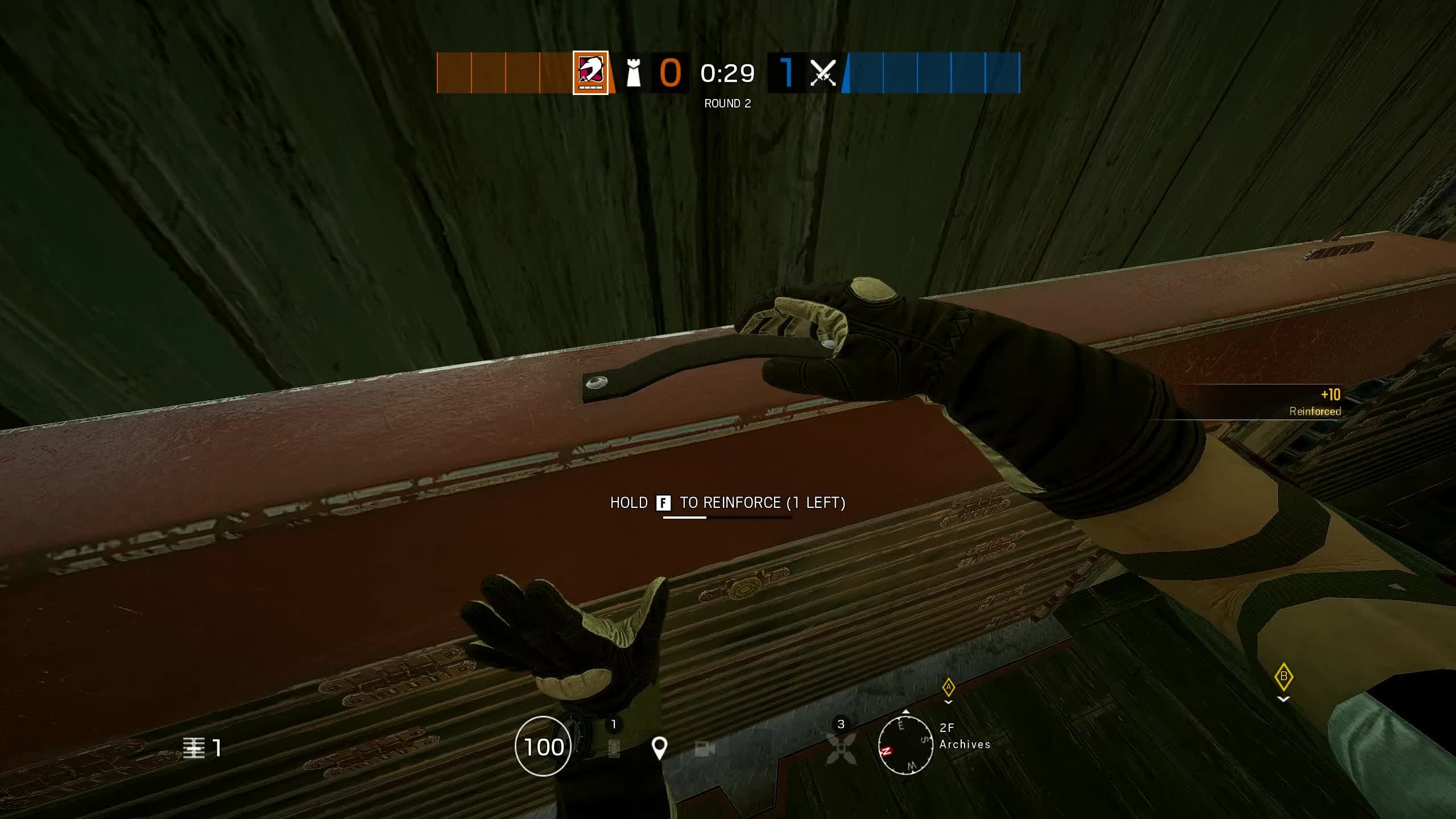 Enjoy Border ya'll! It seems to be a community favorite due to its simplicity and balance between strategy and the ability to win with frags. I think you can always have the 1-up over your opponent with a little strategy, but I suppose everyone's playstyle is different.  
Poll Closed 1 Voted
What do you think is more important?