drTaperdown
LV.9
Bamboozled
Guide to Playing Mozzie on Kafe Dostoyevsky
Guides
Check your coat pockets when you grab your swag back from coat check. The last thing you want is to find a pest that snuck in waiting to snatch a drone.
Kafe Dostoyevski is a tightly packed map, with three floors, three staircases, and two roof hatches. The many rooms are a bit clustered and connected by hallways. The third floor has an open layout with a skylight above shining down on a set of balconies. The balcony railings can be safely vaulted for a quick rotate to second floor. Doing so lands you in the sizable Pillar Room which offers little in terms of cover. This open area is surrounded by a few hallways linking a cluster of rooms together. The first floor again has an open restaurant area with hallways leading to the sectioned-off Kitchen, which can be broken down into a few compartments, and the Bakery rooms.   Mozzie, the Australian defender, is super fun to play and can be very helpful for his team. He is a two armor two speed operator with a flexible playstyle, fit for roamers and anchors alike, making him great for solo queuing. He excels in disrupting enemy intelligence, and if you play your cards right, he brings amazing information to you and your teammates. In addition to having top tier utility, Mozzie performs amazingly in firefights, not to mention his Commando 9 has the BEST reload animation in the game.   Mozzie's pest launcher fires out spider-like robots that latch onto nearby drones, hacking them, granting Mozzie controls instead. He comes equipped with three pests which can block off narrow choke points that attackers commonly drone, effectively locking down entire areas of the map, especially when paired with Mute. He can also hunt drones as soon as the prep phase begins, heading straight to doorways near drone spawn locations and sniping some of those RC cars to use right off the bat. You can position captured drones near site and leave them, or hide in a safe location and hop on cams to cruise them around and hunt attackers.     MOZZIE'S LOADOUT
Mozzie has the choice between the Commando 9 and the P10 Roni. The Commando is more reliable, with a more shallow damage drop-off curve and a higher magazine capacity. But the P10 Roni shreds in CQB with a higher fire rate and virtually no recoil. It is arguably a matter of preference, and the attachments you equip on either gun boil down to preference as well. I currently prefer the Commando with a holo sight, vertical grip, and flash hider.   Mozzie brings the SDP 9mm, a well-rounded pistol with a decently high ammo-count. It is best equipped with the muzzle break, but the silencer can be useful in some situations, such as shooting out drones or claymores while flanking. For his secondary gadget, he nearly always brings a nitro cell because it is significantly more powerful than the alternative barbed wire. The C4 also synergizes with his Pests, because vision from hacked drones can be used to set up kills. Additionally, the nitro can be used to blow open rotations when getting pinched. There may be some situations though where your team decides they need barbed wire, so you do have that option available, and I will showcase good locations to place it for those who prefer it. It is also worth noting that barbed wire can hide your pests, but shoot your pest first and place the wire after.     DEFENDER BOMBSITES
  BOMB SITE 1 Bar [3F] and Cocktail Lounge [3F]   Bar and Cocktail are typically attacked from the roof through the hatches and skylight. It is also quite common for attackers to rappel on the windows. These rappelled attackers can be countered with nitro cells placed below. Attackers will almost always seek to establish control of Cigar Lounge, so delaying this push as long as possible is always a great strategy. Beer Fridge can be completely reinforced, to protect anchors or rotates can be opened up to keep defenders mobile. With Mozzie you could anchor in Beer Fridge, in Cocktail, or you could roam below in Train to land C4s on attackers pushing through Cigar Lounge.   If you anchoring, post up in Beer Fridge. This wall and the wall behind Mozzie should be reinforced. But you can always ask a teammate to open a rotate hole on ping so you aren't trapped in here.
  Whether you anchor in Beer Fridge or not, throw down a pest to keep the site flank from being droned. Attackers may rappel on this window to cut off rotations, so don't let them catch you out.
  Or go a step further and plant a pest on White Stairs to keep drones even further at bay.
  A pest here can prevent droning through Bar. This wall is commonly reinforced but some teams open lines of sight instead to contest Cigar Lounge from positions on site. Place a nitro cell below this ping to surprise attackers that think it's safe to drop down.
  Reinforce Cigar Lounge wall even if nobody plays in there to eat up attacker utility. You can drop a pest on this doorway too to prevent attackers from droning Cigar Shop. This is especially great if a defender wants to aggressively hold here.
  Launch a pest on Cocktail Balcony window as attackers frequently try to drone it out and rappel in if it's caught unguarded. This reinforcement makes Cocktail more playable but leave the one next to it soft so a teammate can make a rotate hole. It never hurts to place barbed wire below Skylight... or else a nitro cell.
    BOMB SITE 2 – Fireplace Hall [2F] and Mining Room [2F]   Fireplace and Mining are connected by Train Museum and surrounded by hallways. The roof of Fireplace is indestructible, but it is quite small with little cover. There are two hatches above site to reinforce, one above the hallway by Red Stairs, and one above Train. Attackers will likely take control of Cigar Lounge above to play vertically, so reinforcing the wall at the top of red stairs can help eat up utility.   This is one of the main walls and all three panels should be reinforced. You can also plug up this site window which is frequently contested and droned with a pest. Make sure to thank your opponents for the free intel!
  This wall should be reinforced too to make Train Museum more playable. A pest plugging up this drone hole could be helpful to anchors too.
  This is the other crucial wall to reinforce which attackers may choose to breach. You may want to stop attackers from droning this window too if someone's anchoring here.
  Extend into Reading Room with these reinforcements and a pest blocking this drone hole. You can also place one on the North doorway to keep all drones out of the room.
  From the position above you can contest Fireplace window through this hole in the wall. Place some barbed wire in this hallway too as the final attacker push might come this way. It can also hide a pest where my crosshair is.
  Playing for C4s below is a great option since the map rework since Fireplace, Train, and Mining all have plenty of destrucitble flooring. You're also very likely to catch attackers off-guard.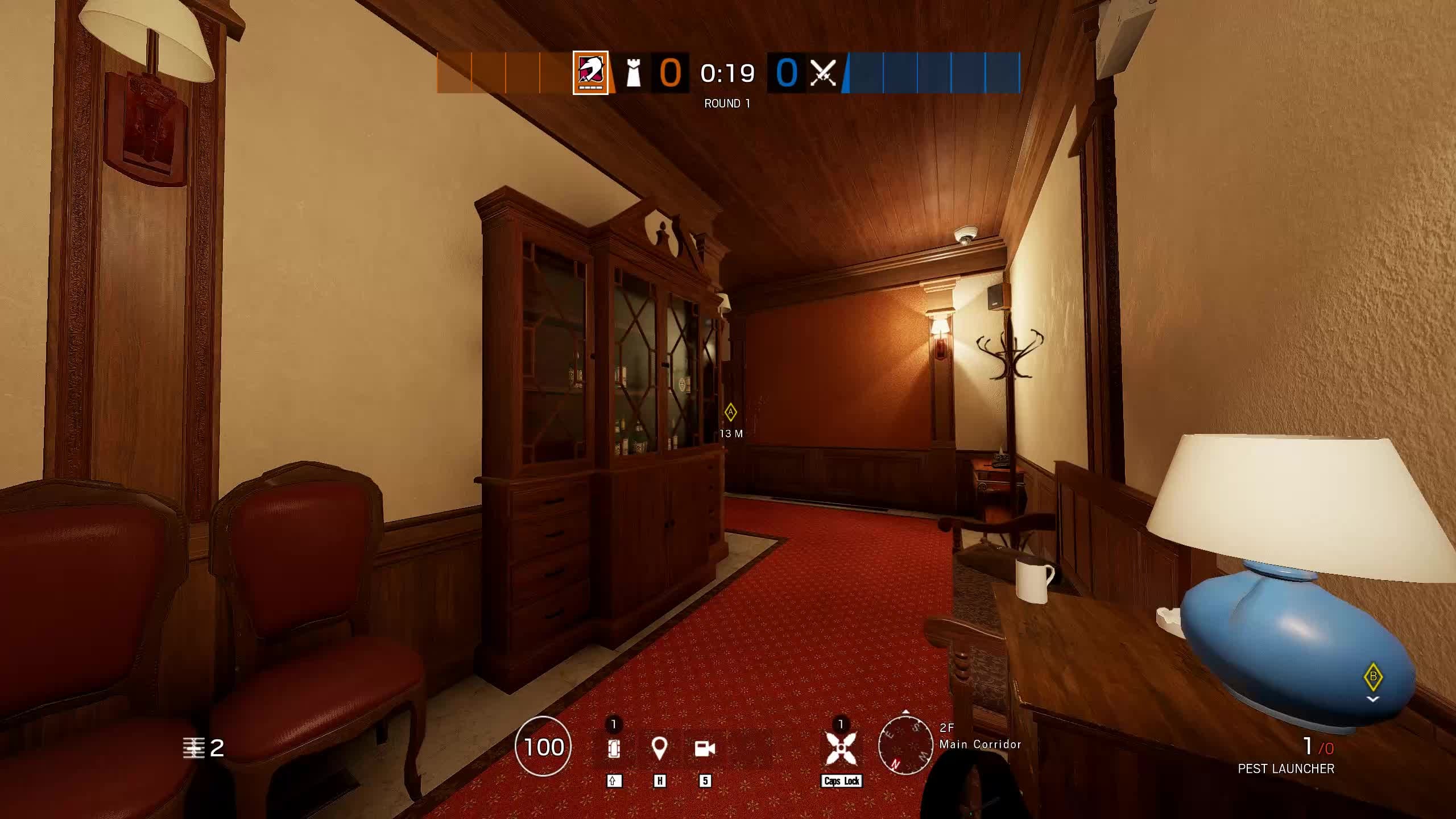 BOMB SITE 3 – Reading Room [2F] and Fireplace Hall [2F]   A defense of Reading and Fireplace shares a lot of overlap with a defense of Mining and Fireplace. Attackers may implement a lot of the same strategies as above, but may also focus on White Stairs more, or Pillars Room. The site can be extended laterally into Train Museum to help with flank watch. When attacking vertically, they will place more emphasis on Bar and Cocktail above Reading. The outcome of the round will depend heavily on your team's ability to delay taking hold of top floor without dying in the process. Roamers can also drop to first floor and flank late in the round by coming up the stairs.   This door leading to Terrace is awfully close to site and should be watched at all times. A pest on the doorway can help too. If you choose to anchor, play on ping behind the bookcase.
  Just as with above, reinforce all of these walls, and feel free to plant a pest on ping. This is even better if someone brings barbed wire.
  These reinforcements enable someone to defend aggressively in Pillar Room. To further facilitate this strat, plop some barbed wire on this staircase and use it to cover up a pest.
  Break the furniture on ping to open this aggressive positioning in the hallway. You can also cover this drone hole with a pest and slow a Mining push with barbed wire.
  This video showcases a setup for roaming upstairs. Fall off after shooting some drones and wasting time so you can ready yourself to use captured drones to land nitro kills.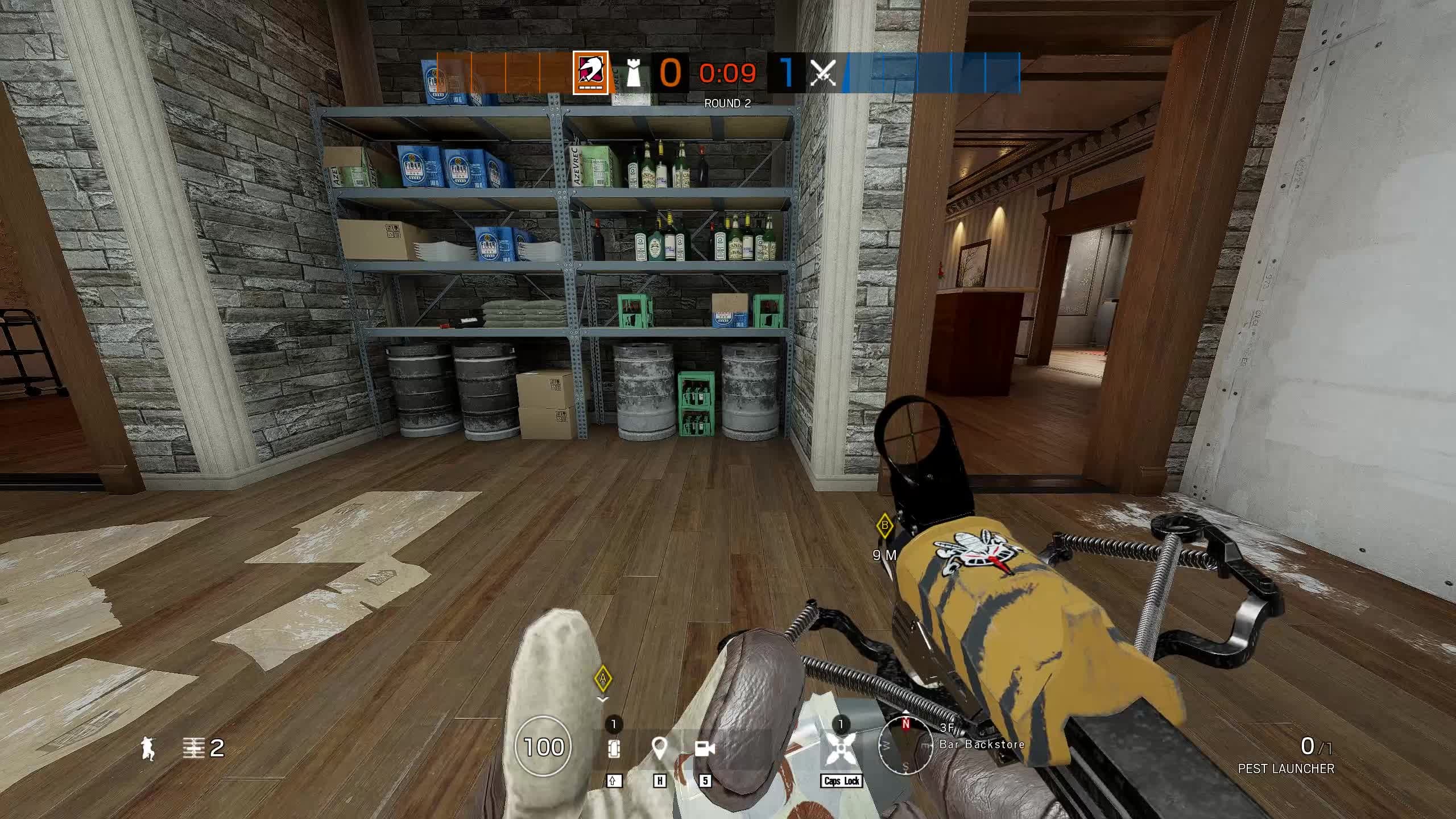 BOMB SITE 4 – Kitchen Service [1F] and Kitchen Cooking [1F]   Kitchen is a super spacious site surrounded by hallways. The entire ceiling is destructible but the site itself offers plenty of equipment and protective counters for cover. Attackers may choose to focus on breaching above to clear out Cooking and breach Bakery wall to pull a plant off. Or else they may focus on the backside, breaching Freezer instead. Watch for flanks coming in Service door from the Coat Check hallway.   This is the main wall attackers breach. If you're looking to support anchors or play site, fire a pest above the drone hole beneath the fan, and one on the doorway to Kitchen prep.
  This is the other main wall in Freezer. Both it, and the hatch, should be reinforced. You can toss a pest above this drone hole, especially if you're looking to chuck C4s at hard breachers.
  Defenders sometimes play at the bottom of Red Stairs. As a result attackers tend to hold angles from outside this window. Weaken their position with a pest on the window and this reinforcement keeping them from viewing all the way through Bakery.
  Pests on either end of Coat Check allow a defender to retreat into here and vault up on this furniture to hold an off-angle.
  A pest in this hallway, hidden under barbed wire can be used if you forfeit holding Coat Check. Use of either of these two reinforcements to prevent attackers from cutting off site rotations from safety in Restaurant Area.
  Here are some areas you may catch drones with early drone hunting while setting up your roam. Play in Train until you get some intel to play off of.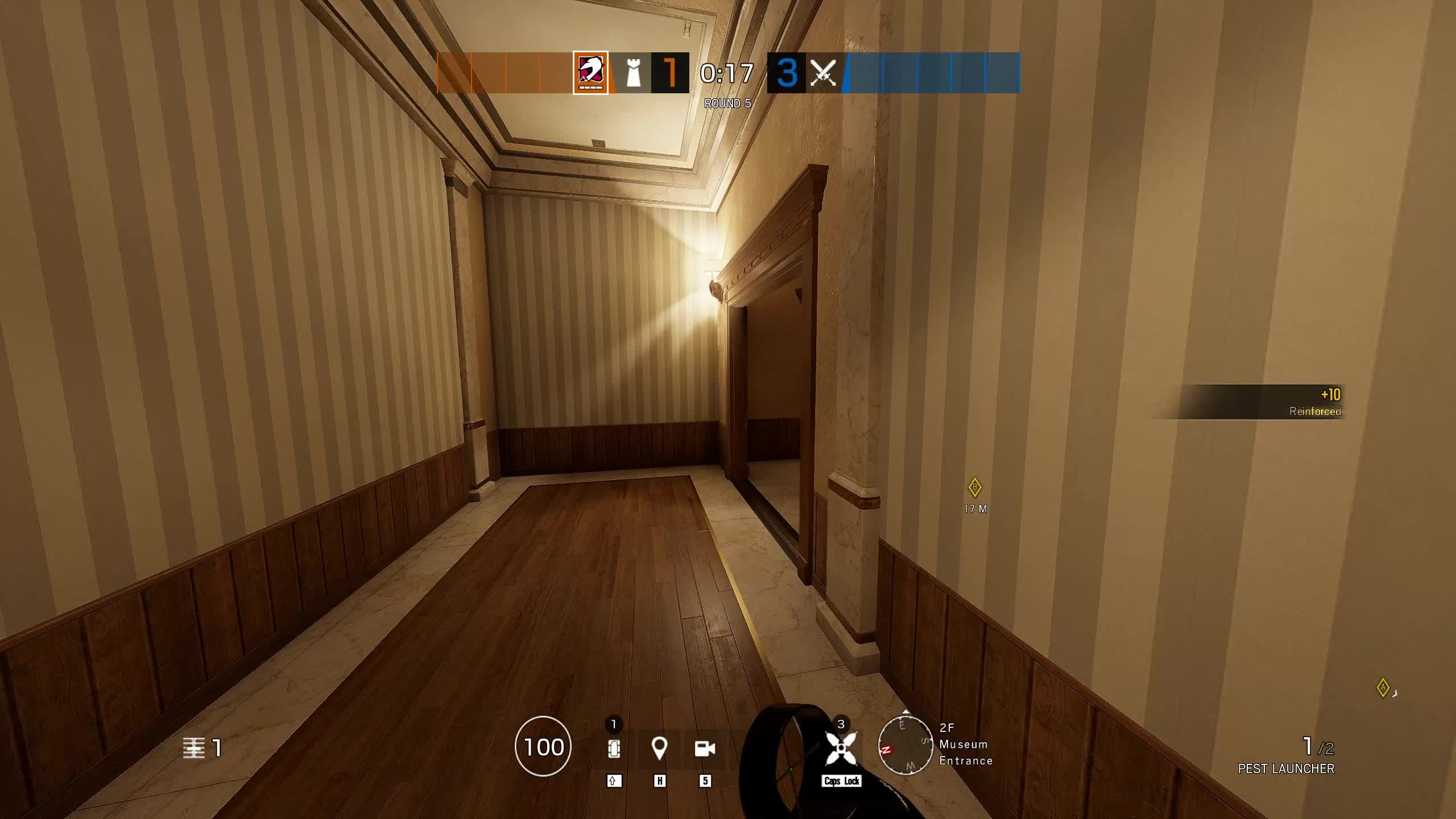 Gotta love Mozzie on a map with so much capacity for destruction. Hopefully next you play your drone army will continue to grow!