drTaperdown
LV.9
Bamboozled
Guide to Playing Mozzie on Chalet
Guides
So you found yourself defending the infamous Chalet? No worries! Simply hide in the bathtub and play on your phone while your pests keep you company!
Chalet is notorious for its somewhat chaotic frag-centric gameplay. The building is somewhat large, with three floors and three staircases, but is clustered tightly. As a result both shallow roams and deep roams are quite popular. It has plenty of windows and external balconies, most of which attackers need to climb ladders to get onto, leaving them vulnerable in the process. All sites are all quickly accessible from outside, so having dependable anchors is vital, but anchoring is tough with all the destructible floors and ceilings.   Mozzie, the Australian defender, is super fun to play and can be very helpful for his team. He is a two armor two speed operator with a flexible playstyle, fit for roamers and anchors alike, making him great for solo queuing. He excels in disrupting enemy intelligence, and if you play your cards right, he brings amazing information to you and your teammates. In addition to having top tier utility, Mozzie performs amazingly in firefights, not to mention his Commando 9 has the BEST reload animation in the game.   Mozzie's pest launcher fires out spider-like robots that latch onto nearby drones, hacking them, granting Mozzie controls instead. He comes equipped with three pests which can block off narrow choke points that attackers commonly drone, effectively locking down entire areas of the map, especially when paired with Mute. He can also hunt drones as soon as the prep phase begins, heading straight to doorways near drone spawn locations and sniping some of those RC cars to use right off the bat. You can position captured drones near site and leave them, or hide in a safe location and hop on cams to cruise them around and hunt attackers.     MOZZIE'S LOADOUT
Mozzie has the choice between the Commando 9 and the P10 Roni. The Commando is more reliable, with a more shallow damage drop-off curve and a higher magazine capacity. But the P10 Roni shreds in CQB with a higher fire rate and virtually no recoil. It is arguably a matter of preference, and the attachments you equip on either gun boil down to preference as well. I currently prefer the Commando with a holo sight, vertical grip, and flash hider.   Mozzie brings the SDP 9mm, a well-rounded pistol with a decently high ammo-count. It is best equipped with the muzzle break, but the silencer can be useful in some situations, such as shooting out drones or claymores while flanking. For his secondary gadget, he nearly always brings a nitro cell because it is significantly more powerful than the alternative barbed wire. The C4 also synergizes with his Pests, because vision from hacked drones can be used to set up kills. Additionally, the nitro can be used to blow open rotations when getting pinched. There may be some situations though where your team decides they need barbed wire, so you do have that option available, and I will showcase good locations to place it for those who prefer it. It is also worth noting that barbed wire can hide your pests, but shoot your pest first and place the wire after.     DEFENDER BOMBSITES
  BOMB SITE 1 – Master Bedroom (2F) and Office (2F)   This seems to be the more popular of the two third-picks, though it is rather exposed to plenty of angles that attackers can safely hold from outside at a distance. To the North attackers peek from atop the rocks by Campfire spawn; they also rappel up the balcony there to push into Master. To the East attackers like to climb the sniper tower and climb the ladder onto the balcony just outside the Master and Office windows. There is also the catwalk South of Office that looks through four windows into Great Room. You can anchor in bathroom while giving callouts, or roam below in Dining Room setting up nitro cells for attackers that waltz into site.   This wall should be reinforced to allow playing in the hallway. A pest in Bathroom on ping will help protect any anchors in the bathtub.
  These two reinforcements keep the anchor here safe from wallbangs. A pest on this doorway combined with the one above will deny attacker drones from scoping out defender locations.
  These reinforcements keep attackers from setting up nasty lines of sight on the hallway from deep in Library. A pest in this doorway serves the team well, especially if someone covers it with wire. Check cams for attackers pushing up these two staircases.
  These reinforcements are great for anyone anchoring at the top of West Main Stairs. Support them with a pest on the stairs too.
  Playing below for nitros is a great option since so little of site is actually playable. Launch a pest at the rafters above Great Hall windows to deny an OP drone spot. Plus if attackers know about the spot, your drone army grows by one!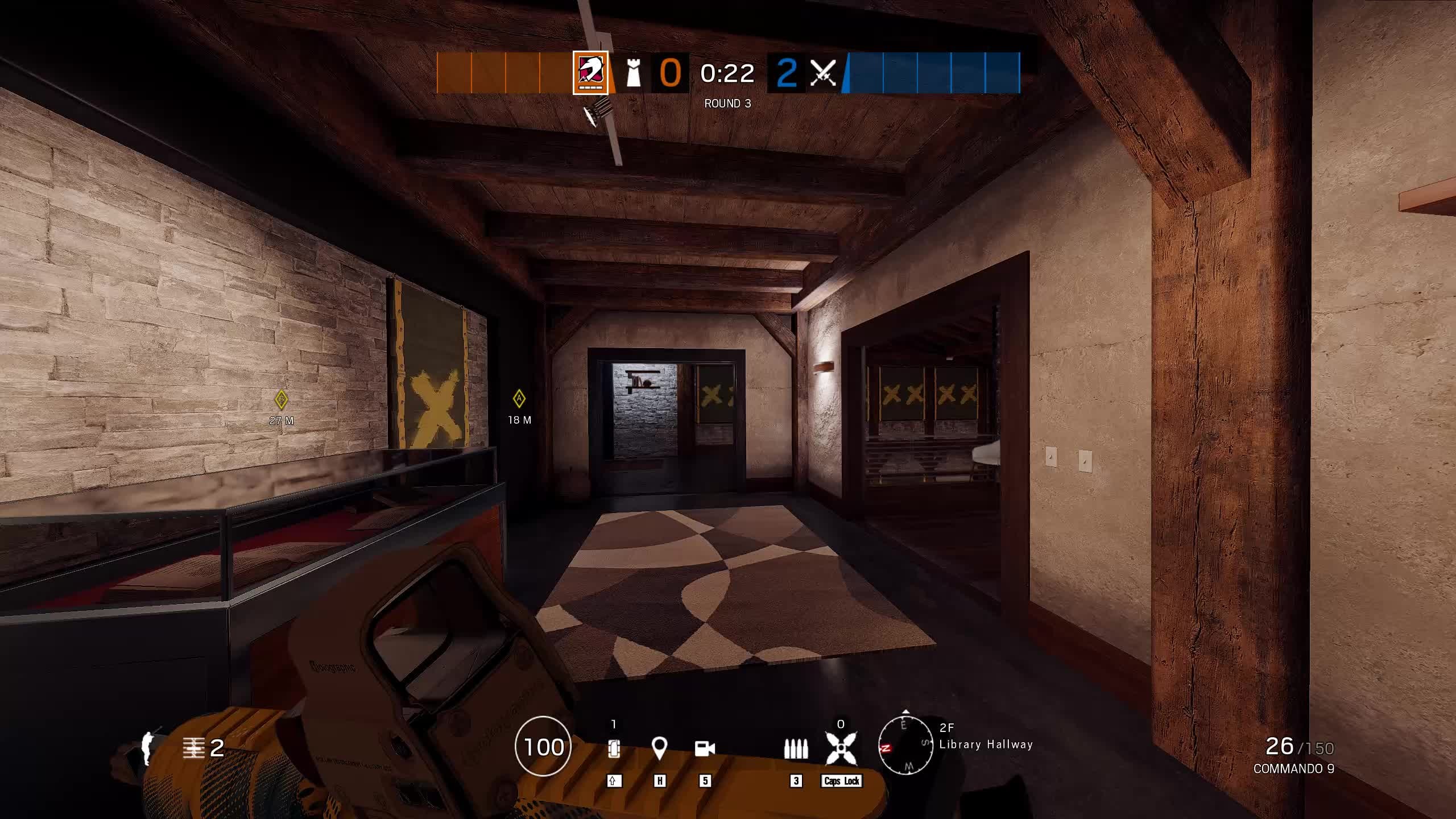 BOMB SITE 2 – Bar (1F) and Gaming Room (1F)   This is the alternative third-pick option available. It is typically held from above in Library and from the surrounding hallway and stairs. Most teams push from Bedroom to clear Library. Once they have top control they may smoke plant in Gaming or Breach Bar wall and plant in Bar instead. You will want to keep an eye out for flanks coming up the staircases from the basement.   Reinforce this left wall and hatch so you can anchor safely behind Bar. A pest on the drone hole thwarts attackers' attempts to scout Bar from Gaming. Be careful of this window however as attackers can use it to get an angle on you if you push up too far.
  These reinforcements are essential to defending behind Bar as well. Attackers may flank this site from Dining Room on ping.
  These two reinforcements complete the setup for Bar. A castle or barricade should cover up this doorway to allow defender rotations. Place a pest behind this tree to snatch drones rolling in through the drone hole on ping.
  Attackers may try flanking site through this side entry. Some barbed wire can make that much more treacherous of an undertaking. You can also prevent them from sneaking drones through it with a pest on the doorway. A pest below these stairs on ping will prevent attacker drones from accessing site via Blue Hallway below.
  Keeping attackers from droning Gaming can be super helpful, especially if attackers ignore this site and focus on pushing through Great Hall. A pest on the main door and one behind the couch will at least block off two entry points for drones.
    BOMB SITE 3 – Wine Cellar (B) and Snowmobile Garage (B)   A contender for the best site, Garage and Wine can make for a solid hold. If the plant goes down however, and attackers can chill outside covering from deep angles. When they're situated on either side of the garage door, it's very uncomfortable to retake. It is becoming increasingly popular though for attackers to push the back side of Wine from Car Garage. With Mozzie you can anchor in Wine Closet or roam in Library and chuck nitros at attackers focusing on Snowmobile Garage wall.   Make sure main wall is reinforced! You can throw a pest above this drone hole too if Thatcher is banned.
  You may also want to keep drones from entering site via Great Hall stairs.
  Blue hallway is a popular flank route for attackers and should be locked down with a pest on the steps. If you prone behind this box you can line up a nasty pixel angle on attackers pushing the staircase. You can also break this shelving to vault on the sink and hold an off-angle.
  Attackers also frequently push from this doorway to breach the Closet wall. Deny their drones with a pest on the doorway.
  A defender can play these stairs on ping to slow the backside push. A pest and some barbed wire can help them by making it more difficult for attackers to push from Car Garage.
  You can't set up all of these C4 plays in one round but you can add them all to your arsenal and change it up to remain unpredictable.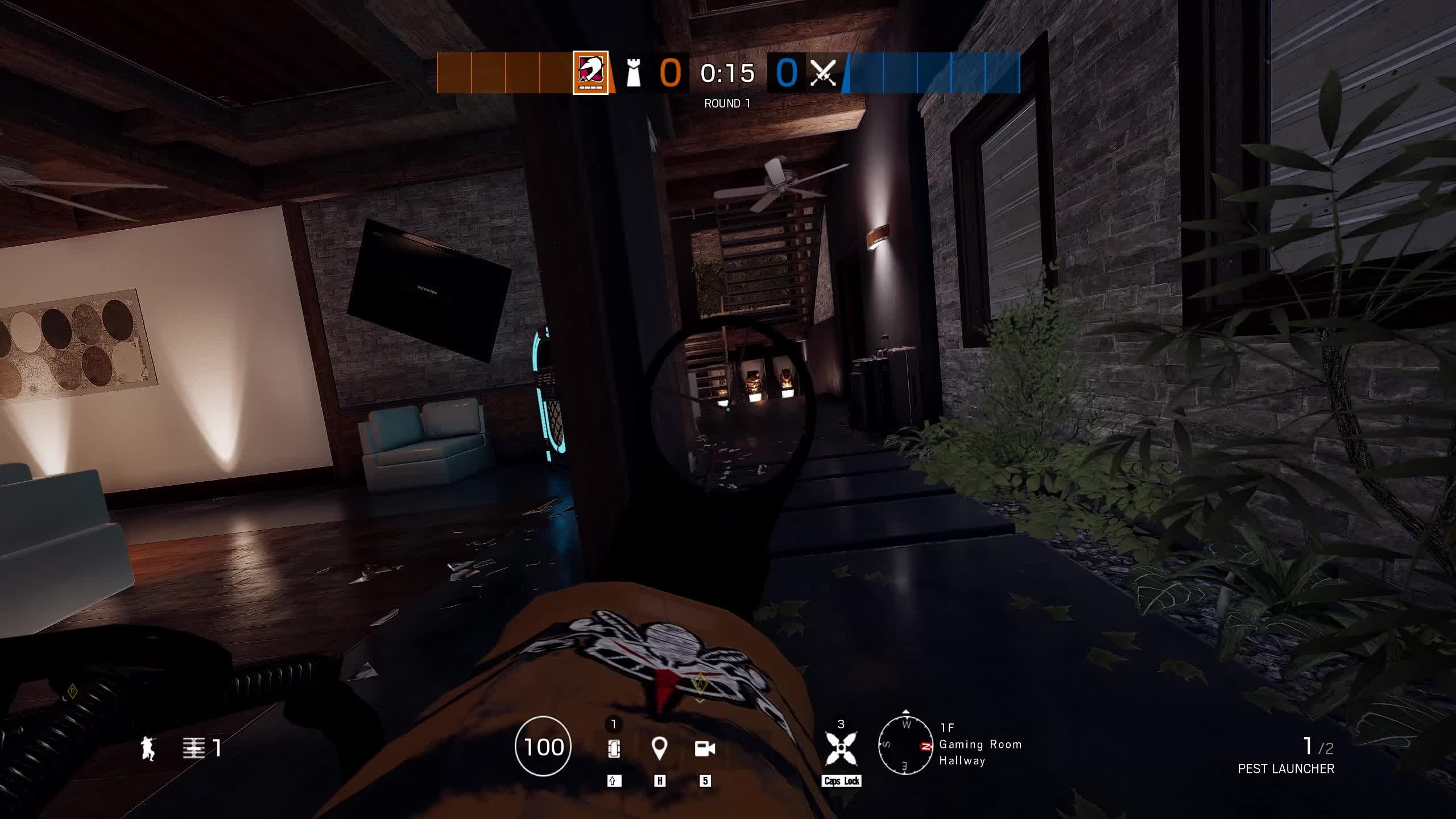 BOMB SITE 4 – Kitchen (1F) and Trophy Room (1F)   Perhaps the most popular site, Kitchen and Trophy can be defended as an anchor, a lurker nearby, or you can head deep into the map for a late flank. If you choose to anchor, play by the Dining table but beware breachers above and the drone hole behind. If instead you choose to roam, you can play in Wine Closet and flank attackers that breach Trophy from below in Car Garage. Otherwise you can roam top floor and interfere with the attacker's drone game before falling off.   If Thatcher is banned, lay one pest on the window and one above the drone hole. If he is up and EMPs this, he'll get both.
  Attackers tend to drone this hallway late in the round. So fire a pest on ping and get a teammate to hide it with barbed wire. This wall in West Main leading to Trophy should certainly be reinforced.
  Plug up Kitchen window and the Dining drone hole with a pest each. And be sure to reinforce this Kitchen wall.
  This double doorway is another common route for attackers to take and houses two drone holes. Block it all up with a pest and some barbed wire!
  Double down on your drone denial game after laying all your pests down by playing up here to shoot attacker drones before falling off.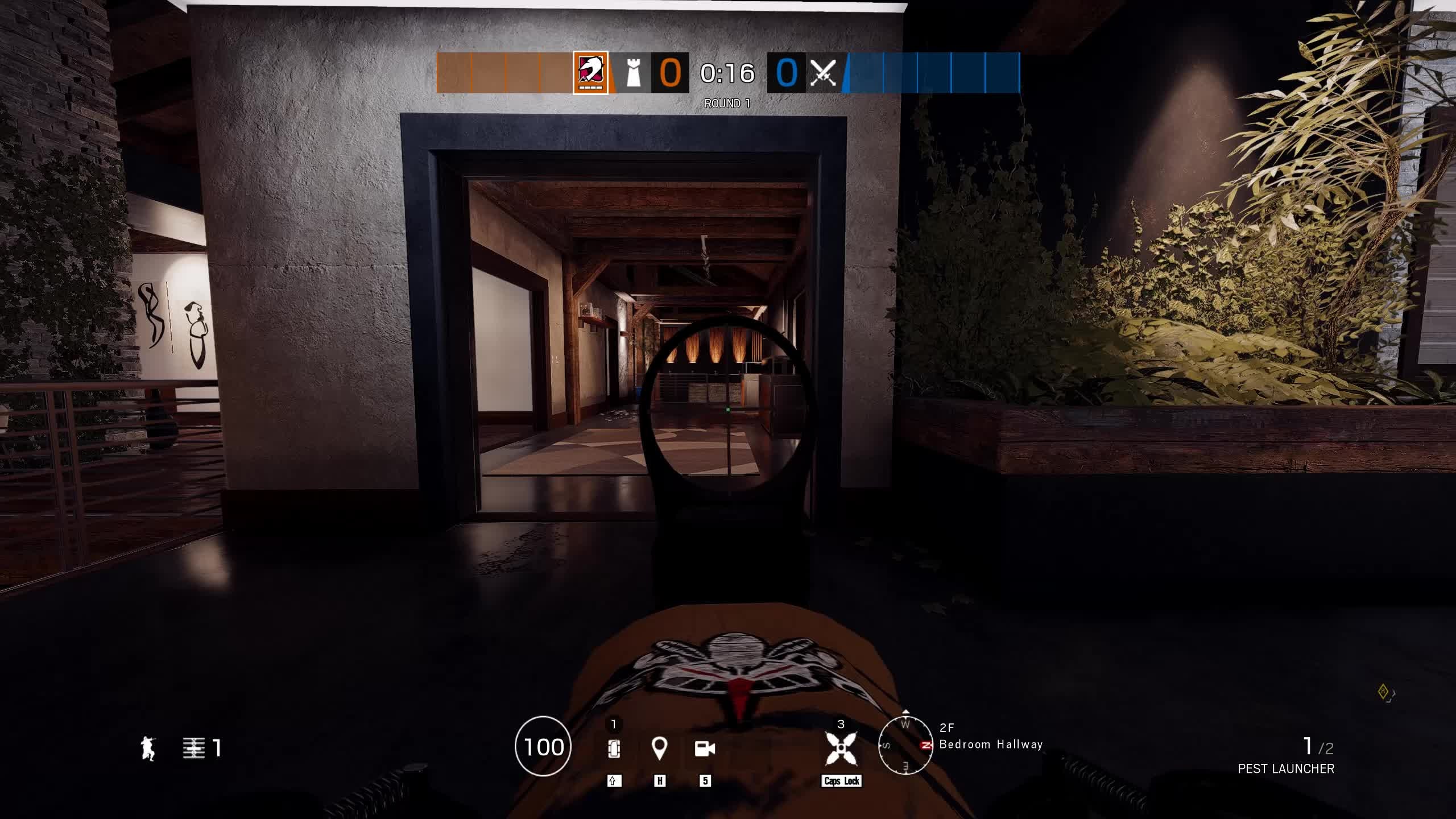 Don't let Chalet get you down folks! It's actually a pretty fun map if you adopt your playstyle to fit the features of the map. And if that doesn't help, remember: it's in line for an upcoming rework!