drTaperdown
LV.9
Bamboozled
Guide to Playing Mozzie on Kanal
Guides
Have you ever been relaxing in the Radar control room and suddenly a small mechanical spider leaps in front of the screen you were viewing? Yupp, you guessed it... Mozzie just hacked your biz yo!
  Kanal is made up of two towers joined by two bridges and contains three internal staircases, plus two secret ladders in the West basement. This all adds up to plenty of ways to navigate the map. Kanal also features plenty of windows for attackers and defenders to fight through. The Eastern tower consists primarily of first and second floor, and a smidgeon of basement. The Western tower is made up mostly of first floor and basement with very small bits of second floor leading to the roof.   Mozzie, the Australian defender, is super fun to play and can be very helpful for his team. He is a two armor two speed operator with a flexible playstyle, fit for roamers and anchors alike, making him great for solo queuing. He excels in disrupting enemy intelligence, and if you play your cards right, he brings amazing information to you and your teammates. In addition to having top tier utility, Mozzie performs amazingly in firefights, not to mention his Commando 9 has the BEST reload animation in the game.   Mozzie's pest launcher fires out spider-like robots that latch onto nearby drones, hacking them, granting Mozzie controls instead. He comes equipped with three pests which can block off narrow choke points that attackers commonly drone, effectively locking down entire areas of the map, especially when paired with Mute. He can also hunt drones as soon as the prep phase begins, heading straight to doorways near drone spawn locations and sniping some of those RC cars to use right off the bat. You can position captured drones near site and leave them, or hide in a safe location and hop on cams to cruise them around and hunt attackers.   MOZZIE'S LOADOUT
Mozzie has the choice between the Commando 9 and the P10 Roni. The Commando is more reliable, with a more shallow damage drop-off curve and a higher magazine capacity. But the P10 Roni shreds in CQB with a higher fire rate and virtually no recoil. It is arguably a matter of preference, and the attachments you equip on either gun boil down to preference as well. I prefer the Commando with a holo sight, angled grip, and muzzle break.   Mozzie brings the SDP 9mm, a well-rounded pistol with a decently high ammo-count. It is best equipped with the muzzle break, but the silencer can be useful in some situations, such as shooting out drones or claymores while flanking. For his secondary gadget, he nearly always brings a nitro cell because it is significantly more powerful than the alternative barbed wire. The C4 also synergizes with his Pests, because vision from hacked drones can be used to set up kills. Additionally, the nitro can be used to blow open rotations when getting pinched. There may be some situations though where your team decides they need barbed wire, so you do have that option available, and I will showcase good locations to place it for those who prefer it. It is also worth noting that barbed wire can hide your pests, but shoot your pest first and place the wire after.   DEFENDER BOMBSITES
  BOMB SITE 1 – Server Room [2F] and Radar Room [2F]   Typically the preferred site, Server and Radar contain an external wall in Renovations. In addition to the four panels in this cubby, reinforce the corner walls of the hallways surrounding site. Attackers are likely going to push through Upper Bridge or the Red and Green Stairs. They also like to pressure the hallway windows from the balcony outside. Be weary crossing the window in Control Room as it is frequently opened early in the round and attackers sit on the opposite roof with ACOGs. With Mozzie you can anchor in Server Room where you are relatively safe to remain on cams. But if you're a natural born roamer, you can play below in Maps and use your intel to score a kill with a nitro cell.   Lock down Upper Bridge from being droned with a pest on this equipment. You can also vault on the red crates for a lesser-known angle on attackers hopping in Printer.
  These two reinforcements are vital. Keep drones from getting close to site with a pest locking down this doorway.
  Attackers may attempt to push or at least drone up Red Stairs. Foil their attempts with a well placed pest.
  Don't let some insane Ash main drone out a hole in your defenses at the top of Green Stairs and proceed to rush right up. A pest hidden in barbed wire, or else placed at the top should do the trick.
  If you prefer drone hunting to default setups, hop right to it when the round begins and then head back to site and reinforce before hurrying below to play for C4 kills.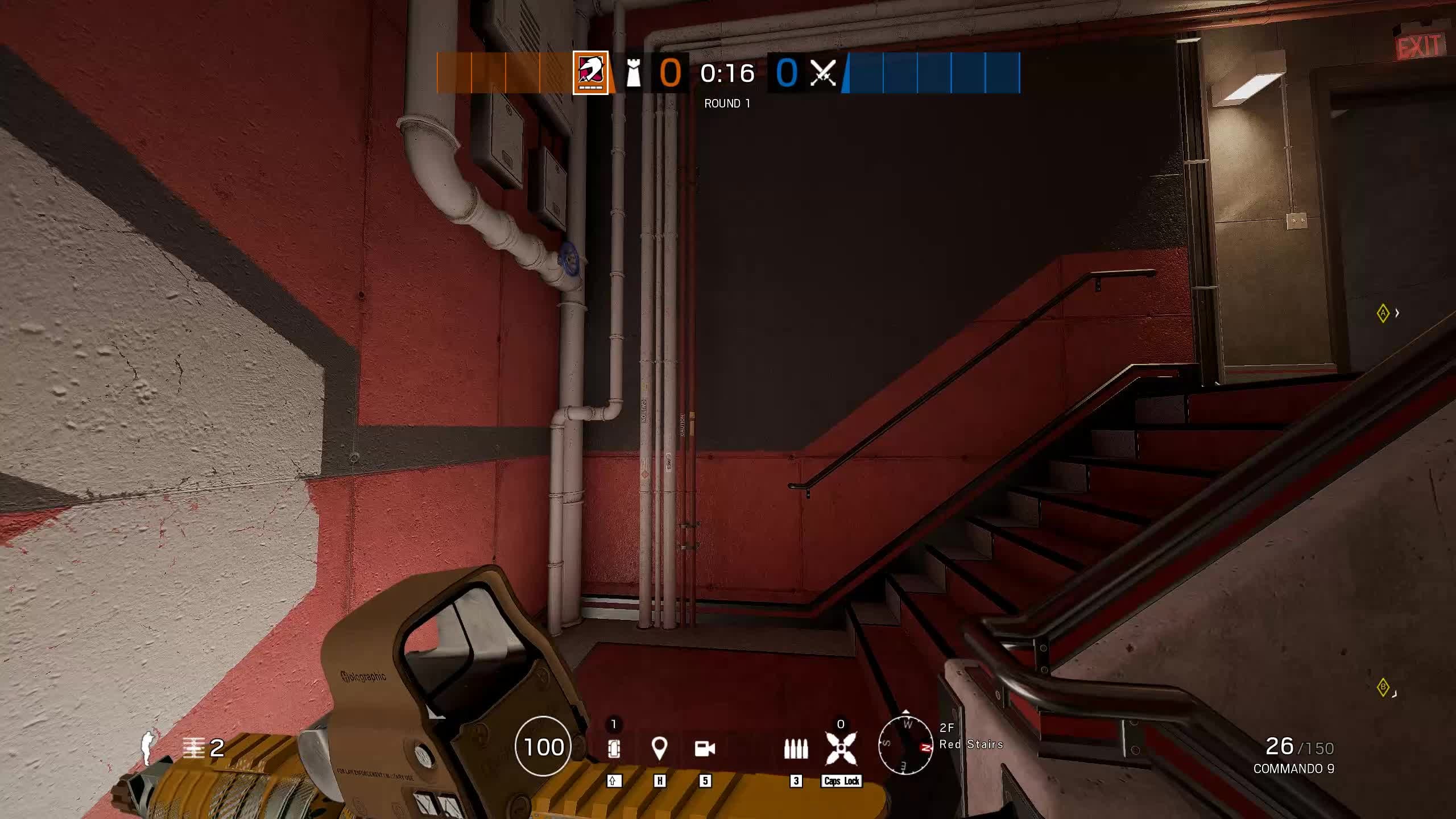 BOMB SITE 2 - Security Room [1F] and Map Room [1F]   This site can be pretty rough and requires either extending vertically into Server and Radar or horizontally into Kitchen and Model Room. With Mozzie I prefer to either play in Maps and provide intel to my team or deep roam in Lounge and set up a flank on attackers playing vertically in Server and Radar.   Make attackers' efforts to push through this door as miserable as possible with barbed wire and a pest.
  Don't lose control over Model Room. These two pests will help keep it locked tight.
  Plug off attacker intel from getting through Kitchen with a pest on this doorway. This panel can be reinforced, or a rotate can be made and East Kitchen wall can be reinforced instead.
  Looking to make a risky play that just may win the round? Block off this basement door with a pest and punch the broomstick so you can hide on this janitor cart.
  If you anticipate vertical play, hack some RC cars in prep phase before playing a deep roam in Lounge where you can hide while droning out your flank.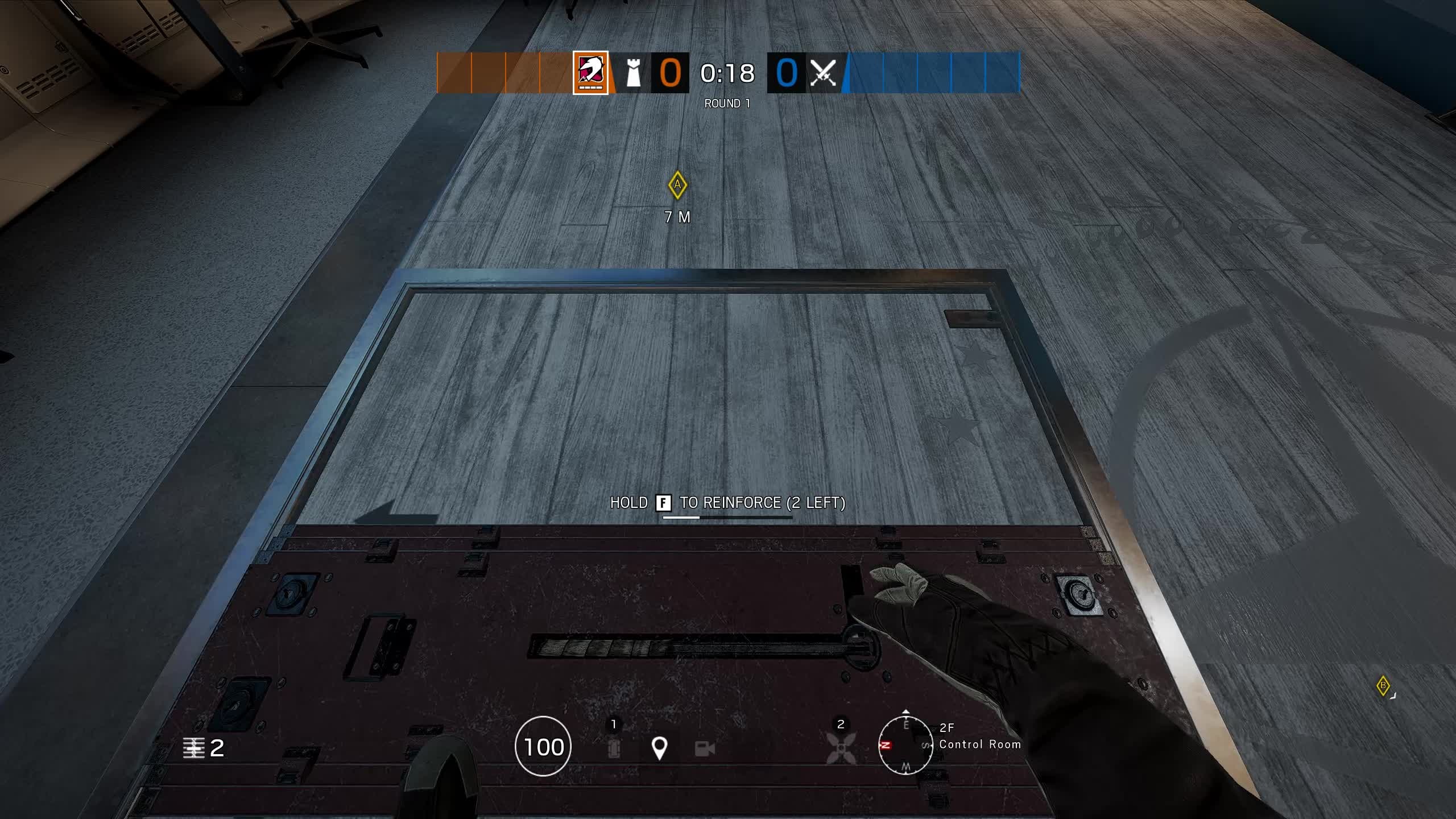 BOMB SITE 3 - Coast Guard Meeting Room [1F] and Lounge [1F]   This site is a decent third choice if your squad is more comfortable with holding the West tower, but it appears to be the worst site to defend. All but a small portion of Lounge bears destructible flooring, so defending from below with C4s works in theory. You can also extend the site into Radio for more wiggle room. If your team runs a pocket strat here, I recommend a Maverick or Ace ban.   Reinforce these four walls if you plan on holding from inside Coast Guard. OR if you're a PRO, reinforce just the walls on the right and have a teammate blow holes throughout the left wall so site can be defended from the surrounding hallway instead.
  This is the wall that make this site so hard to defend, it should be tricked if possible. Attackers can breach then plant on the indestructible flooring. But with Mozzie you can play below and lob a C4 up through the hatch from Lockers. A pest between this window and drone hole can capture drones coming in through both.
  A pest in this doorway will almost certainly hack a drone. But immediately pilot it to safety or it will be shot. You can C4 Reception from below in Bathroom.
  Holding Radio makes this site more viable. Shoot a hole in the two walls lined up on my crosshair to get an angle on White Stairs when you stand on this desk. You'll see the feet of attackers coming down from the roof before they see you.
    BOMB SITE 4 - Kayaks [B1] and Supply Room [B1]   This is my favorite site on Kanal. It makes for some really interesting gameplay, and uniquely features a second basement, accessible via two ladders - one in Showers and one in Diving. Attackers most commonly push above, as well as through Supply Room Corridor. They may also pressure Lockers and Diving windows. You can anchor off-site in Lockers where you are safe to drone as long as teammates watch your back from either side. Otherwise anchoring in Kayaks is solid too. If instead you choose to roam, use your pests to delay the push above and hide in Lounge, hiding drones you capture when possible.   Sling a pest out on the right side of this doorway above the blue line and you'll pick up any drones cruising into Kayaks from the nearby drone hole.
  Throw a pest here and one just inside bathroom door to deny droning from one of the main areas attackers push through.
  A drone on the steps here will likely score any drones trying to clear this staircase and can't be seen until attackers are on the steps themselves. Make sure all four panels at the bottom of this staircase are reinforced!
  If you're roaming head above to hunt some drones before reinforcing the hatches.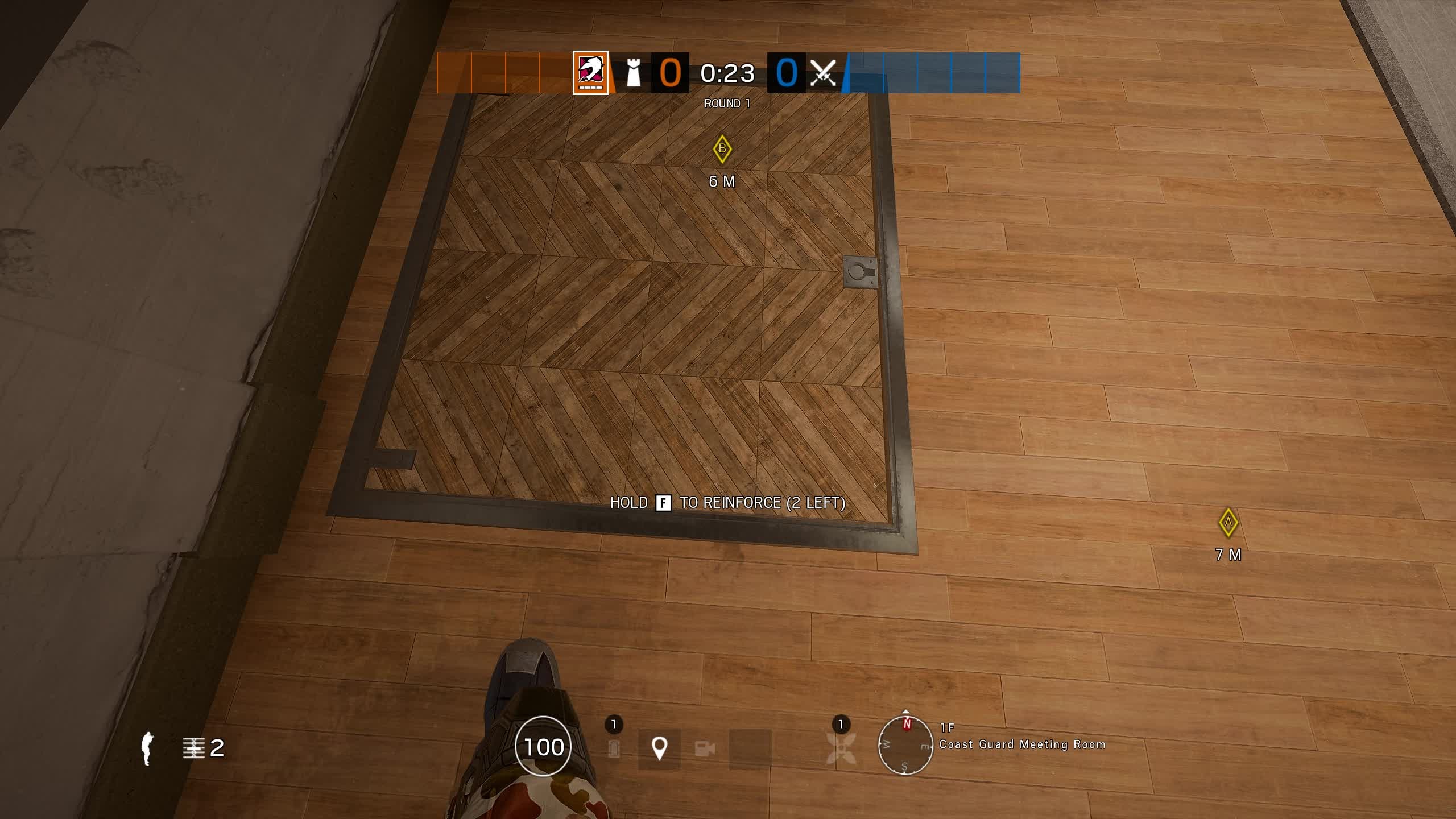 Some people captain ships. Mozzie captains RC cars with little cameras embedded in them. To each their own I guess.