drTaperdown
LV.9
Bamboozled
Guide to Playing Mozzie on Clubhouse
Guides
Looking to make some risky plays and net some wins? Bring Mozzie to hack the odds in your favor!
  Clubhouse, is quite spacious and roamer-friendly, so attackers tend to instead dedicate someone to flank watch instead of full-clearing. The map has three floors, including a basement and three staircases plus a ladder in the garage, leaving plenty of approaches to attackers and flank routes to defenders. The strip club is a risky area to play. Attackers may clear it, or leave it unchecked the entire round making it a potential area to flank from. The rounds tend to be heavily focused around hard breaching because of the surplus of external walls for every site. Clubhouse is also home to the iconic SSG Mute – Mozzie strat where defenders roam throughout the entire building when defending basement. If you're interested in learning more, Reaper, former pro league coach, covers it in depth on his youtube channel.   Mozzie, the Australian defender, has a very unique playstyle that is somewhere in between Echo, Valkyrie, and Vigil. He is a two armor two speed operator, fit for roamers and anchors alike, making him great for solo queuing. He excels in disrupting enemy intelligence, and if you play your cards right, he brings amazing information to you and your teammates. In addition to having top tier utility, Mozzie performs amazingly in firefights, not to mention his Commando 9 has the BEST reload animation in the game.   Mozzie's pest launcher fires out spider-like robots that latch onto nearby drones, hacking them, granting Mozzie controls instead. He comes equipped with three pests which can block off narrow choke points that attackers commonly drone, effectively locking down entire areas of the map, especially when paired with Mute. He can also hunt drones as soon as the prep phase begins, heading straight to doorways near drone spawn locations and sniping some of those RC cars to use right off the bat. You can position captured drones near site and leave them, or hide in a safe location and hop on cams to cruise them around and hunt attackers.     MOZZIE'S LOADOUT
    Mozzie has the choice between the Commando 9 and the P10 Roni. The Commando is more reliable, with a more shallow damage drop-off curve and a higher magazine capacity. But the P10 Roni shreds in CQB with a higher fire rate and virtually no recoil. It is arguably a matter of preference, and the attachments you equip on either gun boil down to preference as well. I prefer the Commando with a holo sight, angled grip, and muzzle break.   Mozzie brings the SDP 9mm, a well-rounded pistol with a decently high ammo-count. It is best equipped with the muzzle break, but the silencer can be useful in some situations, such as shooting out drones or claymores while flanking. For his secondary gadget, he nearly always brings a nitro cell because it is significantly more powerful than the alternative barbed wire. The C4 also synergizes with his Pests, because vision from hacked drones can be used to set up kills. Additionally, the nitro can be used to blow open rotations when getting pinched. There may be some situations though where your team decides they need barbed wire, so you do have that option available, and I will showcase good locations to place it for those who prefer it. It is also worth noting that barbed wire can hide your pests, but shoot your pest first and place the wire after.     DEFENDER BOMBSITES
  BOMB SITE 1 – Gym (2F) and Bedroom (2F)   Gym and Bedroom are surrounded by windows and an external wall facing to the West which opens up onto Jacuzzi Balcony. The South-facing balcony where attackers like to peek through windows from can be peeked at through CCTV window, so to help control this balcony some teams like to extend into CCTV, reinforcing the external wall there. Mozzie can post up in the bathroom shower on his drones or can roam below in Bar where he's less likely to be droned out and can scout out some nitro cell plays.   A pest on Gym window will almost positively grab an attacker drone.
  This is the main wall that needs reinforced and IF Thatcher is banned, a pest on this drone hole will probably score a hack. If Thatcher is on the board, don't waste a pest here.
  If you keep a pocket pest, once this hatch opens you could try to grab the drone that comes flying through.
  A pest on this staircase will catch drones cruising up or flying through the window.
  Extending into CCTV helps to eat up hard breach utility. Make sure the solo panel in Construction is reinforced as well.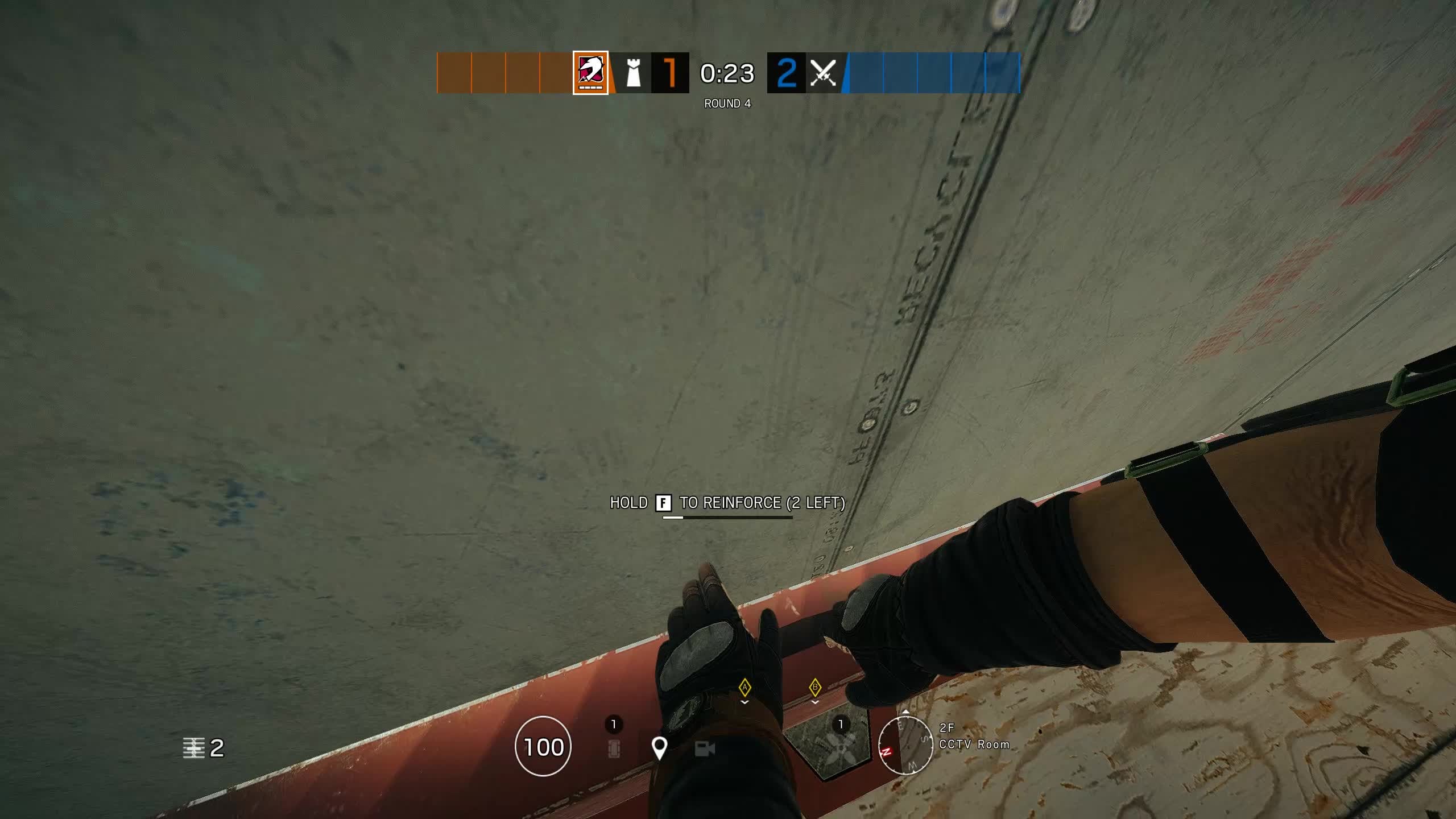 BOMB SITE 2 - CCTV Room (2F) and Cash Room (2F)   Defending CCTV and Cash is going to largely revolve around denying the breach on the external wall in CCTV. Flanks may come through Construction or Red Stairs. Controlling Garage catwalk is crucial or attackers may surround site entirely. Anchoring in Cash is the play if you need to drone for your roamers. Otherwise you can roam in Bar or Church, scouting potential flanks with captured drones.   Again, only if Thatcher is banned, lob a pest by this drone hole near the main wall.
  A pest on Garage stairs is almost certain to hack a drone. It'll be much more effective if someone covers it with barbed wire. If your team has spare reinforcements, this wall in Garage should be reinforced as well.
  A pest on these stairs may eat up an attacker drone, but will at least force attackers pushing this way to face-check the stairs.
  If you're the roaming type, post up in Bar and land some C4s on attackers pushing from Bedroom.
    BOMB SITE 3 - Bar (1F) and Stock Room (1F)   Bar and Stock don't really see too much play, arguably because they make up the worst site in the ranked map pool, but having a pocket strat on-hand and surprising your opponents could come in handy. Attackers will almost certainly go for a smoke plant in Stock Room, but may otherwise push through the Strip Club and Bathroom or flank from Bedroom Stairs. The spacious nature of the site makes it difficult to properly defend as it requires spreading out. A good location for Mozzie to play is behind the Bar. And if you wiggle up onto the cash register you get a nasty angle onto Stock doorway.   Locking down drones coming from either doorway in Strip Club hallway can stave off rushing attackers.
  Here's the other pest location mentioned above. Make sure Pool Table wall is reinforced too.
  A pest above Bathroom drone hole finally secures this end of the site from being droned. Reinforce this Bar wall to keep you safe while you sit behind Bar on cams.
  Lounge is a powerful position that needs to be held. It tends to receive too much pressure to allow Mozzie to play it safely, but Mozzie can help hold it by shooting out the glass on this shelving near the drone hole and hiding a pest to plug up this drone hole.
  This Bar wall should also be reinforced and someone can play by the stage to support whoever plays in Lounge. Barbed wire in Lobby can also help protect whoever plays in Lounge, and hides a pest too.
    BOMB SITE 4 - Church (B) and Arsenal Room (B)   This is a great site for anchoring or roaming. And again, check out Reaper's analysis of SSG's basement roam on his YouTube channel. That dude really helps make sense out of the 9000 IQ strategies coming out in pro league. Most of the ceiling in Arsenal is soft, in contrast to Church, which bears an indestructible ceiling. This makes Church Bar the ideal place to anchor when droning. There are three hatches above attackers will likely try to open, and they need to all be reinforced. Watch for attackers pushing down Blue Stairs and Main Stairs as well, and through Dirt Tunnel. If you choose to roam, head all the way up to top floor where you can flank attackers and try to keep them from opening hatches.   A pest on this doorway keeps attackers from droning out their Blue Hall push to significantly. This is ideal for whoever plays these ammo boxes on ping.
  This wall in Church should be reinforced as well, and a pest on this doorway keeps drones from getting through once attackers open "Moto" hatch from Bar.
  If you're reinforcing hatches, hunt some drones while you're out and about.
  Attackers like to hide a drone in one of the many dark corners in Kitchen as well, so rush straight here and sit in the corner waiting for your prey to roll through.
  Don't forget to make sure Dirt tunnel is reinforced! The job is quick and easy and you can spend the remainder of your time in Prep phase snatching drones.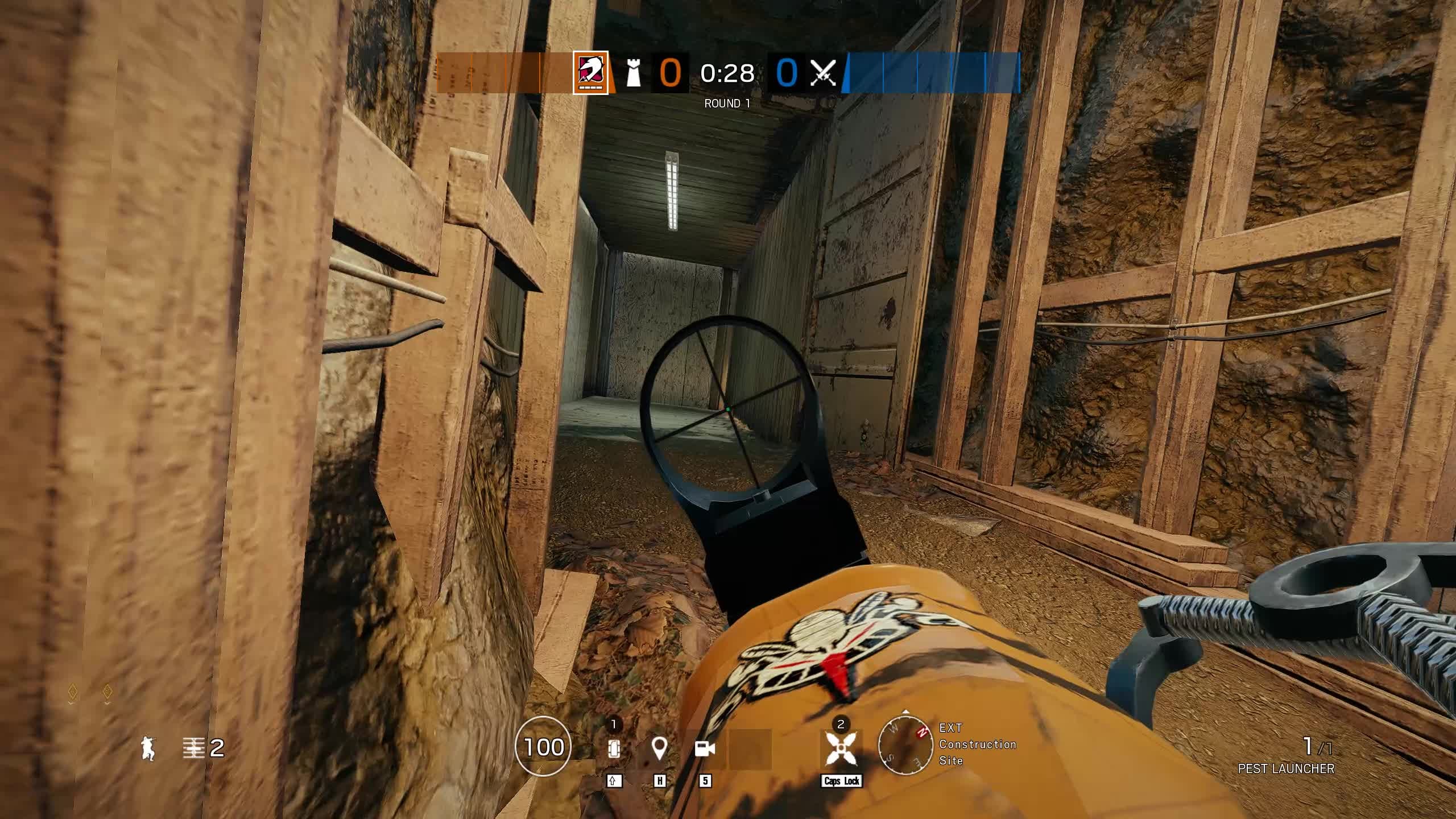 Happy hunting ya'll!