drTaperdown
verified
LV.19
Big Chungus
Guide to Playing Mozzie on Consulate
Guides
Did anyone order pest control service? If so, Mozzie's got you. He has a bit of a strange take on the matter though as he's the sort to fight spiders with spiders. But don't worry, his have quite the edge thanks to some seriously genius AI.
  Consulate is one of those maps that favors frag happy loonies and sees plenty of spawn peeks and run outs, especially when Valkyrie is on the board, so consider banning her. With three large floors, three staircases, and plenty of hatches, a full roam-clear on attack can be pretty tedious. Make it even moreso by snatching up drones with Mozzie to use for your own mad lad plays. There are very clear cut paths for attackers to take, making it possible to deny intel in entire key areas.   Mozzie, the Australian defender, has a very unique playstyle that is somewhere in between Echo, Valkyrie, and Vigil. He is a two armor two speed operator, fit for roamers and anchors alike, making him great for solo queuing. He excels in disrupting enemy intelligence, and if you play your cards right, he brings amazing information to you and your teammates. In addition to having top tier utility, Mozzie performs amazingly in firefights, not to mention his Commando 9 has the BEST reload animation in the game.   Mozzie's pest launcher fires out spider-like robots that latch onto nearby drones, hacking them, granting Mozzie controls instead. He comes equipped with three pests which can block off narrow choke points that attackers commonly drone, effectively locking down entire areas of the map, especially when paired with Mute. He can also hunt drones as soon as the prep phase begins, heading straight to doorways near drone spawn locations and sniping some of those RC cars to use right off the bat. You can position captured drones near site and leave them, or hide in a safe location and hop on cams to cruise them around and hunt attackers.     MOZZIE'S LOADOUT
Mozzie has the choice between the Commando 9 and the P10 Roni. The Commando is more reliable, with a more shallow damage drop-off curve and a higher magazine capacity. But the P10 Roni shreds in CQB with a higher fire rate and virtually no recoil. It is arguably a matter of preference, and the attachments you equip on either gun boil down to preference as well. I prefer the Commando with a holo sight, angled grip, and muzzle break.   Mozzie brings the SDP 9mm, a well-rounded pistol with a decently high ammo-count. It is best equipped with the muzzle break, but the silencer can be useful in some situations, such as shooting out drones or claymores while flanking. For his secondary gadget, he nearly always brings a nitro cell because it is significantly more powerful than the alternative barbed wire. The C4 also synergizes with his Pests, because vision from hacked drones can be used to set up kills. Additionally, the nitro can be used to blow open rotations when getting pinched. There may be some situations though where your team decides they need barbed wire, so you do have that option available, and I will showcase good locations to place it for those who prefer it. It is also worth noting that barbed wire can hide your pests, but shoot your pest first and place the wire after.     DEFENDER BOMBSITES
  BOMB SITE 1 – Consul Office (2F) & Meeting Room (2F) This site on the top floor tends to be the preferred site. The most difficult part of defending the site is when attackers establish multiple rappels on the many windows surrounding site. So shoot out the glass on these windows with 5 bullets apiece to hear better! Waiting Room is the strongest window for attackers to rappel on, but they also rappel on the double windows on each site. The windows on Spiral Stairs and Private Bathrom may see some rappels too. All these windows can be ran out on from first floor. Attackers pushing into the building may push primarily from Administration office, or up any of the staircases from below.   This pest on ping and these reinforcements both work to weaken the push from Yellow Stairs.
  This pest, barbed wire, and reinforcement weaken the push from Administration.
  Place Barbed Wire at any point on Spiral Stairs, including the steps, and use it to hide your pest.
  Roam below in Public Bathroom and use your drones to boost some sweet nitro plays when attackers rappel in.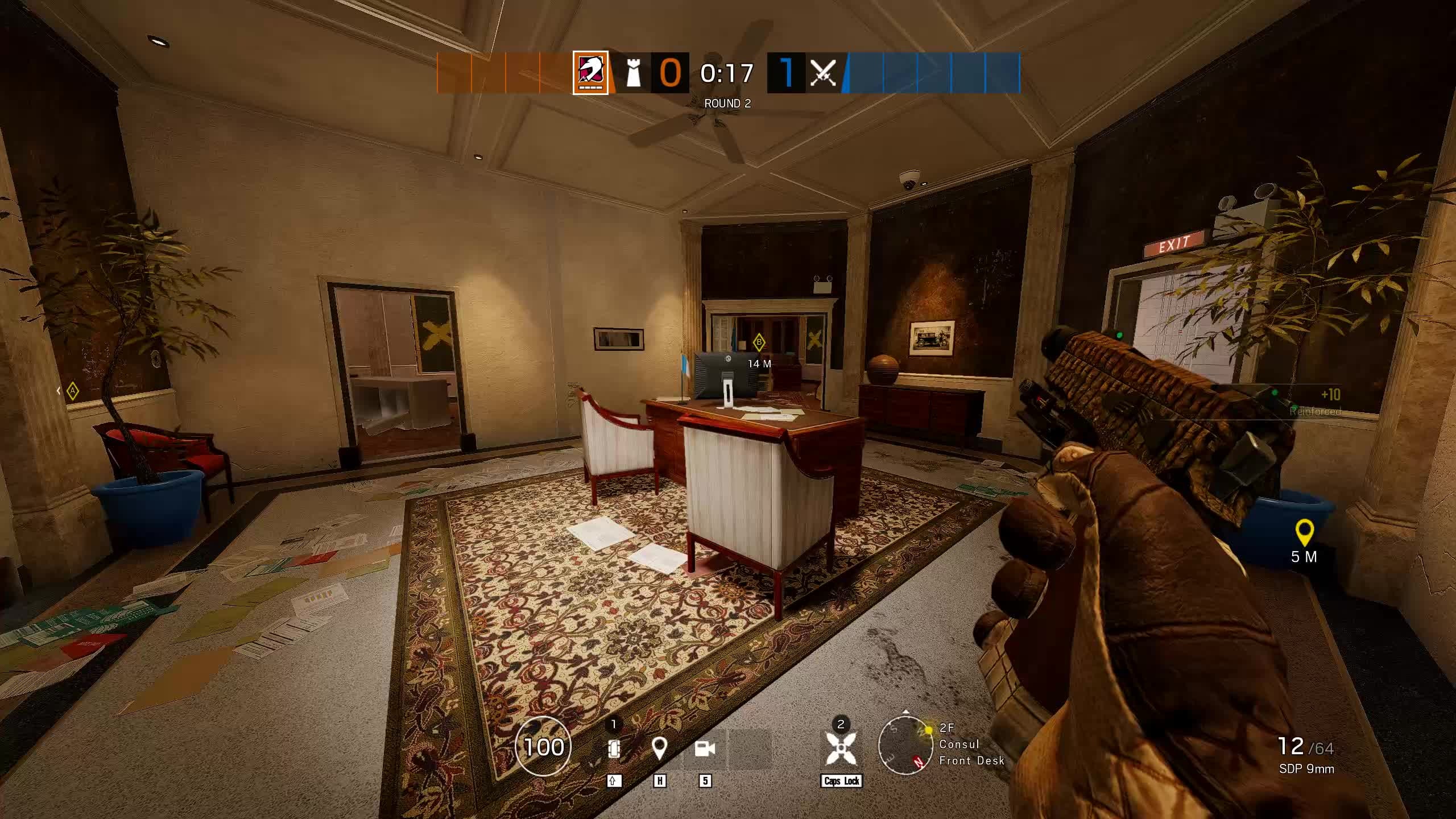 BOMB SITE 2 - Lobby (1F) & Press Room (1F) Lobby & Press Room are best defended with aggressive peeking and plant denial. Attackers mostly just need to make sure roamers aren't watching from above before attempting a smoke plant. You can hide in Public Bathroom or on lower Spiral Stairs while you operate stolen drones and still be close to site when attackers go for the plant. Playing in Tellers is great too since you can switch to the default camera in Visa to watch your back. Use your reinforcements in Public Bathroom, or by Yellow Stairs, or to help roamers upstairs. Your pests can be used on-site, especially if you have a lot of roamers, or upstairs to help your roamers not get droned out.   Antechamber is a very powerful position when defending Lobby and Press and can influence either bombsite.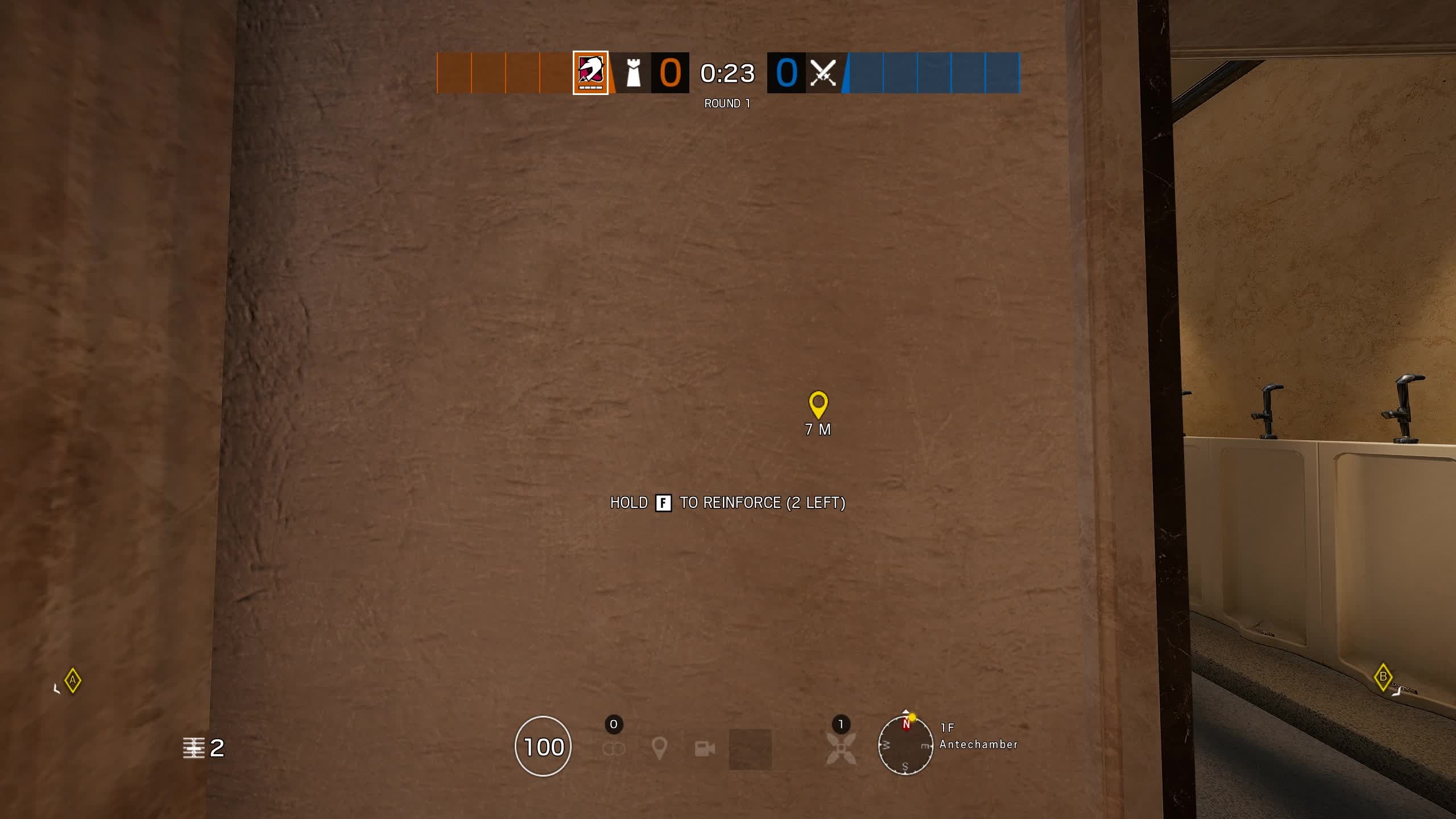 These barricades, this reinforcement, and this pest all work to protect upstairs roamers from an Administration clear.
  This reinforcement makes Meeting Room more playable and a pest on this ping keeps drones from passing through Consul via Yellow Stairs. Barricade Bathroom so attackers can't fly in guns blazing.
  Jam this drone hole with a pest and barricade this doorway to keep Visa Stairs safe for rotating defenders. Punch a hole in this window to keep attackers worried about peeks.
    BOMB SITE 3 - Archives (B) & Tellers (1F) This split site rarely sees play, so if you have a five man, build a pocket strat for it and you can probably grab some easy rounds. It requires a coordinated team that can spread out between floors effectively. You will need to maintain control over Visa stairs, and Admin hatch as well as the hallway hatch between Tellers and Spiral Stairs. Hallway hatch and Visa stairs are good rotates to use when collapsing on attackers during their execute. Attackers will likely push into Lobby and Consul, looking to flank Tellers or drop through the hatches. They also tend to push Archives from Garage and Cafe through Lockers and Red hallway.   This hatch should be reinforced so attackers cannot rush in and drop down from outside. These two pests can make playing in Visa more viable since you are less likely to be droned out.
  Block droning from this window with a pest as well to completely keep drones out of Visa. Reinforce these two walls and the hatch by Vending Machine.
  Deny droning up Yellow Stairs from Garage and Spiral Stairs from Lobby with pests in these locations.
  Reinforce this panel in archives and sit here with a nitro primed for anyone foolish enough to rush in Visa door.
  These reinforcements in Archives are critical for protecting anchors beneath the ping. A C4 placed on the ping will delete any attackers that vault into Visa window.
    BOMB SITE 4 - Cafeteria (B) & Garage (B) This site is very popular, but may become less so with the addition of Ace since the Garage wall is basically guaranteed to be opened. Other than Garage wall, make sure Visa hatches are reinforced, and Lobby and Bathroom hatches as well. If you need to anchor, situate in Security Room while you comfortably drone for your roamers. Reinforce the two walls closest to Spiral if you do. You can also play flankwatch in Archives behind site. Alternatively, roam upstairs in Administration Office until you nab some drones to scout out your flanking play.   A pest on Yellow Stairs steps is perfect, and one above the drone hole can work if Thatcher is banned.
  Pests placed in these two locations work really well for keeping your flank from being droned out.
  When reinforcing this hatch, place a pest in the doorway, especially if you have a brave soldier sitting in here to protect the hatch.
  A pest in Lobby or Antechamber may catch some drones if their drivers are asleep at the wheel. It's no guarantee, but its helpful if anyone is roaming first floor.
  If you find yourself roaming top floor, definitely reinforce these two Visa hatches while hunting drones, or simply use these preplaced pests.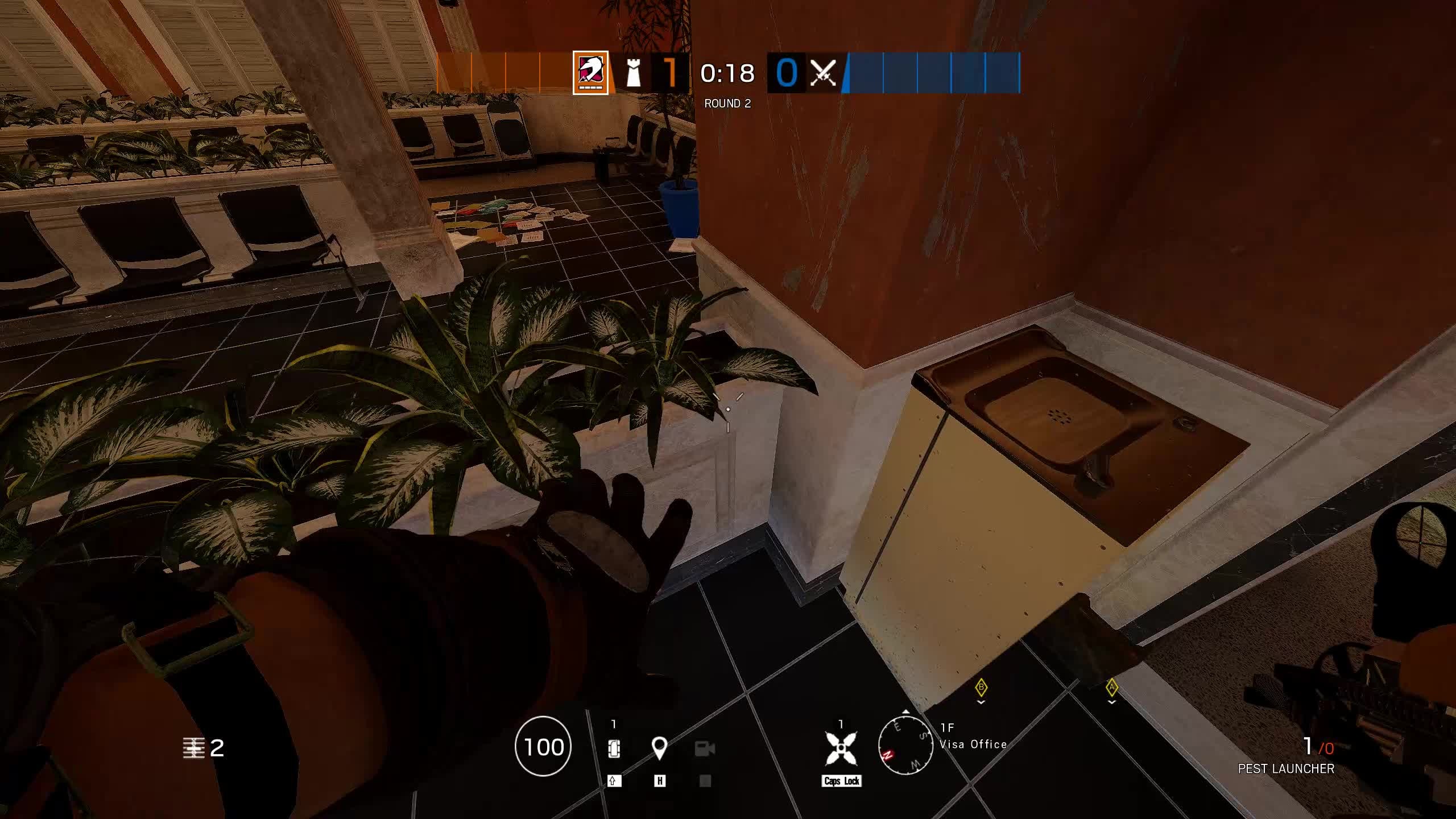 These are just examples for you to build from folks. But if you have a different playstyle and prefer holding different rooms than me, adopt the principles of these pest locations to create your own strats!