drTaperdown
LV.9
Bamboozled
Guide to Playing Mozzie on Oregon
Guides
Rumor has it the Cyborg Apes are coming ya'll... Ready your weapons and bunker down in this rickety old building located in Oregon. Intel suggests they have drones, so definitely bring a Mozzie.
  Oregon is on the larger side, but has some very direct avenues to site with quite tight choke points. Its three floors are a bit spread out and feature many destructible floors and ceilings. Three major staircases connect the map together, creating plenty of flank routes. The lobby in the East contains a set of stairs, as does the Security Corridor in the South, and the Big Tower in the North. Intel and intel denial are always key components to a defensive setup, but Mozzie's pest perform particularly well on this map due to its size and clear cut attacking routes.   Mozzie, the Australian defender, has a very unique playstyle that is somewhere in between Echo, Valkyrie, and Vigil. He is a two armor two speed operator, fit for roamers and anchors alike, making him great for solo queuing. He excels in disrupting enemy intelligence, and if you play your cards right, he brings amazing information to you and your teammates. In addition to having top tier utility, Mozzie performs amazingly in firefights, not to mention his Commando 9 has the BEST reload animation in the game.   Mozzie's pest launcher fires out spider-like robots that latch onto nearby drones, hacking them, granting Mozzie controls instead. He comes equipped with three pests which can block off narrow choke points that attackers commonly drone, effectively locking down entire areas of the map, especially when paired with Mute. He can also hunt drones as soon as the prep phase begins, heading straight to doorways near drone spawn locations and sniping some of those RC cars to use right off the bat. You can position captured drones near site and leave them, or hide in a safe location and hop on cams to cruise them around and hunt attackers.     MOZZIE'S LOADOUT
Mozzie has the choice between the Commando 9 and the P10 Roni. The Commando is more reliable, with a more shallow damage drop-off curve and a higher magazine capacity. But the P10 Roni shreds in CQB with a higher fire rate and virtually no recoil. It is arguably a matter of preference, and the attachments you equip on either gun boil down to preference as well. I prefer the Commando with a holo sight, angled grip, and muzzle break.   Mozzie brings the SDP 9mm, a well-rounded pistol with a decently high ammo-count. It is best equipped with the muzzle break, but the silencer can be useful in some situations, such as shooting out drones or claymores while flanking. For his secondary gadget, he nearly always brings a nitro cell because it is significantly more powerful than the alternative barbed wire. The C4 also synergizes with his Pests, because vision from hacked drones can be used to set up kills. Additionally, the nitro can be used to blow open rotations when getting pinched. There may be some situations though where your team decides they need barbed wire, so you do have that option available, and I will showcase good locations to place it for those who prefer it. It is also worth noting that barbed wire can hide your pests, but shoot your pest first and place the wire after.     DEFENDER BOMBSITES
  BOMB SITE 1 – Kids' Dorms (2F) & Dorms Main Hall (2F)   Attackers will likely pressure this site from up to three different areas, including the North from Big Tower and Attic, the West from Small Tower and White Stairs, and the South/East from Master Bedroom and Lobby Stairs. Hard breachers will be opening Attic wall, or Games Room wall. If you anchor, you can sit on your drones in Kids' Dorms while you gather intel and give callouts. If you roam, you can play in Meeting Room, or Security.   Games Room is one of the main walls and needs to be reinforced. A drone hole sits behind this keg so go ahead and plug it up with a spider bot.
  Slap a pest on White stairs to keep your flank from being droned.
  Attic wall is the other most important set of reinforcements. This pest will keep the drones at bay.
  Sit on ping if you anchor to stay safe while droning. A pest on this window will be your best friend, that is, if you can even make friends with spiders.
  Trophy is a serious chokepoints that's rough for attackers to push through. Make it even more tedious by throwing down pests on these doorways!
    BOMB SITE 2 - Kitchen (1F) and Dining Hall (1F)   Kitchen and Dining is a tricky site to hold, with many hallways surrounding it. Attackers will likely push Small Tower and may also choose to push from Big Tower or Lobby, surrounding the site's flank, or breach from above in Dorms. You can anchor on site in Kitchen to give callouts and pilot captured drones. Otherwise, consider roaming in Meeting Hall or Basement where you can delay a Kitchen push.   This is the main wall which nearly always gets opened by a Thermite charge placed on the soft ceiling above. If your team prefers this site, ban him. A pest on this doorway will help any teammates that want to aggressively peek Small Tower.
  This is the other main wall that demands a set of reinforcements. It can be breached from Meeting Hall. This two-for-one pest protects the doorway and the drone hole!
  Lay a pest just inside Security doorway. This room is pivotal to hold. If attackers take control they can cut the site in half.
  Extending site into Showers with a pest and some reinforcements can help control the site perimeter.
<br />Let's be honest, if you don't watch the flank, who will? Run this setup and lurk in the hallways surrounding site.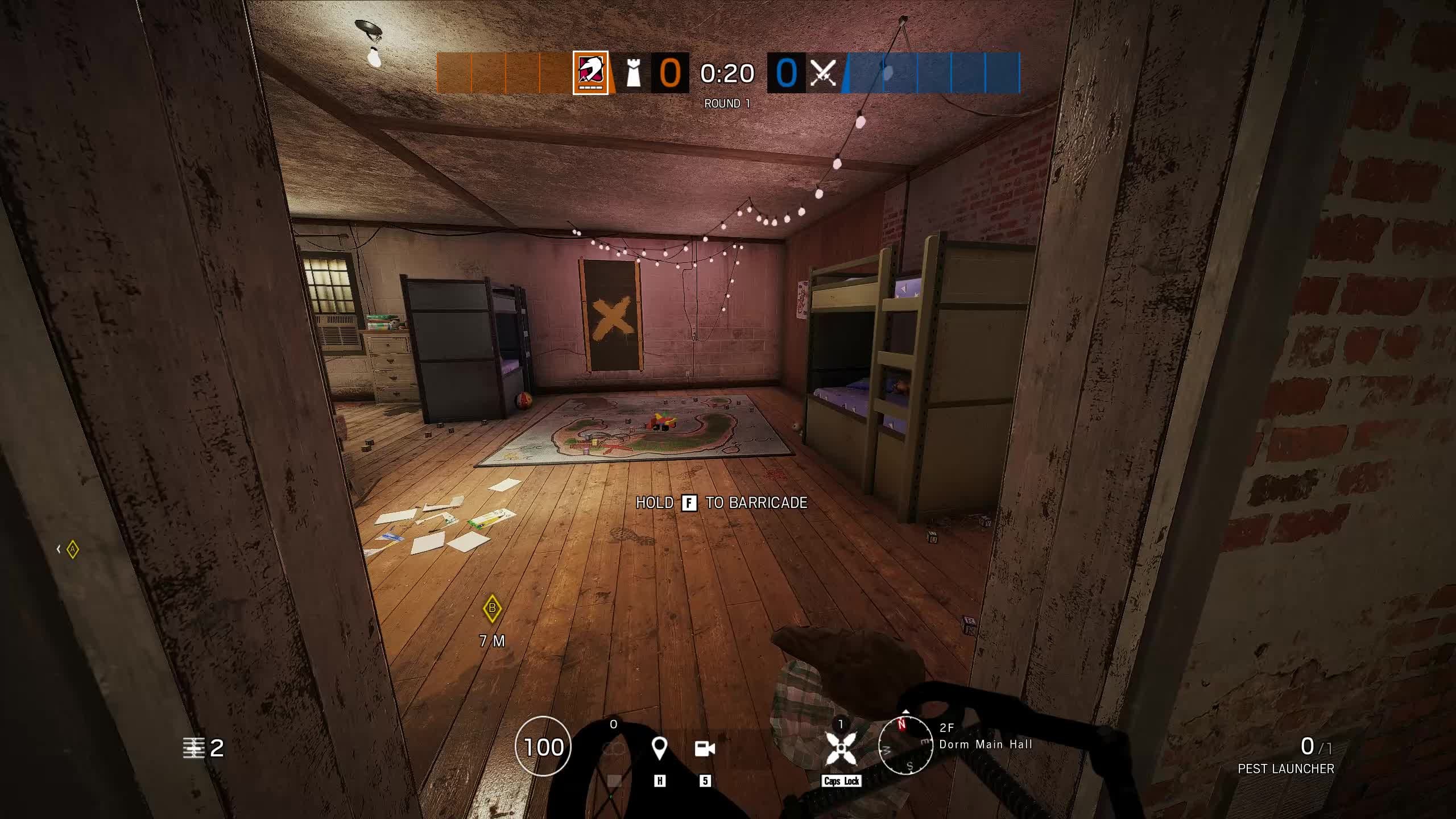 BOMB SITE 3 - Meeting Hall (1F) and Kitchen (1F)   Attackers will probably focus on pushing Meeting Hall, in which case they will breach from Big Tower, or Lobby. If they do focus Kitchen, they will try to take Security and push from Dining. Due to the overlap with the above site, much of the same information applies here as well.   This is the main wall in Meeting Hall. and this drone hole gives easy access to site, so block it off with a spider bot.
  Reinforce either wall of Split and keep your flank from getting droned with a pest, preferably hidden in barbed wire.
  A pest on each of these doors will slow the attackers' drone game and may score you a free RC car. Just be sure to immediately take control and zip it on out before they shoot it.
  Run this setup for Kitchen and scoot on out to shut down attackers with your nasty roam game.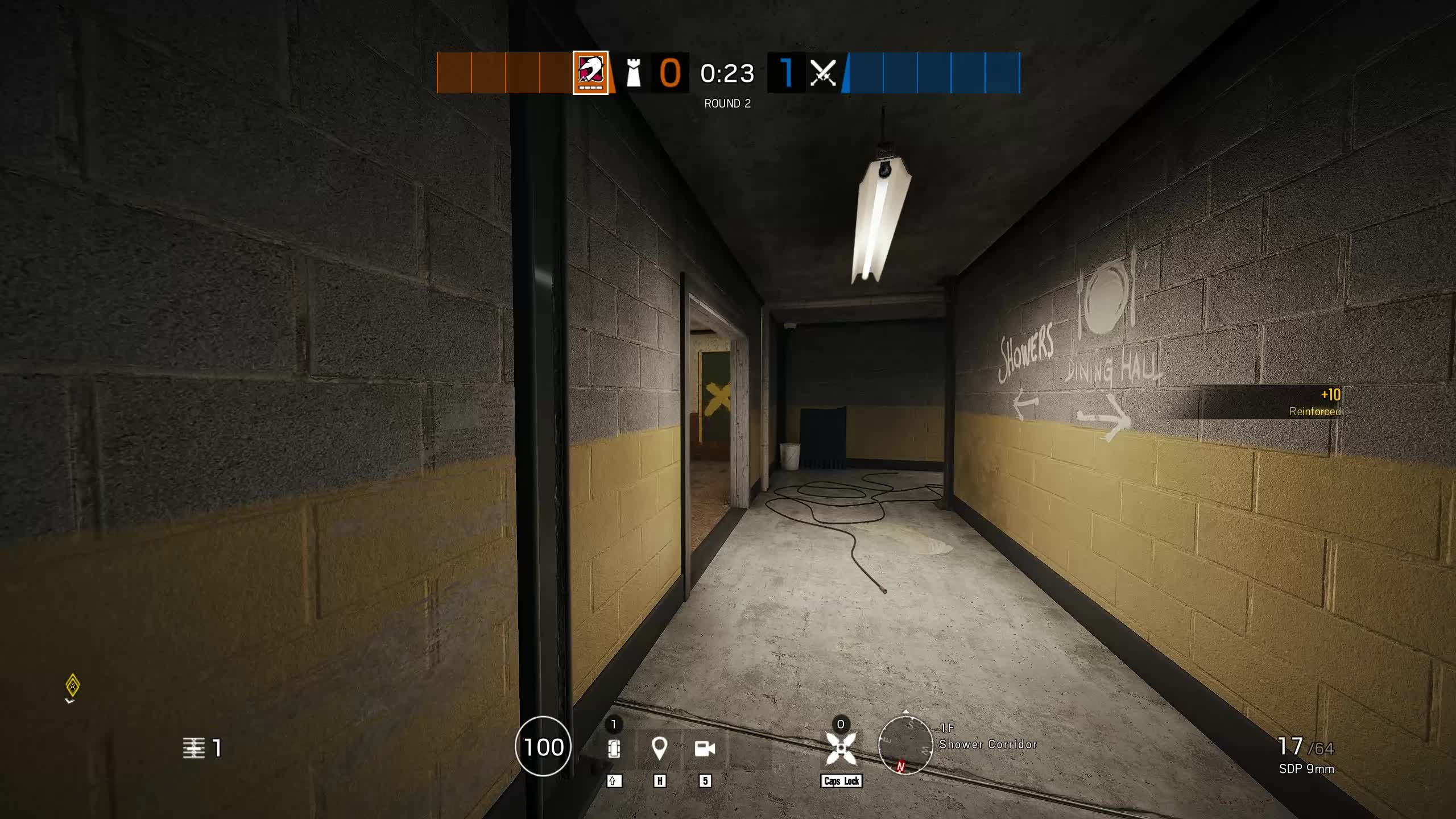 BOMB SITE 4 - Laundry Room (B) and Supply Room)   The basement has seen a major overhaul since the map rework. Attackers frequently push Construciton to breach those walls, and head into Meeting to open the hatch. This push can be defended by lurking in Boiler Room. They also like to push Laundry through Lobby and Freezer. If you'd rather roam and try to waste time, you can play in Meeting and Kitchen, with the option of rotating upstairs and flanking Lobby.   These are the most important walls to reinforce. Hurry to throw them down then head upstairs and use your pests to keep attackers from droning you out.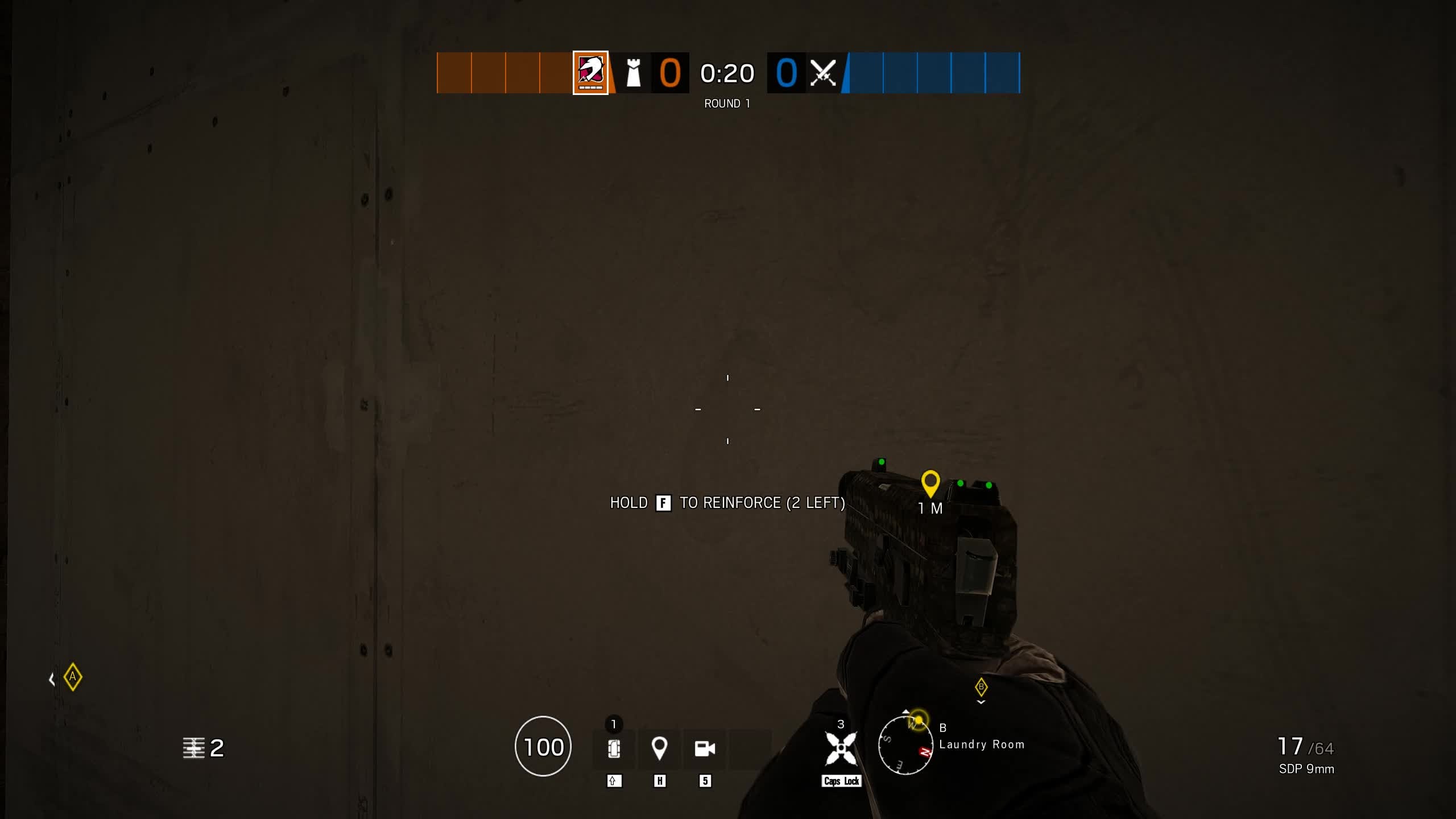 This hatch in Freezer is one of the most important. You can also drop a pest on the stairs here to really keep attackers out.
  A pest hidden in barbed wire here along with a reinforcement on Lobby hatch and Lobby stairs make Laundry a little more roomy for anchors.
  A pest right on my crosshair shuts down attackers droning out Back Stairs.
  Remember, Mozzie's best friends are Mute and Vigil. Together you three can make a team of drone warriors super uncomfortable. But Mozzie as a solo pick is always great too.