drTaperdown
verified
LV.12
Big Chungus
Guide to Playing Mozzie on Bank
Guides
Next time you find yourself in need of a drone, give Mozzie a call. If he's feeling generous he may just loan you one. Believe me... he has plenty.
Bank is one of the original maps of Siege and has been thoroughly explored by the community, but of course there are still new tricks waiting to be uncovered. With three staircases and three spacious floors, Bank offers many options for roam play since it's so spread out and time-consuming to roam-clear. Anchoring is acceptable for sites though, especially if they have somewhere safe to sit on cameras, so you can drone for your roamers. The many windows in Lobby make it a very risky area to rotate through, but with proper game sense you can navigate your way through it to surprise opponents or pull off some late flanks.   Mozzie, the Australian defender, is super fun to play and can be very helpful for his team. He is a two armor two speed operator with a flexible playstyle, fit for roamers and anchors alike, making him great for solo queuing. He excels in disrupting enemy intelligence, and if you play your cards right, he brings amazing information to you and your teammates. In addition to having top tier utility, Mozzie performs amazingly in firefights, not to mention his Commando 9 has the BEST reload animation in the game.   Mozzie's pest launcher fires out spider-like robots that latch onto nearby drones, hacking them, granting Mozzie controls instead. He comes equipped with three pests which can block off narrow choke points that attackers commonly drone, effectively locking down entire areas of the map, especially when paired with Mute. He can also hunt drones as soon as the prep phase begins, heading straight to doorways near drone spawn locations and sniping some of those RC cars to use right off the bat. You can position captured drones near site and leave them, or hide in a safe location and hop on cams to cruise them around and hunt attackers.     MOZZIE'S LOADOUT
Mozzie has the choice between the Commando 9 and the P10 Roni. The Commando is more reliable, with a more shallow damage drop-off curve and a higher magazine capacity. But the P10 Roni shreds in CQB with a higher fire rate and virtually no recoil. It is arguably a matter of preference, and the attachments you equip on either gun boil down to preference as well. I prefer the Commando with a holo sight, angled grip, and muzzle break.   Mozzie brings the SDP 9mm, a well-rounded pistol with a decently high ammo-count. It is best equipped with the muzzle break, but the silencer can be useful in some situations, such as shooting out drones or claymores while flanking. For his secondary gadget, he nearly always brings a nitro cell because it is significantly more powerful than the alternative barbed wire. The C4 also synergizes with his Pests, because vision from hacked drones can be used to set up kills. Additionally, the nitro can be used to blow open rotations when getting pinched. There may be some situations though where your team decides they need barbed wire, so you do have that option available, and I will showcase good locations to place it for those who prefer it. It is also worth noting that barbed wire can hide your pests, but shoot your pest first and place the wire after.     DEFENDER BOMBSITES PIC   BOMB SITE 1 – Executive Lounge (2F) & CEO Office (2F)   This site is extremely exposed to windows on the West and North side, particularly the Lobby windows. It also has a few breachable walls on the East side of CEO which should certainly be reinforced. Janitor Closet should be opened up and played to choke out attackers pushing in. Watch for flanks through Lobby, and beware attackers pushing Stock Trading Office and Main Stairs to the South. With Mozzie, you can play in Meeting, or can roam below and try to land some nitro kills.   Reinforce these four walls and place a pest between the windows to keep attackers from sending drones through.
  A teammate should open a rotate hole into Janitor, and blow the hatch. You can help hold this by placing a pest on the doorway and one by the drone hole.
  Reinforce these four walls. Having a defender sit in the elevator on ping is very helpful, and Mozzie can play spot decently. If you do play there, have a teammate open the hatch for you.
  This hallway wall is critical, especially if someone plays elevator. You can stack barbed wire in these two locations on the stairs, and use it to hide your pest.
  As a roamer, immediately start hunting drones in prep phase. You can play in Archives or Open Area and aim to land these C4s.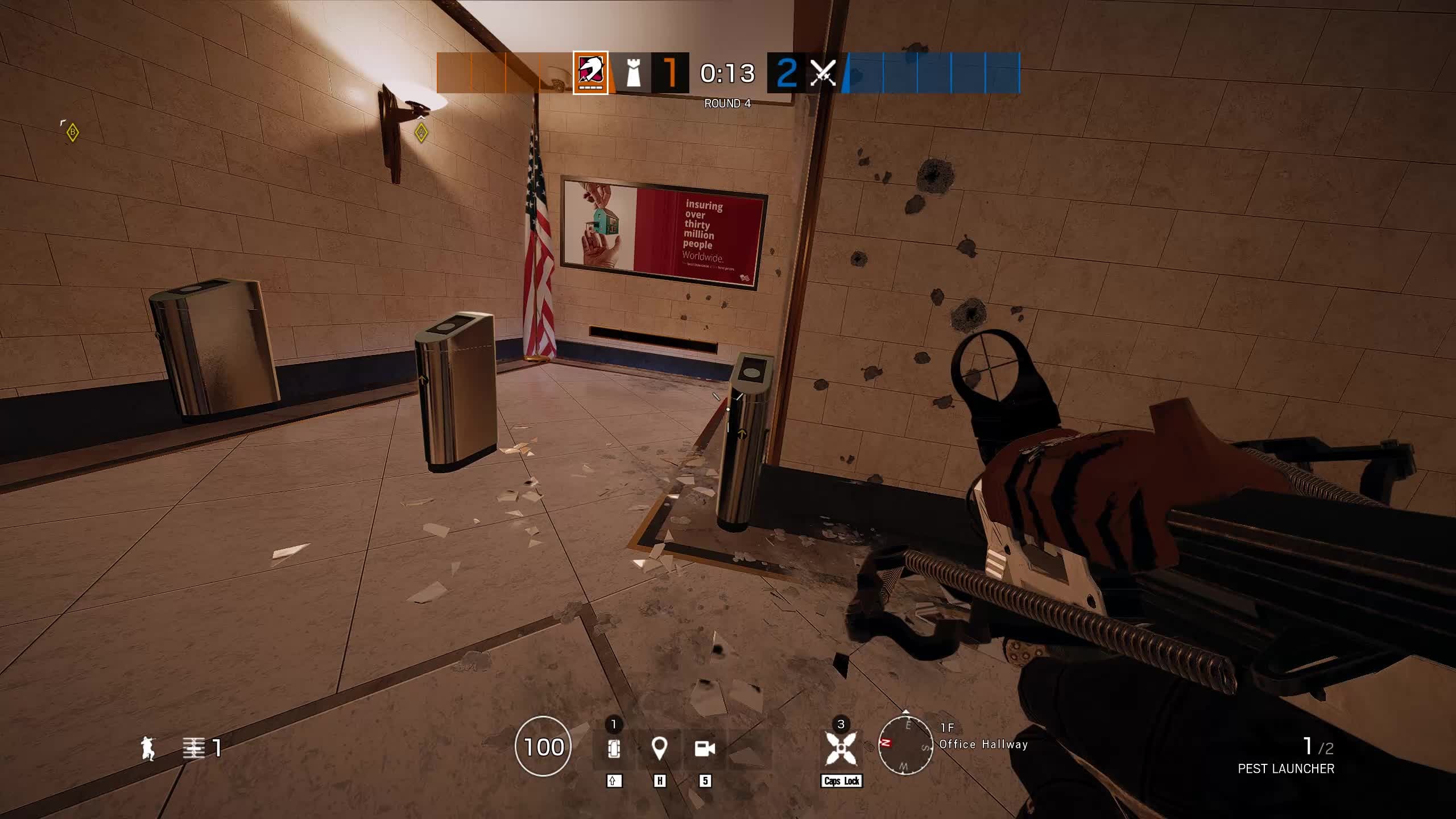 BOMB SITE 2 - Staff Room (1F) & Open Area (1F)   This is definitely the least popular site, mostly because it is so spread out. All of Staff Room's ceiling is indestructible leaving anchors relatively safe. Attackers will almost certainly pressure site from Alley outside, and push into Square Skylight to the Northeast to open Staff Room wall. Expect attackers to enter above as well and destroy the ceiling of Open Area from Stock Room, perhaps opening site hatches. Having a pocket strat for this site can grant the occasional win by catching your opponents by surprise. With Mozzie you could anchor, or hide in basement while you drone out the attacker push for your eventual flank.   Reinforce these two walls, and the two next to them. They are the most important. A pest on this doorway to Server Stairs and one in Electrical Room work together to help keep this area from being droned out.
  This wall leading to Loan Office should be reinforced as well. A pest in this Barbed Wire keeps site from being droned from this direction. You may also capture a drone on this ping during Prep phase.
  The site can be opened through Admin Office to extend into Archives and Tellers' Office for more room to play around. In this case, reinforce this wall and place a pest here.
  Even when your team doesn't open up into Archives, it is good to roam in here to protect site walls. A pest on this doorway and a barricade on the window help you accomplish that goal.
    BOMB SITE 3 - Tellers' Office (1F) & Archives (1F)   Tellers and Archives have entirely destructible ceilings. Due to this, roaming top floor to slow the push is necessary to protect anchors. Attackers will likely pressure site from Lobby, possibly rappelling on windows. They also may push into Open Area to open the Archives wall connecting to Admin Office. If you choose to anchor on site, be ready to deal with the vertical pressure. If instead you roam, you can hide in basement while droning. Otherwise roam in Open Area, hiding in a cubicle to drone.   Similar to above, place a pest on this doorway, and one on the window.
  These three reinforcements are the most important. A pest on this ping is great, but less so if Thatcher has not been banned.
  Just like before, reinforce this wall and place a pest on this doorway. But place it on the North side so it potentially isn't destroyed by an EMP.
  This wall should be reinforced, and a pest can be placed on this doorway. Ask a teammate to pop this hatch so anchors can rotate out if needed.
  Whether you roam or not, deny drones from coming in these windows. You can hide captured drones in CEO and Executive to help anchors land nitros from below. You also might capture an early drone and find some picks in these locations.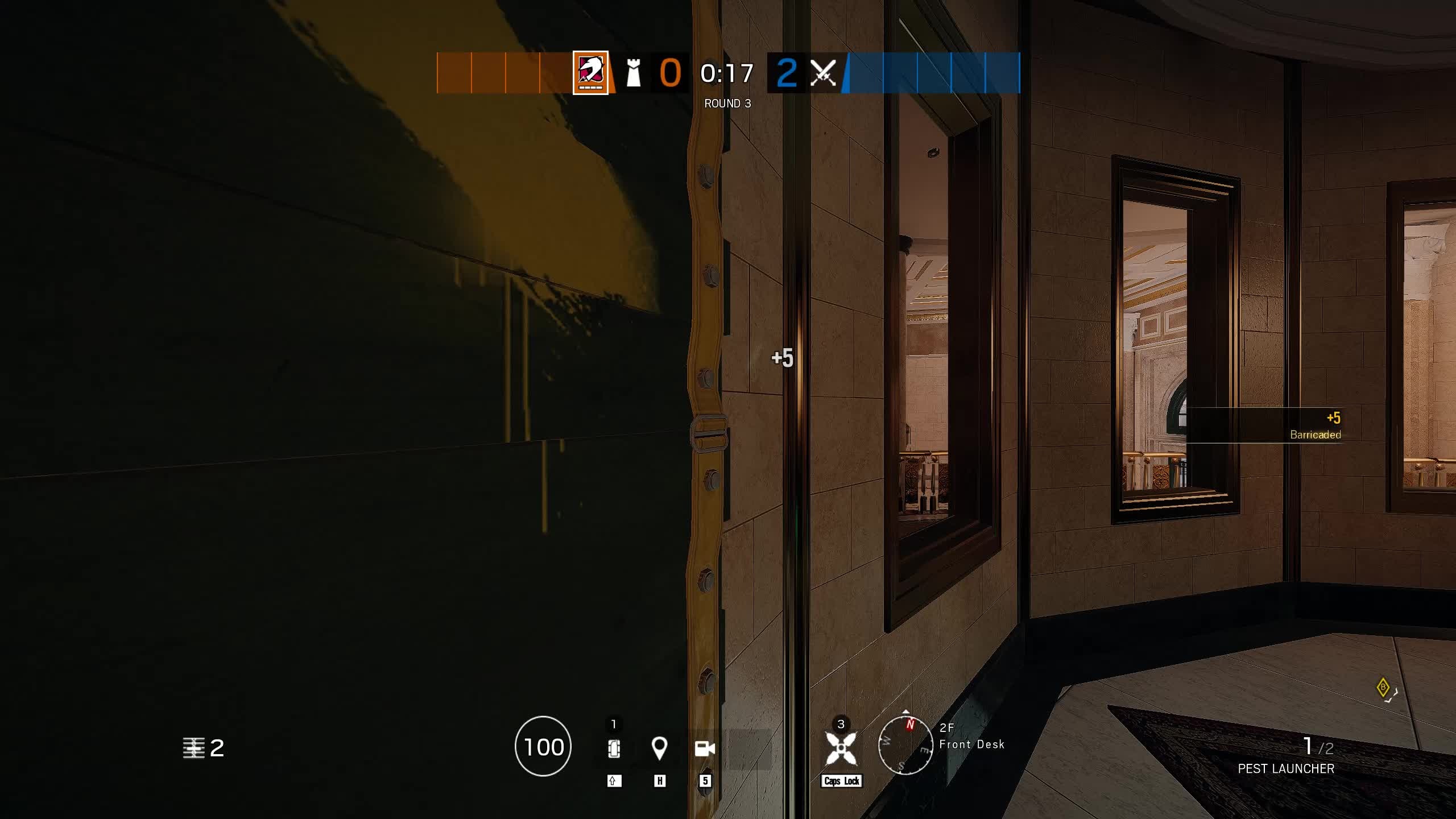 BOMB SITE 4 - Lockers (B) & CCTV Room (B)   This site has seen the most play, and its meta has grown quite stale. Attackers almost always push through Servers room and breach the CCTV walls. You should also keep an eye out for attackers pushing up Garage or through the nearby stairs, named Main Stairs. It is also very common for attackers to take Open Area and breach the hatches above. There are four hatches in total and all should be reinfroced, especially the two in Open Area. If you anchor, sit in vault or Lockers while you drone. If instead you roam, you can play upstairs and eventually flank, especially if they don't clear you out. But at higher tier play, most teams will notice if a roamer is top floor and clear it.   Since Server is the typical focus, stack your pests around here to disrupt droning and delay the push as much as possible. Barbed wire in Dirt is useful if someone is playing in Server, but a nitro is better for plant denial if you are anchoring in Vault.
  This pest on the underside of the desk cannot be shot out once the hatch is opened.
  A pest on the stairs can be super helpful especially if you have a shotgun player holding stairs.
  This reinforcement and barricade are optional but can make playing Server and moving through this area more comfortable.
  If you roam, start drone hunting asap and make sure these hatches get reinforced. If playing up top and you expect to be pushed, use these pests to score a drone or two.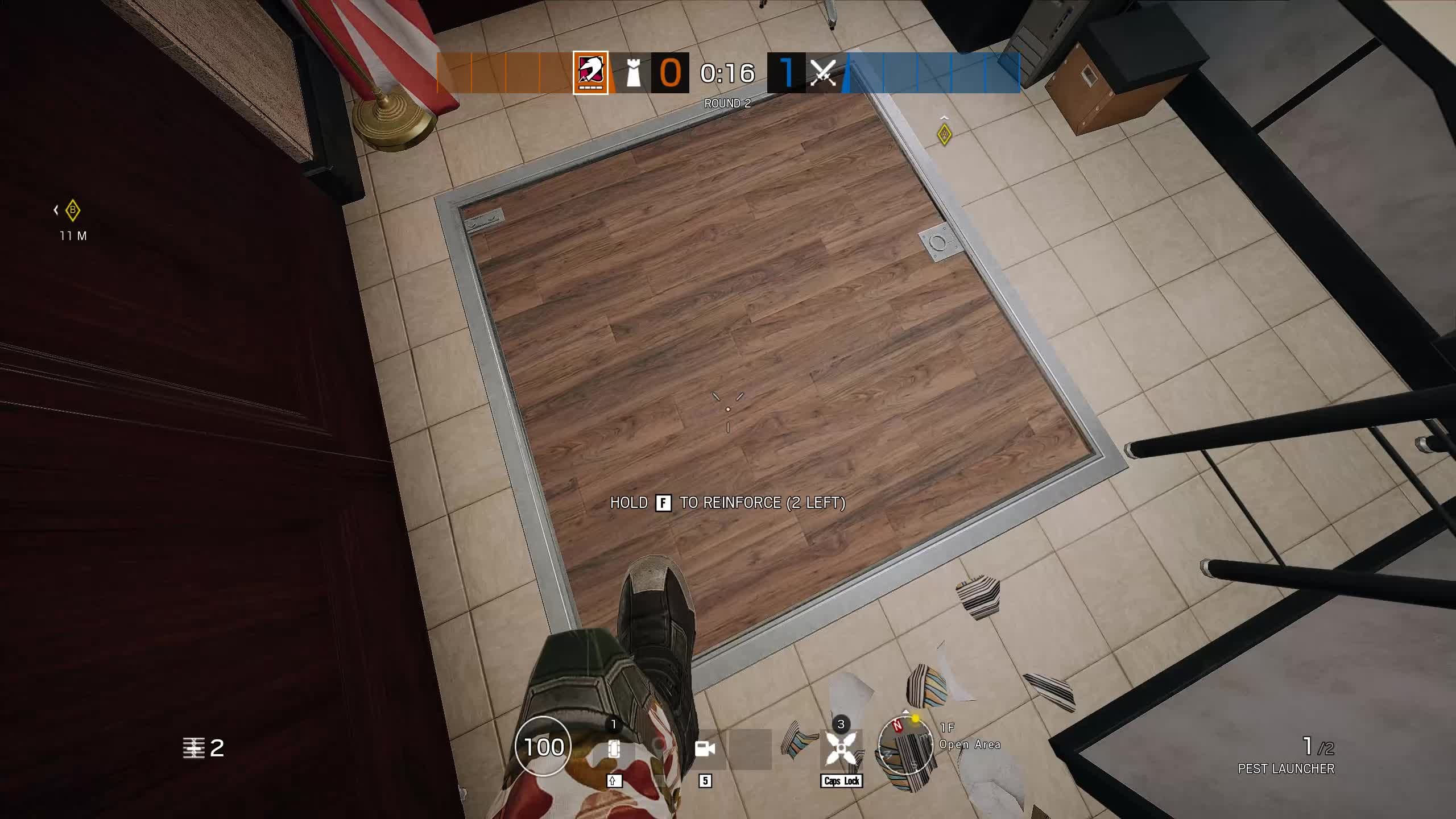 Gotta love Mozzie. Nobody wants to drone on attack, but on defense? Ohhhhh yeaaahhhh.