drTaperdown
verified
LV.12
Big Chungus
Guide to Playing Alibi on Villa
Guides
I saved the best Alibi map for last folks. It's the best since she enjoys home-field advantage! Because that's clearly a thing in Siege... Anyhow, sit back, relax, and enjoy the tour.
  Villa, the Italian map of operation Para Bellum, features three floors, and three staircases that enable bold flanking plays to be made, especially through the poorly watched basement. In addition to these many flanking routes, all sites lack an external wall, so multiple rooms need to be pushed through when attacking. These features make it a generally defender-favored map.   Alibi, the female Italian defender, is a three armor one speed with a great kit. Her loadout is flexible, allowing her to focus on helping the team,while also offering potential for a more selfish style of game play. As such she is a great operator to main, and can adapt to the player. This all makes her a great operator for solo queue.     Alibi's prisma is an intel-gathering gadget, which also creates the potential to bamboozle opponents. Attackers who shoot it, touch it, or drone through it while have their position revealed through a short series of quick pings. She can place it under windows, behind shields or in commonly held positions. The base of the device can be shot out, so try to hide this from attackers. Use your prismas on-site to support your team, and play nearby off-angles to deceive your opponents. Otherwise, use them off-site in an elaborate roaming setup to be a nuisance to roam-clearing attackers. When feeling bold, throw them outside to trick attackers with a false Enemy Detected Outside warning. This is great for assisting run outs. As an added bonus, the identity of any defender outside is hidden whenever Alibi is picked.       ALIBI's LOADOUT
Alibi's Mx4 Storm is the obvious pick. With an amazing fire rate, and pretty controllable recoil, this SMG is a headshot machine, and shreds opponents up close. You can equip it with any attachments you'd like, or opt not to include any attachments at all if you want to mimic your clones. I recommend the flash hider, angled grip, and reflex sight for the greatest benefit, while still appearing quite similar to the attachment-free gun. Avoid using skins as it gives you away as being the real deal.     Alibi has the choice between the Keratos .357 and the Bailiff 410. Both are excellent choices and it's really a pick of preference. The Keratos has serious stopping power, but bring the Bailiff if you want to make quick rotates and open hatches during setup or on-the-fly. Impact grenades are the gadget of choice for a run-and-gun playstyle, great for roam plays and run outs. Shields offer crucial utility to bring for many sights, and can be used to boost a hold of choke points.     DEFENDER BOMBSITES
  BOMB SITE 1 – Aviator Room [1F] and Games Room [2F]   Aviator Room and Games Room connect to each other through Vault and are surrounded by a few hallways and Study. Attackers like to push from Study and invest utility into opening either of the walls. They may also pressure "90 hallway" from the window facing Vault wall. Other than that, watch for flanks coming from Landing, as well as Red Stairs by Landing, or Lobby Stairs by Study.   These four walls are the most important reinforcements. Use your secondary weapon to open holes along the top and make a rotate by the corner to "impact trick."
  This shield and the peek hole are part of a standard Games setup. Reinforce all West walls. A prisma behind bar, and one on pool table keeps attackers guessing your exact location if you anchor here.
  If you anchor in Aviator, these prismas are great for deceiving, and the shield lets you peek Study. Reinforce the South wall and open a rotate on ping.
  If you opt for roaming, Master Bedroom is a good place to start. Use your prismas after shooting drones to try and score some early picks.
    BOMB SITE 2 - Trophy Room [2F] and Statuary Room [2F]   This site is almost as popular as the former, and is my squad's preferred site. Attackers will probably take control of Master Bedroom and breach Statue wall. If your team needs breach denial, bring impact grenades to "impact trick" the Statue wall. Otherwise they may flank through Landing and Trophy Entrance from "90 hallway." Astronomy Room is a powerful area to hold, but can be put under quite a bit of pressure from attackers. If you choose to play here, melee the crap out of the massive globe in the corner, and bring a shield. Reinforce the two walls on the left in bathroom too.   This video illustrates an effective Astronomy setup offering plenty of angles to play.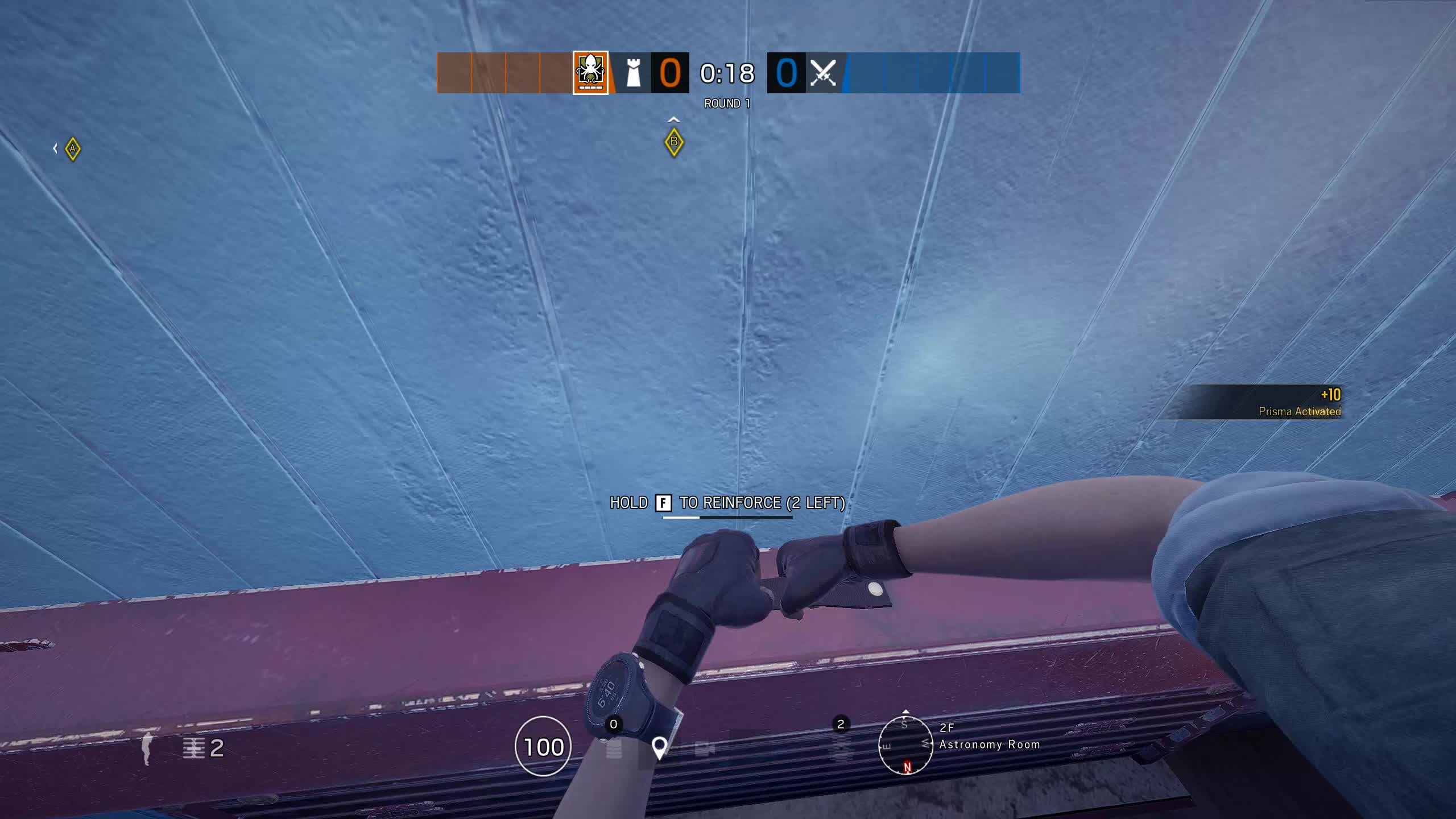 This shield is a great alternative to the one above. Play behind it, or break the telescope and vault onto the cases under the Italian flag.
  Bathroom can be played as well if you prefer a more aggressive positioning. This shield provides cover for you to peek the Southeast Bedroom window. This hold requires anti-projectile utility to pull off.
  You can also opt for a shallow roam on Red Stairs to cover Landing. Playing by the statue on ping is a great aggressive position, but can be cut-off so don't overstay your welcome.
    BOMB SITE 3 - Living Room [1F] and Library [1F]   This site is perhaps the least popular, mostly because it is extremely large and holding it requires spreading your team out. Attacking teams typically push Library from Lobby after taking control of Piano and breach the wall in the corner. Otherwise they may take control of Kitchen and Dining to focus on breaching Living Room. Whether or not they breach above to flush out anchors depends on their playstyle. You can anchor if your team needs it since you are quick enough to move around, effectively holding a larger area than traditional anchors. But roaming around the perimeter or upstairs is equally viable, so long as you can quickly fall back to site.   These reinforcements are vital. The shield in the doorway plus the three prismas can help you play more aggressively, but if attackers are swarming Lobby, call for backup! There are too many angles for them to watch you from.
  Shoot out the base of the wall so attackers can't comfortably hop into Toilet. Smash the stand that normally sits on my crosshair. Now, with a shield, you can play a safer position in Library than the above ones.
  These prismas, and this shield, are super helpful if you choose to play in Living Room. Reinforce the two solo panels, and the walls behind me. Make a rotate into the connector room on ping, and make sure the connector room walls are reinforced!.
  If you prefer to roam, check this video for an idea of where you might land some early picks.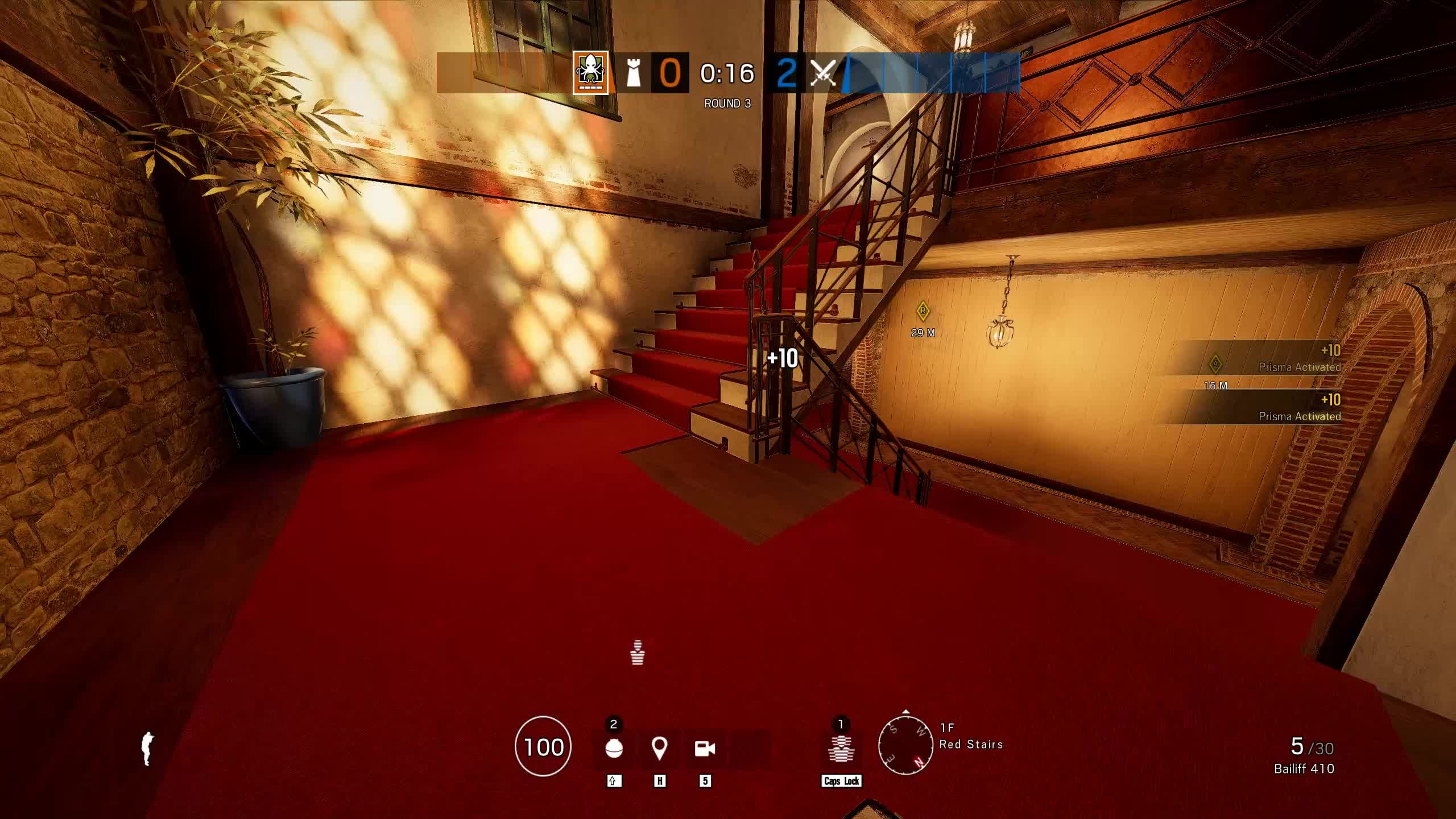 BOMB SITE 4 - Kitchen [1F] and Dining Room [1F]   Attacking teams will usually take control Master Bedroom so they may push Laundry and breach the wall and plant. But it is also common to see them hold Living Room so they can surround the perimeter and cut off roamers from falling back to site. Anchoring or even playing a shallow roam in Memorial Room keeps you close to site in case they go for a rush. But roaming upstairs to delay taking control of Master can prove quite effective.   Reinforce the wall to pantry and the wall on ping. This shield allows the Kitchen anchor to watch a common Dining plant spot. Use these prismas if you anchor here.
  If you anchor nearby in Memorial, reinforce these walls and use your shield in the West doorway. The prisma below the window on ping can be shot out by attackers from Master Bedroom balcony so don't just leave it there when the round starts. Instead, toss it later in the round to bait attackers into thinking your standing there once they drop down outside.
  This angle allows you to watch for the plant below, but don't simply sit here all round if they push upstairs. Instead, flank after most attackers have fallen off of top floor to go plant.
  If you place your prismas under the Master Bedroom and Closet windows, you can score easy wallbangs on smooth brain attackers that vault in. If they drone you out, shoot the drone and hop over the balcony railing into the courtyard below.
  I love this map, and playing it with Alibi makes it super fun since so many surfaces are destructible. Get creative with your prismas and set up some sweet wallbangs that put a stupid smile on your face!