drTaperdown
verified
LV.12
Big Chungus
Guide to Playing Alibi on Theme Park
Guides
Alibi's prismas are becoming more advanced... They're adapting. This one has even acquired the ability to disguise itself as Sledge. If only they could mimic Alibi's custom outfits!
  Theme Park, the Chinese map of operation Blood Orchid, is an abandoned spooky amusement park which has since been repurposed for some kind of chemical synthesis operation.... It features two very spread out floors and three staircases as well as two roof hatches. The map is essentially rectangular in shape, being split in half East to West. The choice between four viable bomb sites, and the time it takes for attackers to completely roam clear tends to leave the defending team in favor.   Alibi, the female Italian defender, is a three armor one speed with a great kit. Her loadout is flexible, allowing her to focus on helping the team,while also offering potential for a more selfish style of game play. As such she is a great operator to main, and can adapt to the player. This all makes her a great operator for solo queue.     Alibi's prisma is an intel-gathering gadget, which also creates the potential to bamboozle opponents. Attackers who shoot it, touch it, or drone through it while have their position revealed through a short series of quick pings. She can place it under windows, behind shields or in commonly held positions. The base of the device can be shot out, so try to hide this from attackers. Use your prismas on-site to support your team, and play nearby off-angles to deceive your opponents. Otherwise, use them off-site in an elaborate roaming setup to be a nuisance to roam-clearing attackers. When feeling bold, throw them outside to trick attackers with a false Enemy Detected Outside warning. This is great for assisting run outs. As an added bonus, the identity of any defender outside is hidden whenever Alibi is picked.       ALIBI's LOADOUT
Alibi's Mx4 Storm is the obvious pick. With an amazing fire rate, and pretty controllable recoil, this SMG is a headshot machine, and shreds opponents up close. You can equip it with any attachments you'd like, or opt not to include any attachments at all if you want to mimic your clones. I recommend the flash hider, angled grip, and reflex sight for the greatest benefit, while still appearing quite similar to the attachment-free gun. Avoid using skins as it gives you away as being the real deal.     Alibi has the choice between the Keratos .357 and the Bailiff 410. Both are excellent choices and it's really a pick of preference. The Keratos has serious stopping power, but bring the Bailiff if you want to make quick rotates and open hatches during setup or on-the-fly. Impact grenades are the gadget of choice for a run-and-gun playstyle, great for roam plays and run outs. Shields offer crucial utility to bring for many sights, and can be used to boost a hold of choke points.     <span style="background-color: rgb(31, 35, 45);">DEFENDER BOMBSITES</span>
  BOMB SITE 1 – Initiation Room [2F] and Office [2F]   Initiation and Office are split apart by Waiting Room, which is itself a bit of a "no man's land." This can make it easy for attackers to cut off rotations between sites. During setup, be sure that all West-facing walls are reinforced, including Office Vault and that Control Room wall is reinforced in Initiation. This site can be played with a roam game on the West side of the map, or by extending the site for an aggressive hold of Cash. There are roof hatches above Yellow Corridor and Control Room, offering attackers quick routes to get into site, so keep an eye on those.   You can go for this quick run out on Cash Balcony. Toss a prisma on the crosshair to distract your enemies, while you run to the ping to deal the real damage.
  If your team wants to play in Cash, open lines of site to watch Waiting Room from Cash, and create a rotate hole behind the desk. Alibi is ideal for holding this room.
  This shield can help delay the breach on Control Room wall.
  If you prefer to roam, play near Cafe and shut down the attacker push. Or at least waste some time!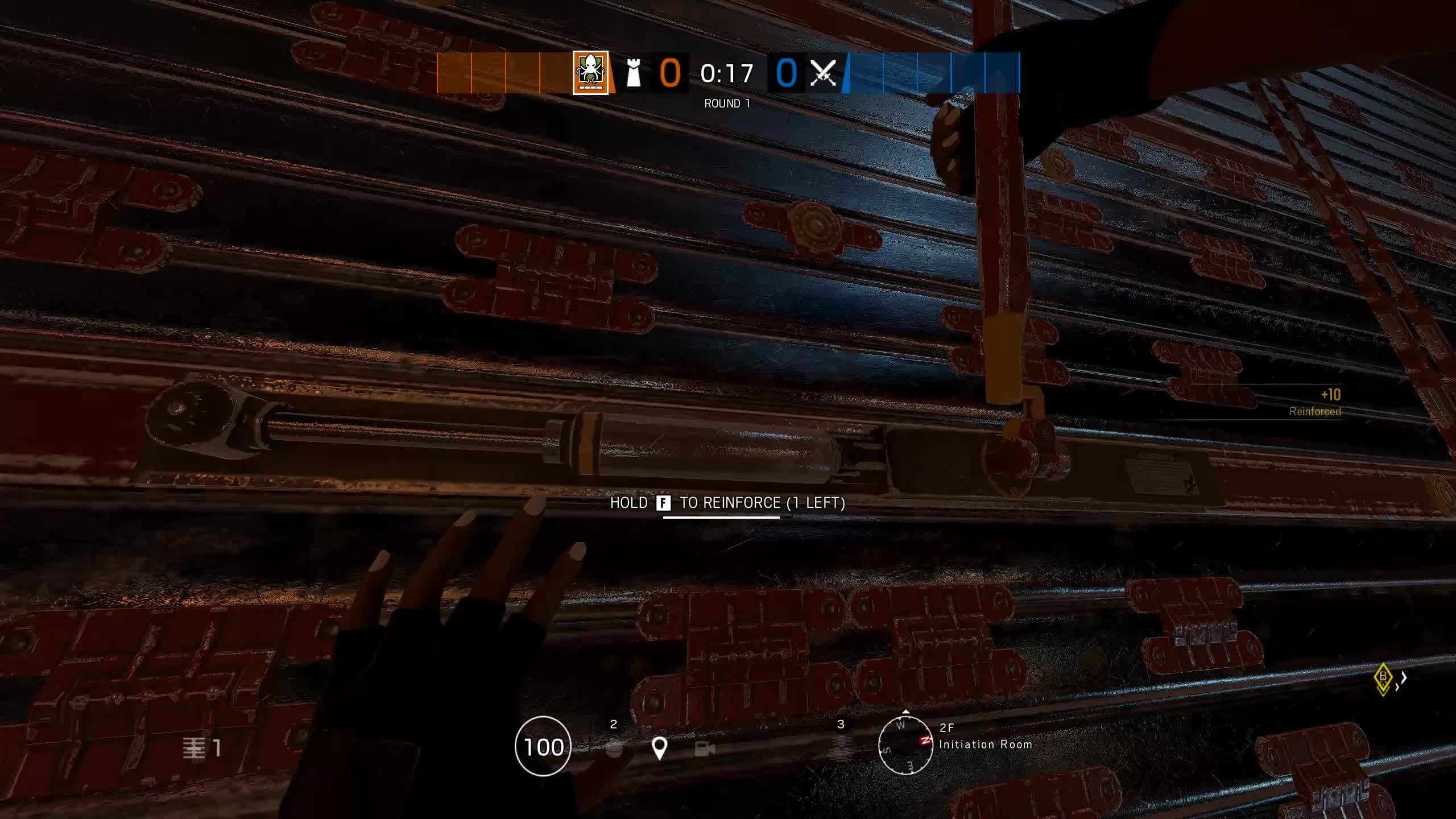 BOMB SITE 2 - Bunk [2F] and Day Care [2F]   A rather popular site, Bunk and Day Care are surrounded by three hallways and Break Room. Attackers will likely push from Cafe or up Yellow or Arcade Stairs. There is also a hatch in the hallway by the vending machine they can drop. They may instead push Initiation Room and attempt to breach the reinforced walls in Bunk. Make sure there is a rotate hole in the middle of the wall between sites!   Aggressively playing in the hallway keeps you close to site, while still delaying the push. But don't get pinched!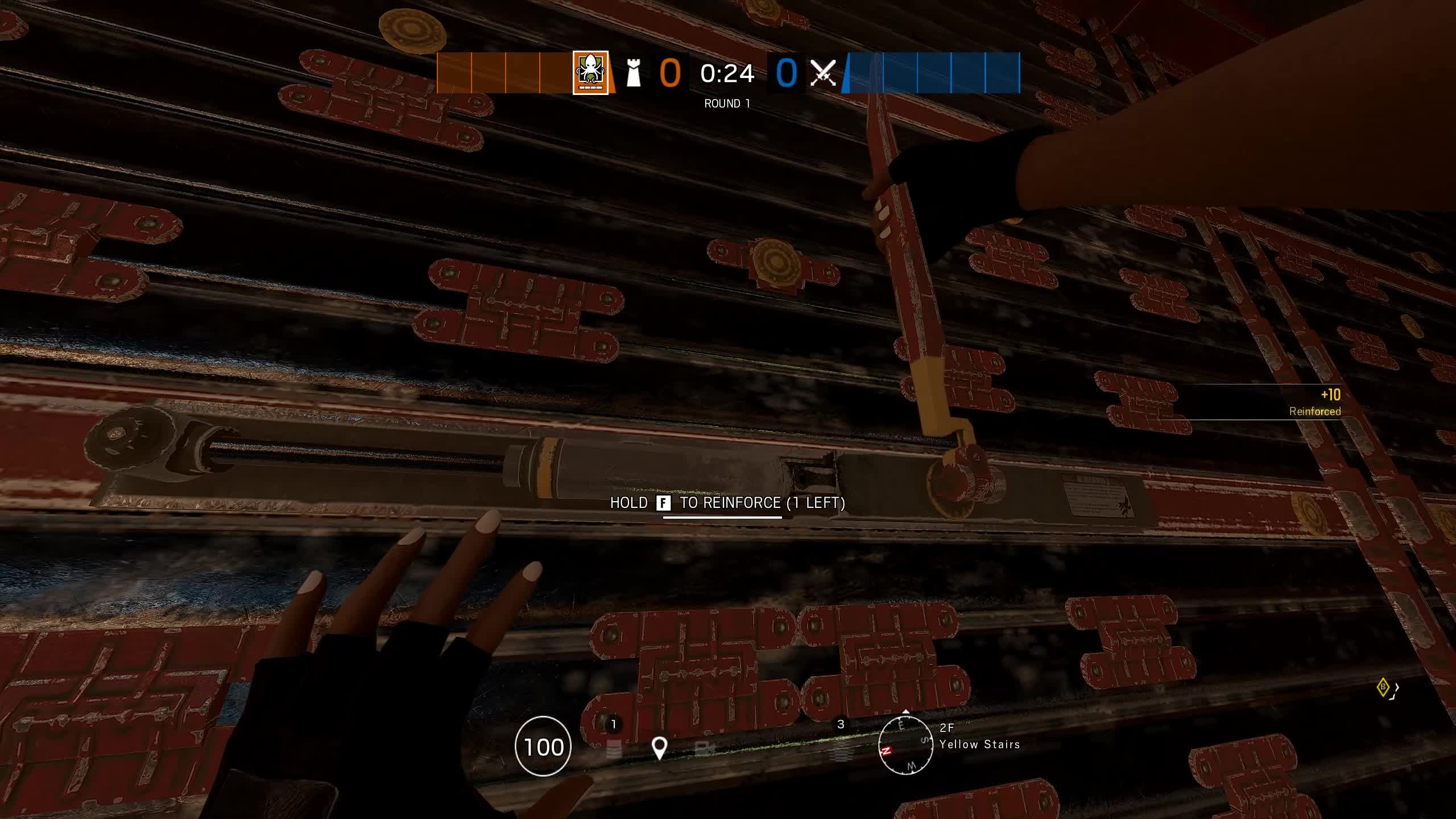 Reinforce these walls in Bunk and set up the Arcade Balconywith a rotate into Kitchen and a shield to make the site more maneuverable. Pop the hatch on ping for an added flank route.
  Roaming in Office is a solid play too. You can harass attackers pushing Initiation and contest Yellow Stairs through the catwalk. Reinforce the panel leading to Cafe so your rotate isn't so easily cut off.
  If you have some seriously nutty aim, line up your crosshair as shown while crouching and toss a prisma. Then bolt to the yellow ping and mow down those who dare approach the stairs.
    BOMB SITE 3 - Armory [1F] and Throne Room [1F]   This is widely considered to be the most defender-favored site. The reason for this is because there are many different ways to deny breaching of the three reinforced walls, and the ceiling above Throne Room is not breachable. Given that the tops of the panels can be shot open, impact tricking is viable, or teammates can throw C4s over the reinforcements. Be sure someone is keeping an eye on Blue Room from either side to easily trade kills on attackers pushing through. You can roam to try and kill breachers but the site does favor anchoring in general.   Make sure Blue Room hatch is reinforced before placing this shield here. As long as it is you can peek Arcade and even bits of Barrel Room. The prisma by the furnace in Armory is protected by the unbreachable ceiling above.
  Definitely reinforce both walls on either side of Throne Room. These prismas are great if you play in here to support your Bandit while he tricks the wall.
  If instead you wish to roam, start off in Bunk to delay attackers pushing Barrels. But rotate as needed.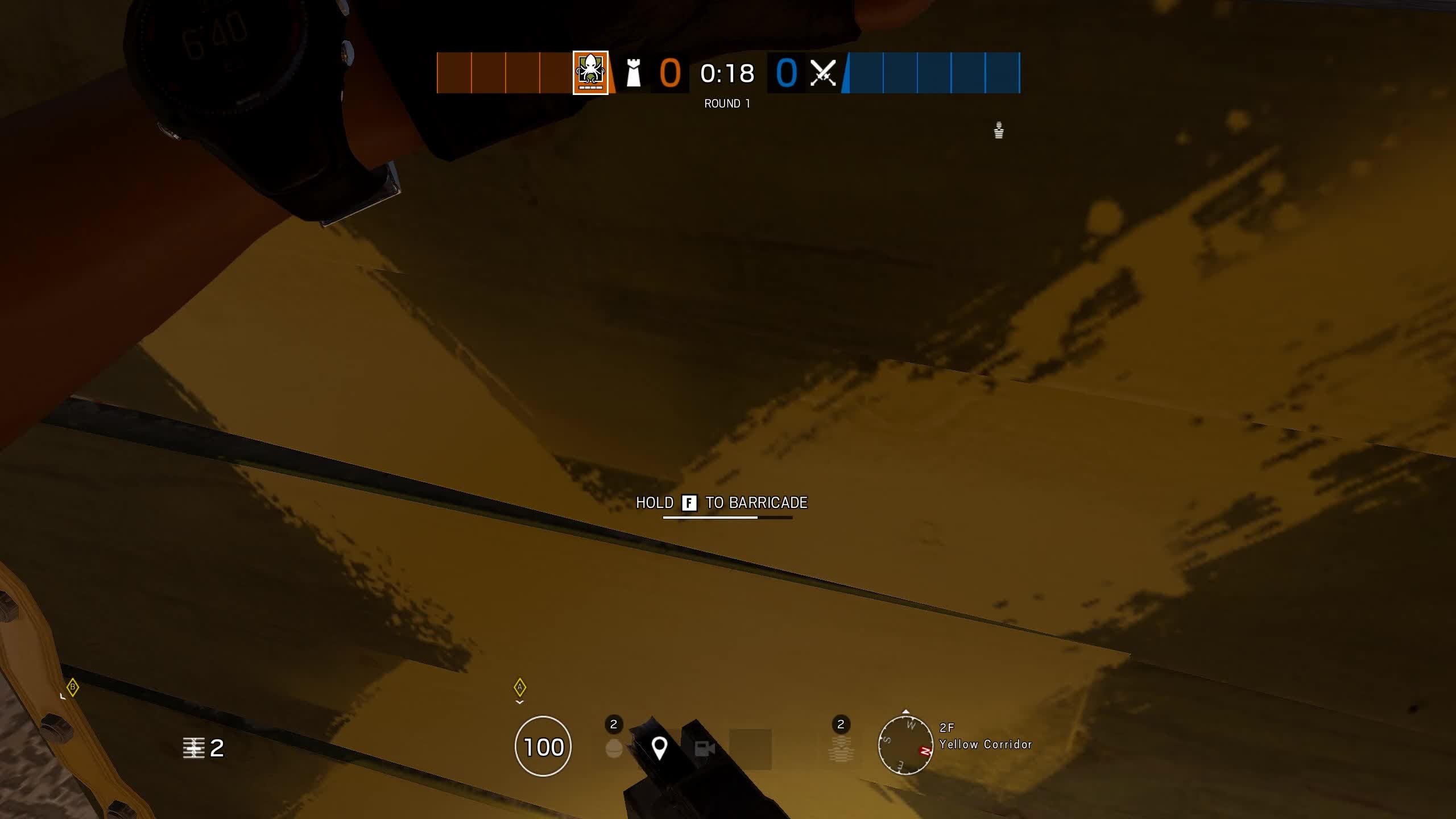 BOMB SITE 4 - Lab [1F] and Storage [1F]   This site can be defended in a few ways. You can send some roamers above to delay attackers as they seek to establish vertical control, or you can extend the defense into Armory and Throne Room by reinforcing East Throne Wall. With Alibi you can really play any of these options or stay on site if needed. There are a few good shield options and two windows near site you can place prismas below. But they are easily shot by rapelling attackers.   Someone needs to watch Storage window, and you can achieve that from Lab with this shield and rotate hole.
  This shield is a great alternative to the one above. Make sure these walls and the walls on ping are reinforced.
  These prismas and this shield ping any attackers daring to vault in. Stick close and use any pings you score to snatch some easy kills.
  The beautiful part about extending laterally into Throne is you can monitor site perimeter while only needing to use your personal reinforcements off-site.
  Don't get too spooked defending Theme Park ya'll. Instead, spook attackers with your prismas and hacker-like aim.