drTaperdown
verified
LV.12
Big Chungus
Guide to Playing Maestro on Chalet
Guides
Gather 'round ya'll. Papa Maestro just released his strats for Chalet. So cozy up to the fireplace and listen up.
  Chalet, one of the original maps of the ranked map pool, is a bit notorious in the community. Many players hate it while others consider it to be underappreciated. It is a bit bunched up but does house three floors, including a basement, and three staircases. This layout tends to favor roaming, particular late flanking plays. It also allows for plenty of window peeks and runnouts, particularly because the sites are all easily accessible from outside. This often leads to attackers remaining outside for the majority of the round.   Maestro is an incredibly versatile 3 armor 1 speed operator capable of supporting his teammates throughout the round only to clutch out the final moments by himself. He brings valuable intel to his team and is equipped with an infamous LMG. They say he's always smiling because he enjoys harassing attackers during their push and execute. He's always a solid pick.   As an anchor, Maestro is focused on finding a safe perch on site where he can sit on cams, giving callouts to his teammates. He uses his Evil Eyes to supervise the site and its perimeter, zapping breach gadgets, drones, and harassing attackers. Being multi-functional allows using them to fill whatever role the team needs. When in doubt, just slap them on site where they can have a good view of everything. Beware of Sledge, Maverick, Thatcher, Twitch, and explosives, as they all counter your gadget. To prevent easy counters, place them above opened hatches, vault onto surfaces and place them high up, or hide them in sneaky locations where attackers are unlikely to notice them. NEVER place them on surfaces that can be destroyed with gunfire; destroying the surface will destroy your gadget! As soon as you finish setting up, hop on cams to obtain early intel on the push.   Maestro's Loadout
Maestro's loadout boasts the mighty ALDA 5.56, which is best modified with a vertical grip, flash hider, and whichever sight you prefer (RIP ACOG). This fearsome LMG loads a whopping 80 round magazine, plenty to clutch with. Failure to manage his ammo properly, however, can leave you stuck in a punishingly awkward reload animation.   Maestro prefers the Bailiff 410, which can remodel the site a fair bit, and create additional lines of sight for his evil eyes. It runs best without the laser sight, as tightening the hip-fire any further makes its destruction holes too small. If you fancy a hand cannon though, the Keratos .357 is viable and capable of some mediocre destruction. As with all pistols, fix it up with a muzzle break. Barbed wire pairs well with his gadget, providing a sound cue to attacker movements nearby. But consider bringing some impact grenades for either quicker setups or "impact tricking," which destroys breach gadgets placed on certain reinforced walls that can have small gaps shot out above them as well as certain hatches next to walls or furniture above.   Bombsite Locations
  Bomb Site 1 - Master Bedroom (2F) and Office (2F) This seems to be the more popular of the two third-picks, though it is rather exposed to plenty of angles that attackers can safely hold from outside at a distance. On the North attackers will peak from the rocks by Campfire spawn; they also will likely rappel up the balcony there to push Master. On the East attackers like to climb the sniper tower and group up along the balcony adjacent to the Master and Office windows. There is also the catwalk South of Office that looks through four windows into Great Room. As an anchor, you can relax in the bathtub, but that's right you guessed it, there's a balcony outside West Bathroom as well.   This is my go-to setup when playing this site. I prefer anchoring in Office by the filing cabinets for a more active role throughout the round.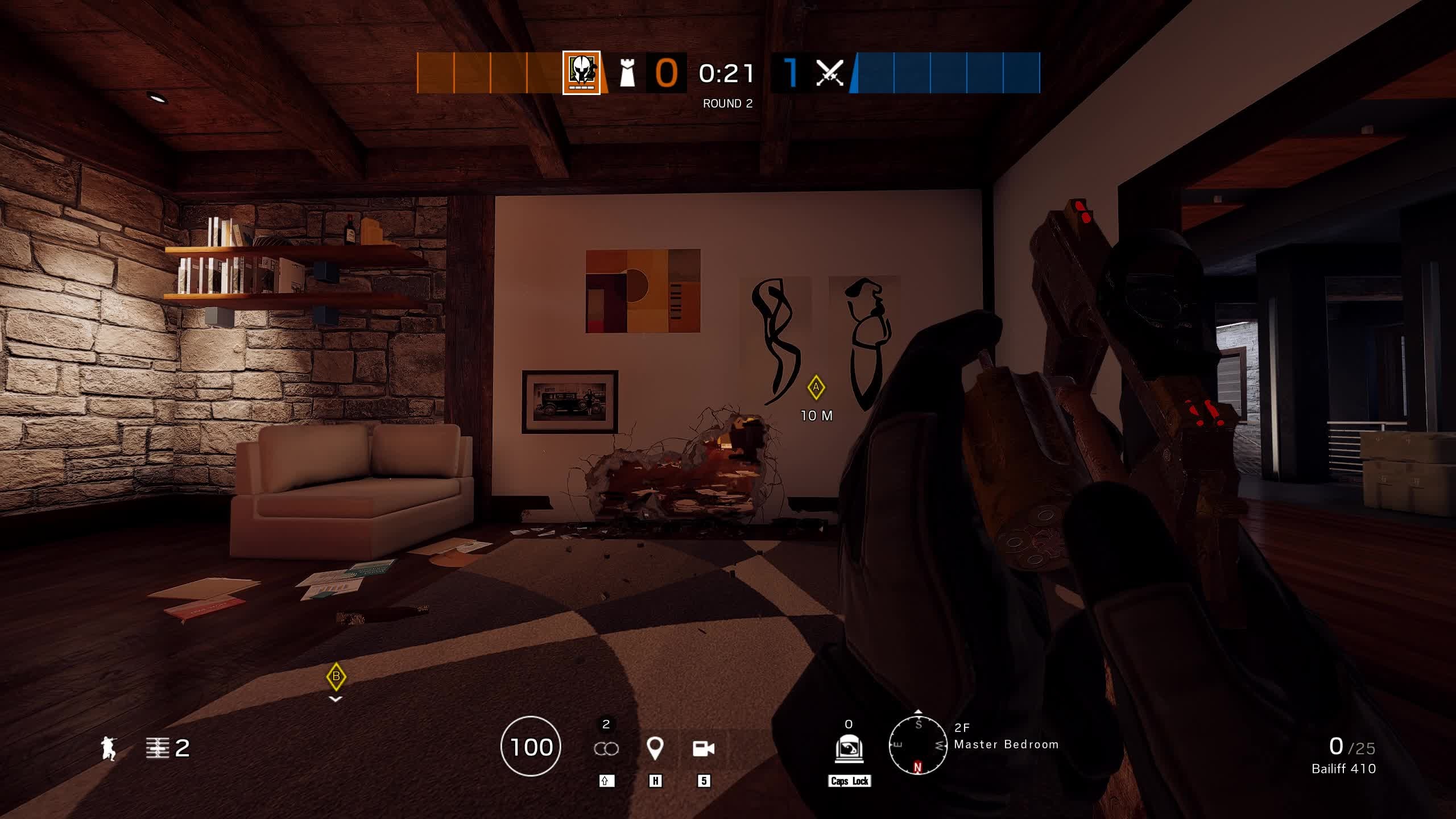 If you'd rather your intel give you a heads up on attackers pushing Catwalk, this Evil Eye stares through the windows. It can also see down the stairs to boot.
  This Evil Eye again favors peeking, as it watches through the windows. This is a bit of a double-edged sword however since doing so makes it easier for attackers to destroy it, so protect it with some ADS's placed by the windows.
  Bomb Site 2 - Bar (1F) and Gaming Room (1F) The alternative third-pick option available, this site is typically held from above in Library and in the surrounding hallway and stairs. Playing in site can be a bit rough since attackers can open the walls between sites allowing them to peer into Bar from deep outside Gaming windows. While most teams aim to clear Library and plant in Gaming, you will want to keep an eye out for flanks coming through Great Hall or up the staircases from the basement.   This reinforcement allows you to anchor more easily behind the bar. Be sure the wall behind Maestro is reinforced as well and preferably protected with breach denial.
  You may want an Evil Eye to watch for the plant going down in Gaming. This one does exactly that. An ADS placed on the ping will help to extend its life. Pop the hatch above to allow defenders to do the same from Library.
  This boy here can watch the flank. Place him above the hatch in Great Room then blow that sucker wide open.
  Bomb Site 3 - Wine Cellar (B) and Snowmobile Garage (B) A contender for the best site, Garage and Wine can make for a solid hold. If the plant goes down however, and attackers are posted outside holding deep angles covering defuser, it's very uncomfortable to retake since they often establish a crossfire on the garage door, making any efforts to push out a nightmare. Play Storage Room to prevent this from happening, or if you'd rather nest in a safer location, relax in Wine Stock, but high tail it out of there if attackers push in Basement Hall and open Stock wall.   This setup includes an Evil Eye for watching over Garage. Use it to call out when attackers push in through smoke to go for the plant. The Evil Eye in Basement hallway may perhaps go unnoticed, and can be used to deny the Stock wall being breached.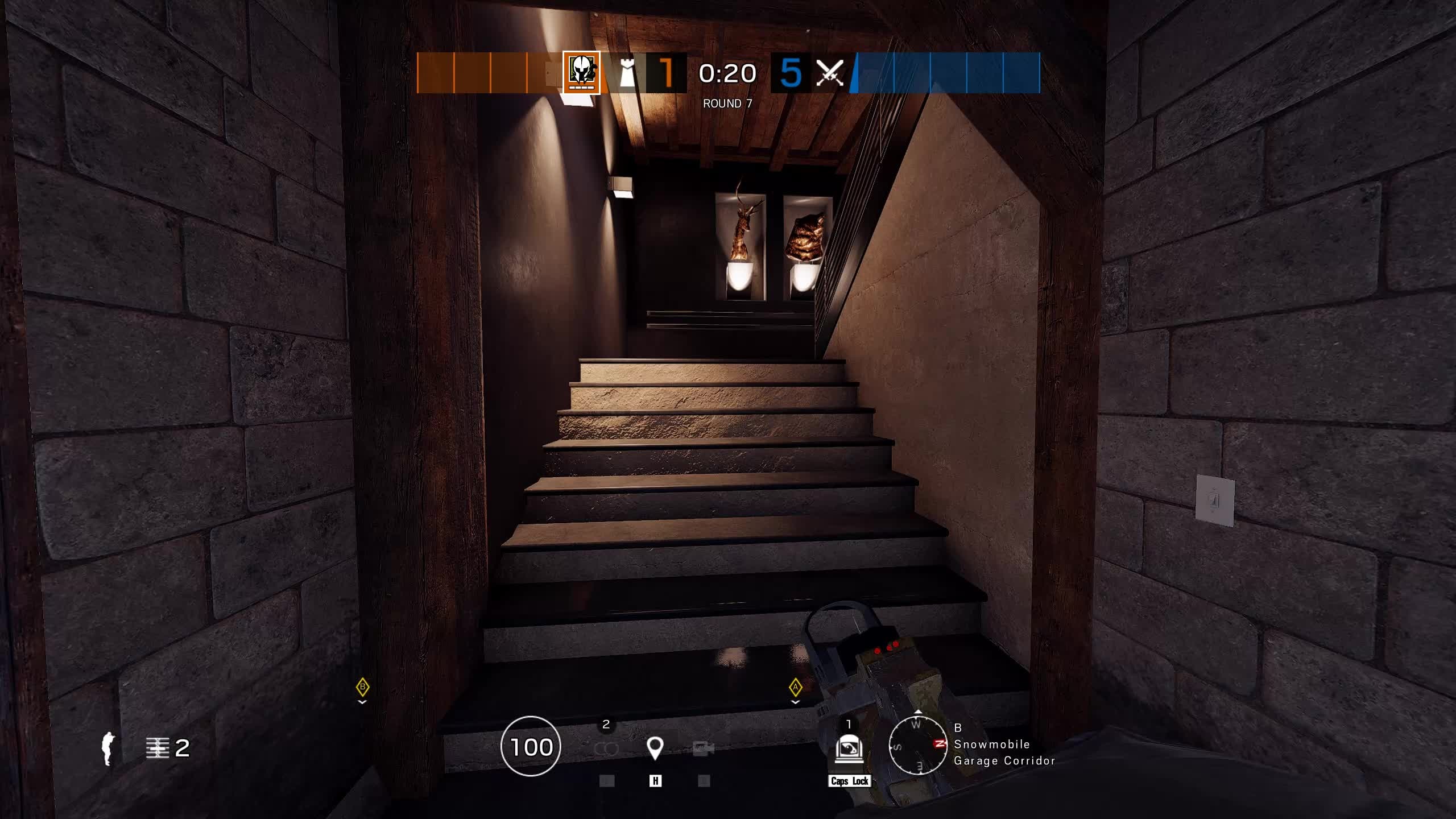 If you expect a push from the back side, or simply don't need the added protection on Stock wall, place your mechanical henchman here where he can zap drones and attackers looking to plant in Wine Cellar. The cooler hides him from attackers still in the hallway.
  This cam is good for intel on attackers playing vertically. Give callouts to teammates looking to flank when the attackers least expect it. As an added bonus it keeps an eye on Blue hallway.
  Bomb Site 4 - Kitchen (1F) and Trophy Room (1F) Certainly the most popular site, Kitchen and Trophy offer plenty of options to Maestro. If you choose to anchor behind the Dining table, beware the drone hole, as well as attackers breaching from Office above. But play it right and you can heavily influence the round, stopping attackers pushing in from Great Room dead in their tracks, as well as those hopping in Trophy window. You could also play in the back of Trophy, but you may find a Buck in the garage below making your life miserable, and when you rotate out, don't get caught by an attacker playing Kitchen window. Either way, create a rotate/line of sight between Trophy and Kitchen.   This Trophy cam is great since attackers frequently try to plant in Trophy after getting some picks.
  You could pair the previous with this cam for full site coverage. To place it, break the pot on top of the logs, smash the fan, and hop your way up onto the fridge. You could open up this line of site for some wallbangs outside of West Main if you play that way, or simply reinforce it instead. Either way you have eyes on the Great Room push and the Kitchen hatch drop, both quite common.
  This Evil Eye is mounted on the reinforced wall in West Main and sits above the hatch. Use it for info on the site perimeter and any activity going down in Big Garage below.