drTaperdown
verified
LV.13
Big Chungus
Guide to Playing Maestro on Clubhouse
Guides
If you find yourself in need of some tried and true Maestro strats, you've come to the right place. After a day at the strip club, I picked the minds of these old fellas and they claim to be fallen heroes with unmatched strategic prowess. Next time ya'll find yourselves in Memorial Room be sure to stop and pay homage for that Freelo.
  Clubhouse, Bandit's favorite biker hang-out, features three floors, including a basement, in addition to three staircases and a ladder in the garage, providing plenty of approaches to attackers and flank routes to defenders. The top floor is quite spread out, making it nigh impossible to efficiently roam clear, so attackers tend to instead dedicate someone to flank watch instead of full-clearing. The strip club offers roamers a solid position to wait to flank from, but if attackers catch on, they will likely flush the roamer out with deadly efficiency. The rounds tend to be heavily focused around hard breaching because of the surplus of external walls, so expect plenty of bandit-tricking.   Maestro is an incredibly versatile 3 armor 1 speed operator capable of supporting his teammates throughout the round only to clutch out the final moments by himself. He brings valuable intel to his team and is equipped with an infamous LMG. They say he's always smiling because he enjoys harassing attackers during their push and execute. He's always a solid pick.   As an anchor, Maestro is focused on finding a safe perch on site where he can sit on cams, giving callouts to his teammates. He uses his Evil Eyes to supervise the site and its perimeter, zapping breach gadgets, drones, and harassing attackers. Being multi-functional allows using them to fill whatever role the team needs. When in doubt, just slap them on site where they can have a good view of everything. Beware of Sledge, Maverick, Thatcher, Twitch, and explosives, as they all counter your gadget. To prevent easy counters, place them above opened hatches, vault onto surfaces and place them high up, or hide them in sneaky locations where attackers are unlikely to notice them. NEVER place them on surfaces that can be destroyed with gunfire; destroying the surface will destroy your gadget! As soon as you finish setting up, hop on cams to obtain early intel on the push.   Maestro's Loadout
  Maestro's loadout boasts the mighty ALDA 5.56, which is best modified with a vertical grip, flash hider, and whichever sight you prefer (RIP ACOG). This fearsome LMG loads a whopping 80 round magazine, plenty to clutch with. Failure to manage his ammo properly, however, can leave you stuck in a punishingly awkward reload animation.   Maestro prefers the Bailiff 410, which can remodel the site a fair bit, and create additional lines of sight for his evil eyes. It runs best without the laser sight, as tightening the hip-fire any further makes its destruction holes too small. If you fancy a hand cannon though, the Keratos .357 is viable and capable of some mediocre destruction. As with all pistols, fix it up with a muzzle break. Barbed wire pairs well with his gadget, providing a sound cue to attacker movements nearby. But consider bringing some impact grenades for either quicker setups or "impact tricking," which destroys breach gadgets placed on certain reinforced walls that can have small gaps shot out above them as well as certain hatches next to walls or furniture above.   Defender Bombsite Locations
  Bomb Site 1 - Gym (2F) and Bedroom (2F) Gym and Bedroom makes for a very fun hold in my opinion, with the bathroom being the safest spot to sit on site. Be sure to reinforce the Bedroom hallway wall and the single panel in Construction at least. The remainder of the setup depends on your team's preference. Some teams like to extend into Cash and reinforce the walls between Cash and CCTV as well as the external wall in CCTV. Others will ignore that side of the map and reinforce all of the walls in Construction. They are both viable so just go with whatever your team is comfortable with.   If you prefer not to be locked up in some stinky bathroom, you could create a rotate on the panel next to the toilet, or ditch playing in there entirely if a teammate brings a shield. Have them place it on the ping against the bomb chassis so you can play behind it.
  This is a standard setup providing plenty of views onto the sites and its perimeter, with the hallway cam also able to protect Bathroom wall. If it gets disabled and they go for a breach, open some holes on the fly and "impact trick" the wall.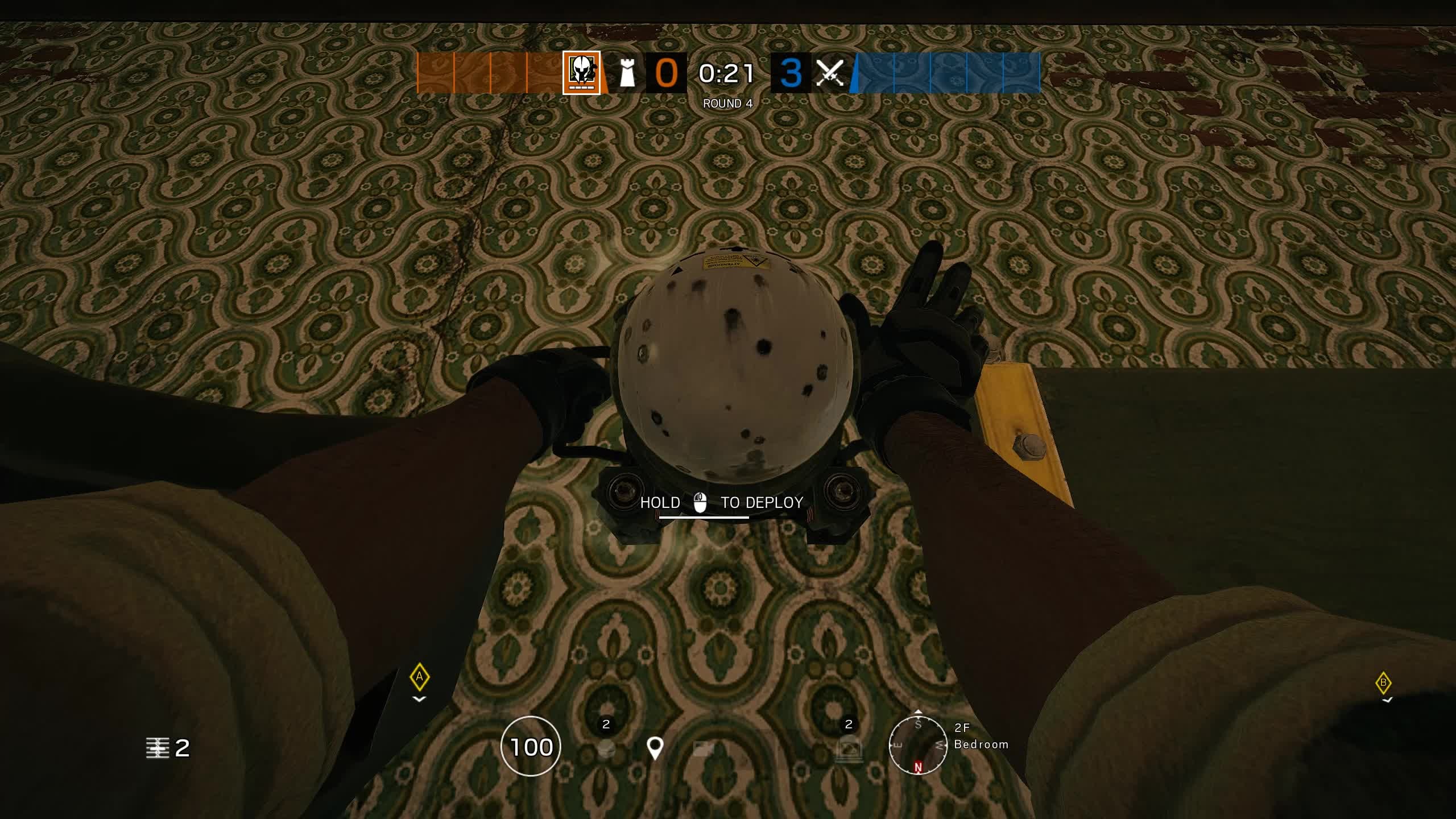 Here is a good Evil Eye which can help ensure complete vision of both sites. Vault the weight rack and slap it on the Southern wall in Gym.
  Bomb Site 2 - CCTV Room (2F) and Cash Room (2F) This tends to be the preferred site for most, but attackers have become very efficient at dealing with any bandit-tricking and it can be a bit hectic to hold once the CCTV wall gets breached. Use spare reinforcements in Construction and Garage to make them easier to hold, slowing attackers pushing those areas. Some reliable anchor spots include at the top of Red Stairs, and in Cash Room itself. But be careful not to be caught on your cams when attackers start pushing those areas. And if you find yourself sitting in Cash room, be weary of Buck mains remodeling the floor beneath you!   This is a pretty reliable setup that gives great oversight of critical areas. Practice the Catwalk vault to perfection, but you may still occasionally mess up like I did! The wall I stopped reinforcing midway should be reinforced, I just quit to show that Cash wall can be "impact tricked."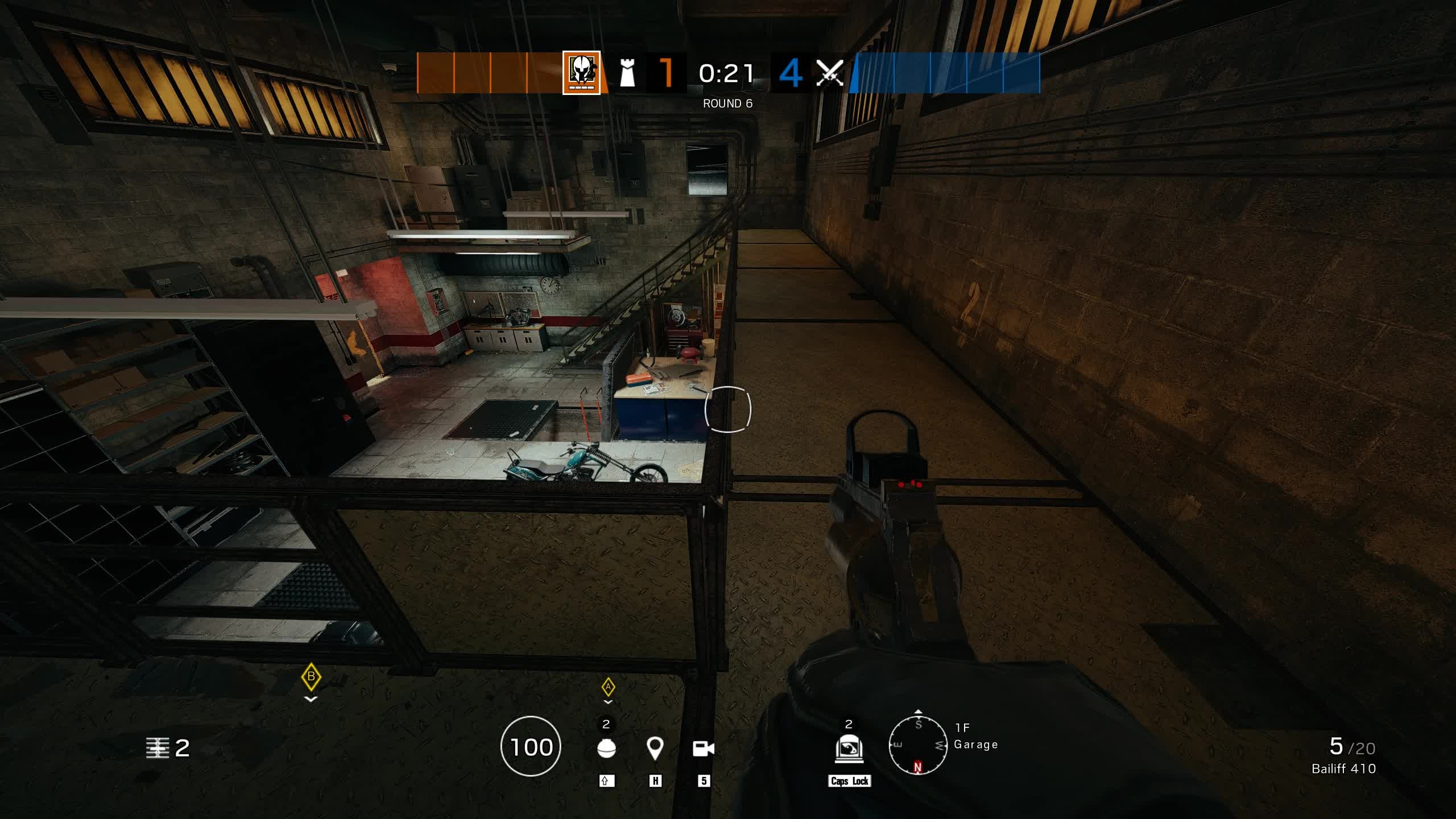 This off-angle allows you to peer at Garage stairs through the rotate from atop the desk in Cash. Use either the Bailiff or Keratos to open it up.
  If you're looking to include some plant denial in your setup, this Evil Eye is a great option. Punch out that pesky TV in the way, and if you struggle to find the gadget deployment prompt, just crouch spam and wiggle your mouse a little.
  Bomb Site 3 - Bar (1F) and Stock Room (1F) An old favorite, this site unfortunately doesn't see much play, mostly because attackers can rush plant in Stock from a Kennel spawn. Situating a roamer in Cash with some holes watching below can help delay this. Attackers used to push Strip Club and blow the Billiards wall but this is a lot less common now. As an anchor you could play by the stage for a more influential role, but you are more exposed. Otherwise anchor behind the bar.   This setup gives full views of site for the most part. Ask teammates to reinforce the wall and hatch I ping. I break the guitar and amp to allow myself to tuck even further into the corner and play an off-angle that attackers are unlikely to check. But most importantly, shut off that damn Jukebox!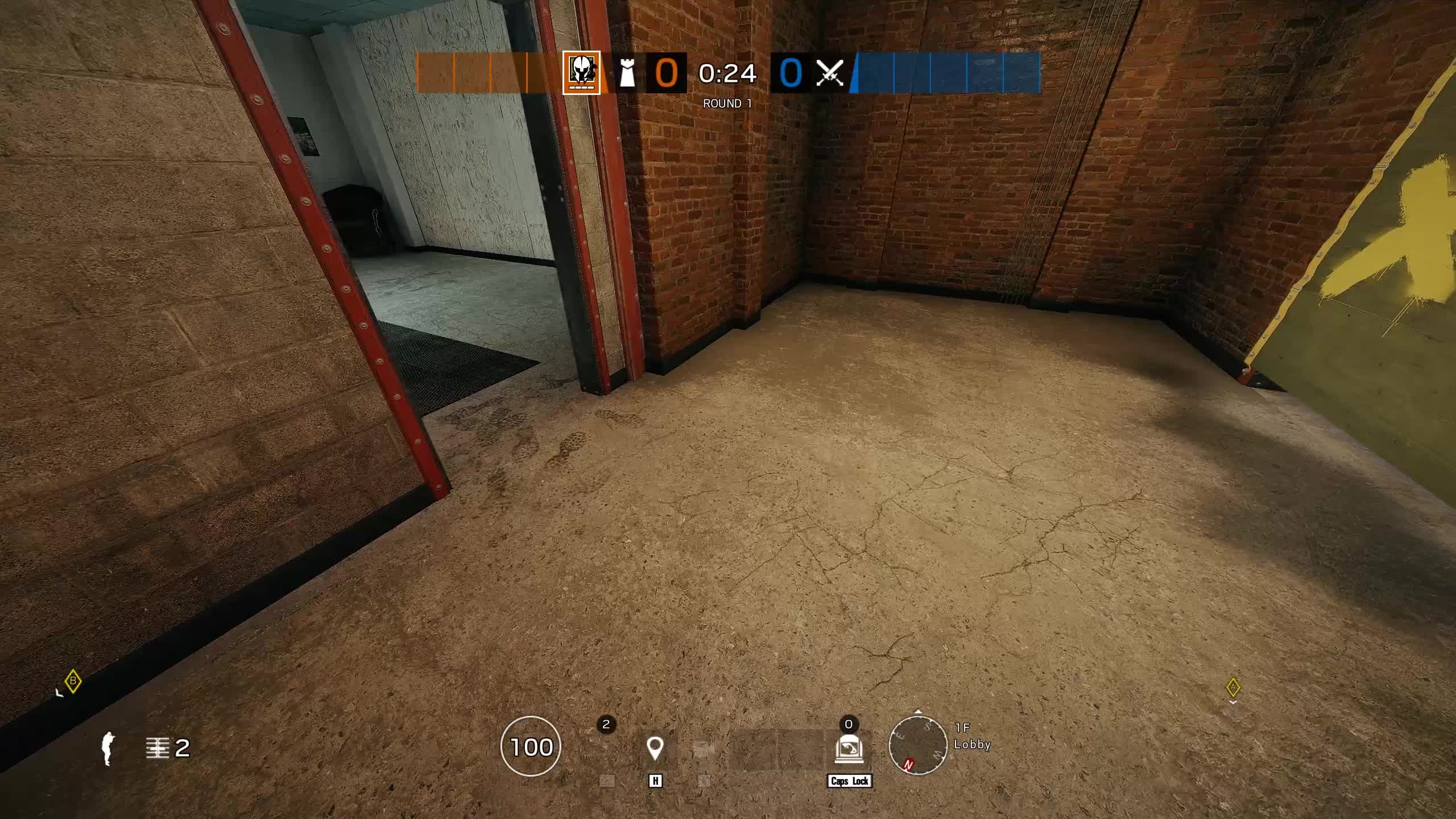 Destroy the gray crates by this trashcan and jam your sneaky little friend into the shadows where he can gaze over Stock Room and zap any attackers foolish enough to plant.
  If you have any friends brave enough to hold onto stock, have them smash these other gray crates and pop the hatch for them with your Bailiff. A Wamai, Smoke, or Goyo is ideal for this.
  Bomb Site 4 - Church (B) and Arsenal (B) Long considered to be the best site, particularly before the rework, this site has been reborn since the rework due to SSG's incredible pro strat that involves holding the entire map. You don't need to hold the entire map though, in fact as Maestro you will definitely want to remain on site! You can sit behind Church bar since the ceiling is indestructible. Reinforce West Church Wall, and ask teammates to grab all hatches, dirt tunnel, and the Arsenal wall leading to Blue tunnel.   This sneaky creeper lurks above the Jukebox and provides views throughout Church while keeping an eye on Memorial Room. Simply vault the jukebox and mount it on the vent.
  If you're looking to use an Evil Eye to protect Kitchen hatch while simultaneously landing teammates some C4 kills, tuck this little bugger into the shadows after breaking the broom in the way.
If you don't have any teammates with C4s, you can instead bring impact grenades to throw at the furniture surrounding the hatch and use your Evil Eye elsewhere.   This Evil Eye watches for attackers pushing Church from Blue Hall and watches for attackers dropping Kitchen hatch. Destroy the gray crate on the shelf and place your trusty friend there instead. Reinforce the Arsenal wall Maestro is standing by to prevent attackers rushing in from Main stairs.
  Boy oh boy are there plenty of Evil Eyes to be found in Club House. Those crazy old coots, err I mean respectable gentlemen, in Memorial were right. No wonder they've been honored with such a sweet motorcycle. Feel free to share any of your findings as well folks, particularly for Bar and Stock. That site just doesn't see enough play and I'm thinking it's actually being slept on because the community is just too lazy to come up with some strats that make it viable.