drTaperdown
verified
LV.12
Big Chungus
Guide to Playing Maestro on Bank
Guides
If you're looking for some absolutely GOLDEN Maestro strats, look no further! I've discovered the secret to a Bank basement hold. Simply hole up in this vault and voila, you're rich baby.
But wait, there's more...   Ahh Bank, the map where you spawn in on attack and instantly die to a Doc who just deposited his ELO gains from his last five games in ATMs. A very spread out map, Bank has three floors, three staircases, and a whopping four skylights, not to mention the surplus of windows! The windows make the giant lobby a very risky area to play as a defender, especially with how easy it is to cruise in and hide a drone during prep phase. It is also worth mentioning attackers can quickly vault onto the Main Stairway from the skylight, trading only a small portion of their health for quick and safe entry into the building, leaving them very close to all four bombsites.   Maestro is an incredibly versatile 3 armor 1 speed operator capable of supporting his teammates throughout the round only to clutch out the final moments by himself. He brings valuable intel to his team and is equipped with an infamous LMG. They say he's always smiling because he enjoys harassing attackers during their push and execute. He's always a solid pick.   As an anchor, Maestro is focused on finding a safe perch on site where he can sit on cams, giving callouts to his teammates. He uses his Evil Eyes to supervise the site and its perimeter, zapping breach gadgets, drones, and harassing attackers. Being multi-functional allows using them to fill whatever role the team needs. When in doubt, just slap them on site where they can have a good view of everything. Beware of Sledge, Maverick, Thatcher, Twitch, and explosives, as they all counter your gadget. To prevent easy counters, place them above opened hatches, vault onto surfaces and place them high up, or hide them in sneaky locations where attackers are unlikely to notice them. NEVER place them on surfaces that can be destroyed with gunfire; destroying the surface will destroy your gadget! As soon as you finish setting up, hop on cams to obtain early intel on the push.   Maestro's Loadout
Maestro's loadout boasts the mighty ALDA 5.56, which is best modified with a vertical grip, flash hider, and whichever sight you prefer (RIP ACOG). This fearsome LMG loads a whopping 80 round magazine, plenty to clutch with. Failure to manage his ammo properly, however, can leave you stuck in a punishingly awkward reload animation.   Maestro prefers the Bailiff 410, which can remodel the site a fair bit, and create additional lines of sight for his evil eyes. It runs best without the laser sight, as tightening the hip-fire any further makes its destruction holes too small. If you fancy a hand cannon though, the Keratos .357 is viable and capable of some mediocre destruction. As with all pistols, fix it up with a muzzle break. Barbed wire pairs well with his gadget, providing a sound cue to attacker movements nearby. But consider bringing some impact grenades for either quicker setups or "impact tricking," which destroys breach gadgets placed on certain reinforced walls that can have small gaps shot out above them as well as certain hatches next to walls or furniture above.   Bank Bombsite Locations
  Bomb Site 1 - Executive Lounge (2F) and CEO Office (2F) This site is almost completely surrounded by windows, so expect attackers to be on rappel, whether its on the Northern site windows, or the West Lobby windows, where they may even be peeking from the rooftop across. Otherwise you should anticipate attackers breaching the East CEO walls and pushing up the 2F hallway. As such, it is wise to play in Executive, where you are safely in the back of site, and can hold the flank. Otherwise, a more aggressive and influential anchor position is in the hallway elevator.   This cam offers plant denial as attackers typically plant behind CEO desk. It is exposed to EMPs through the wall though, so listen for them to be thrown and rotate it to safety before its disabled. Make a rotate to Janitor to allow aggressive holds in there, where defenders are also safe if the wall gets opened. Pop the hatch too so they can drop out if they get pinched.
  Add this bad boy to your arsenal, as he offers great info to your mates playing with a C4 behind the couch. Just vault the couch to place it and use your Bailiff to improve its vision while giving the homies a hole to toss their C4s through.
  If you (or a teammate) is playing elevator, use these next two Evil Eyes to help hold the perimeter. An ADS in the elevator can protect the defender in there as well as this Evil Eye from explosives flying down the hallway.
  While there is a default cam watching lobby, it can be shot out from outside. This is a nice replacement that can also zap drones rolling up spiral stairs.
  Bomb Site 2 - Staff Room (1F) and Open Area (1F) While it does bear plenty of destructible walls, Staff Room also has an entirely indestructible ceiling and floor. Attackers frequently seek to breach the wall from Skylight Stairwell, but if this breach can be denied, this is the safest room to play in. Be sure to reinforce this wall. Make sure your teammates reinforce the three hatches, and maybe bring impact grenades to trick either the Stock hatch or the Janitor hatch. Admin can be opened into Archives for a very spread out hold if your team is well-coordinated, or it can be reinforced. Go ahead and pop the floor hatches for some late-round flanks.   Vault this cart in Open Area and smack this sucker on the wall for plenty of views on site. Reinforce this wall so attackers can't peer deep into site from outside with ACOGs. You can also shoot out the baseboards of the wall Maestro is aiming at so attackers who hop in suddenly have their legs crippled by gunfire.
  This is another great cam to monitor site and doubles as a lookout on Server stairs. You can shoot out the baseboards of Electrical Room wall to make that push difficult for attackers.
  If you've taken it upon yourself to be the sole protector of reinforcements leading to site, bring some impact grenades and use these two Evil Eyes. Have fun sitting on cams in Staff all round and laugh while you make Thermite and Hibana cry over the obliteration of their favorite toys.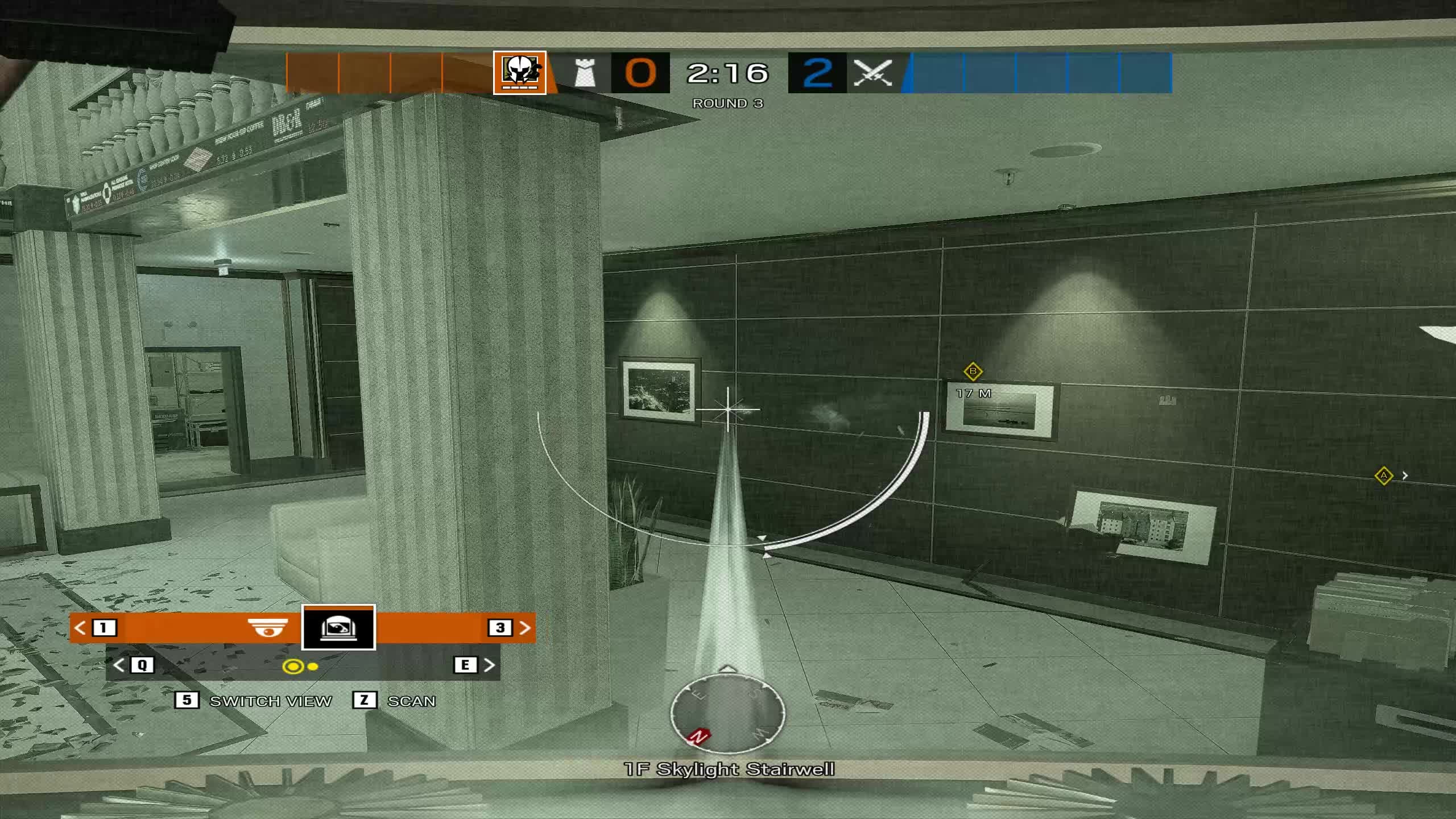 Bomb Site 3 - Tellers' Office (1F) and Archives (1F) This site is typically a third pick since attackers can completely rip out the floor above, and taking top floor control with a concerted team is almost sure to happen. This can be played around though, especially if some anchors brought C4s. Just do your best to balance giving intel to your team without overstaying your welcome on your cams. Reinforce the Tellers Office wall towards Lobby, and pop the hatch under Skylight Stairwell and the hatch in Tellers.   The Archives wall can be reinforced or opened to extend into Open Area where reinforcements can be used on hatches above instead. This provides a nice escape from attackers tearing out the ceiling and allows more angles on attackers pushing Tellers. The CEO Evil Eye featured in the video is great for landing C4s for allies.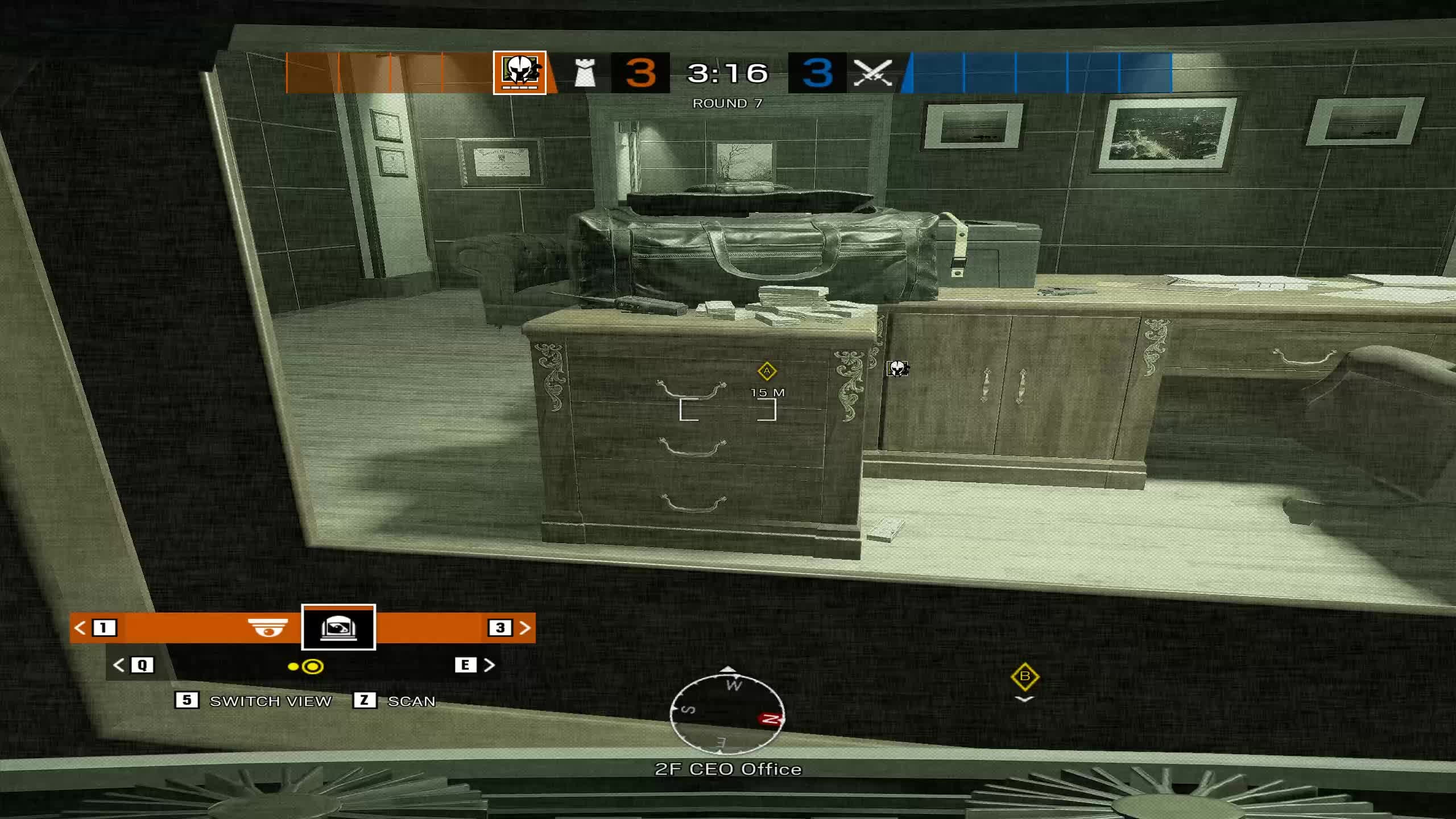 If you're looking for some intel on perimeter and want to simultaneously deny the breach on Tellers wall, this is your sneaky little friend you'll want to employ.
  If you want some oversight on Tellers Office as well as some info on Skylight Stairwell, utilize this setup. The vault prompt can be a little tough, but once mastered it's worth it. You can bring impact grenades to protect the wall as well.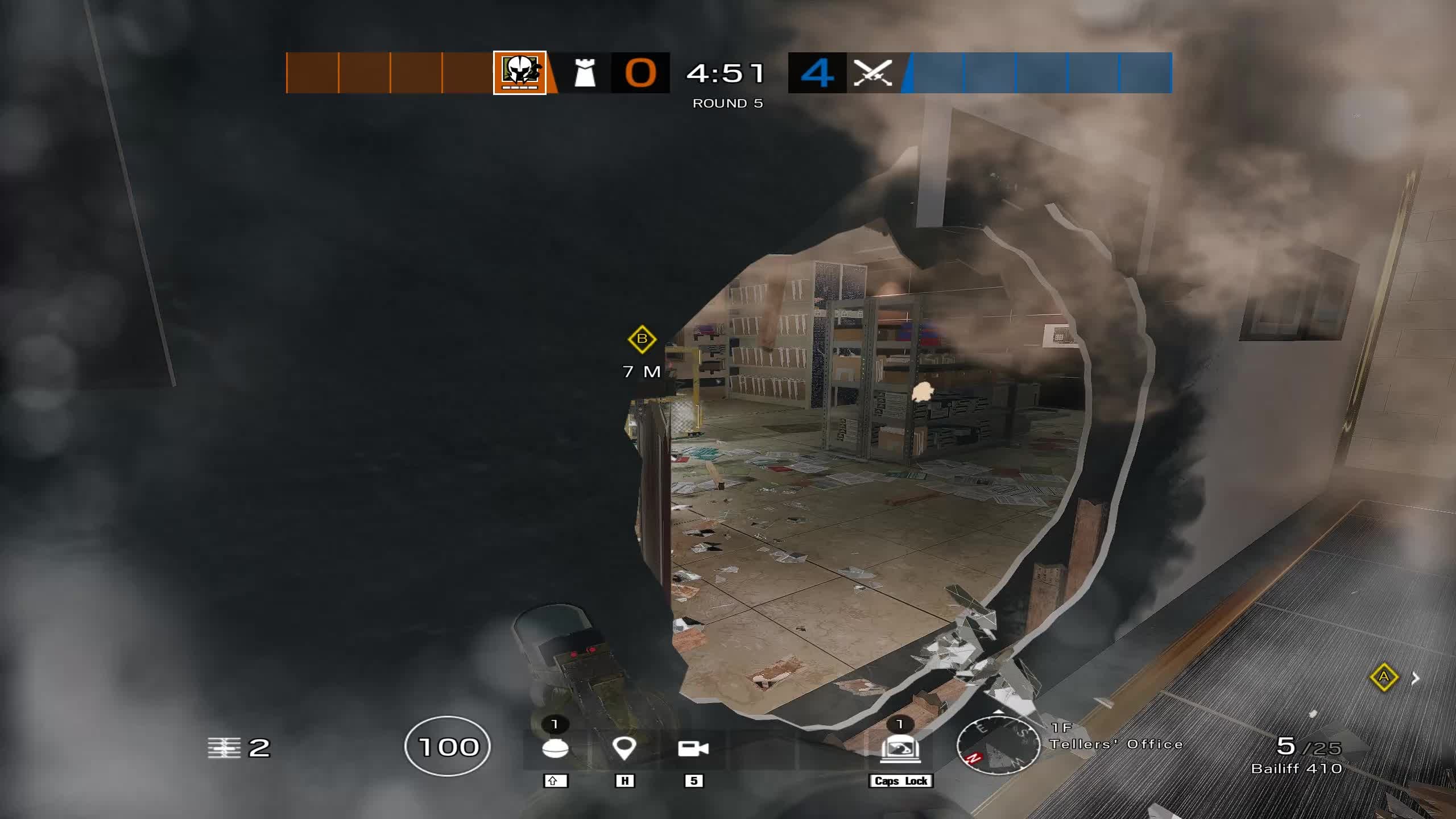 Bomb Site 4 - Lockers (B) and CCTV Room (B) This is by far the most popular site, and for good reason. None of the ceiling is destructible. This leaves the attackers with 4 hatches to pick between, and the option to push Garage, Main Stairs, or Servers, where they can come from the tunnel. The entire round is typically focused heavily around utility use, so situate yourself in Vault where you will be on cams for most of the round.   If you choose to you set up Evil Eyes that deny plant in CCTV, each of these are good options. In fact, you could even double down and use both. But break the monitors and plant them on the frame so attackers don't just shoot out the monitors.
  If instead you want to keep the typical wall shut so attackers can't just tuck in for a plant behind the desk, use either of these options, or place one on the right side of the doorway leading to the wind tunnel. But these are kind of cheesy and definitely won't work more than once.
  The following two cams are great for monitoring the perimeter and denying drones. This cam on the truck tire can be especially nice in case the attackers opt for a rare, but effective, garage push.
This one above the couch in Vault Lobby has the added benefit of monitoring three potential hatch drops, one in vault, one in elevator, and one in the hallway it is aiming at.